Sign up to Automotive Insight

Stay ahead with our Automotive Insights Bulletin
UK Economic Outlook

Conditions in 2013 will remain challenging for consumers. Household incomes will come under renewed pressure as employment growth weakens, wages remain sluggish, benefits are curbed by welfare reforms and inflation proves sticky. Low confidence and a focus on reducing debt levels and raising savings will restrain consumers' appetite to borrow and spend. Given this, consumer spending is projected to rise by only 0.5% in 2013. That said, hope is emerging that broad economic conditions may prove better than expected, if the recent improvement in global investor sentiment proves durable.
Experian's economic forecasting group is a leading provider of global, national, regional and local economic forecasts and analysis to the commercial and public sectors.
We will share an illustration of a consumer economic outlook from Experian's Economics team. Whilst a vehicle is a particularly expensive purchase, it will be impacted by many of the key underlying drivers that affect general consumer spending.
New vehicle registrations saw a welcome increase in 2012 and motor finance lending remains particularly strong as a key source of lending.
But what does the underlying economic data tell us and what of the future?
Car sales holding up against a downbeat end to 2012 for the economy and consumers
2012 new car registrations hit a four year high at 2.04 million units, up 5.35 on the previous 12 months and best results since recession struck in 2008. The SMMT has stated that these figures are boosted by strong consumer demand and predicts that these volumes are likely to hold firm for 2013. Nevertheless, these figures are still 14.9% or some 360,000 units below the 2007 outturn.
Across the broader retail landscape, the latest retail sales data confirms what has been increasingly evident in recent months, namely that the surprising resilience of retail sales for most of the year to August (in the face of very low consumer confidence, sluggish incomes and a focus on increasing savings and reducing debt) has faded. Excluding motor fuel, retail sales volumes on the three-month measure have now eased from their July peak of a 1.1% q-o-q rise to the latest outcome of stagnation.
Meanwhile, the UK economy descended back into contraction, with a 0.3% q-o-q decline in 2012q4. One-off factors such as the unwind of the Olympics effect, which helped boost GDP by 0.9% in 2012q3, and disrupted North Sea oil production exaggerated the weakness. The economy's underlying performance probably remained one of weak growth. The severe weather in January has raised the risk of another contraction in output in early 2013.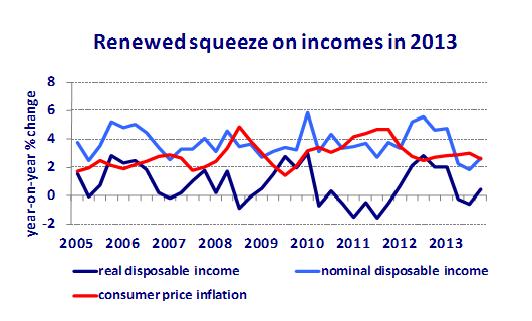 Disposable incomes to come under renewed pressure in 2013…
The resilience of the new car market demonstrates the emphasis consumers place on personal mobility and the success of more fuel efficient and competitively priced products with good deals to be had on finance offers to those who met the qualifying criteria. Across the general consumer markets, The SMMT's January data showed new car registration rose 11.5% to 143,643 units, providing a positive start to 2013.
The squeeze on household incomes eased somewhat during much of 2012, supported by receding inflationary pressures, rising employment and a strong boost to government benefits from CPI indexation. However, incomes will come under renewed pressure during 2013 and are forecast to rise by a just 0.3% as the recent buoyancy in the labour market fades, leading to markedly weaker employment growth. Also, welfare reforms, including the 1% cap on benefits growth, will further undermine incomes. Finally, after rebounding in late 2012, inflation is set to remain sticky over the months ahead and will continue to outpace wage growth.
The purchase of a vehicle requires a significant initial outlay or commitment to regular repayments for a loan or hire purchase agreement. Many individuals or households would view their vehicle as a vital means of personal mobility although the replacement cycles and overall usage of the vehicle may reduce as household incomes are squeezed and fuel prices increase.
…reducing the scope for discretionary spending
Household's discretionary income is the income left over after taxes and spending on essentials such as mortgages, food and fuel have been paid. Discretionary incomes are set to come under pressure in 2013 as the household's disposable come under a renewed squeeze while the upswing in food costs due to poor harvests continues to play out over at least the first half of 2013.
This squeeze in discretionary spending could impact upon consumers desire to replace a current vehicle and to reduce non-essential vehicle use to save on fuel costs. Whilst it is unlikely that many consumers will forego their vehicle, the replacement cycles could well extend and general living costs put an increased burden on monthly costs and reduce what could otherwise be discretionary spending.
Also, discretionary spending will differ depending upon affluence and with a certain level of affluence being required for vehicle purchases, this should be factored in as the chart illustrates how % growth differs by affluence group.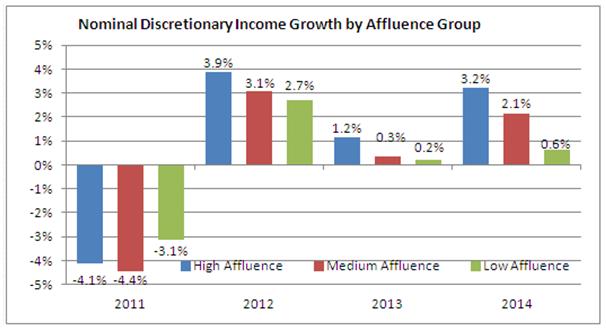 Consumer confidence lurches lower again
The GFK (Gesellschaft für Konsumforschung Society for Consumer Research) measure of consumer confidence rose by 3 points to -26 in January. Improved sentiment towards the economy and a pick up in the appetite to undertake a major purchase were behind the rise. Despite this rise, sentiment remains at a very low level and since this survey was taken, the news of a decline in GDP may well set back confidence again. Unfortunately, consumer's attitudes to their own financial situation did not improve in January which also raises a question mark over whether this upturn will persist.
Inflation to remain sticky
CPI inflation was unchanged for the third month in a row at 2.7% in December. Fears that gas and electricity price increases from a number of utility companies and rising food prices would drive inflation higher were allayed as transport costs offset the impact. Prices of air fares in particular rose at a far slower rate than a year ago, while petrol prices fell by 2.8 pence per litre between November and December 2012 compared with a fall of 1.1 pence per litre a year earlier. Inflation is forecast to remain sticky above the 2.5% mark for much of 2013, but the risk of a weakening exchange rate and further food price pressures threaten to push the CPI above 3%.
Ongoing lull in consumer credit
There are encouraging signs that the stability in wholesale funding markets, along with the Funding for Lending Scheme, is fostering an improvement in credit conditions in the UK. However much of the impact has been on the mortgage and corporate loan markets. The impact on the unsecured credit market remains limited. Indeed, latest data on consumer credit activity show lending rose by a modest £0.4bn in 2012q4. Alongside this a recent Bank of England consumer survey suggests that tight credit conditions continue to weigh on spending and is forcing people to save more. 35% of respondents had spent less in 2012 due to concerns over debt levels and more than a quarter blamed lack of credit for delaying spending decisions.
In motor finance, the FLA (Finance and Leasing Association) confirmed that the number of new cars bought on finance continues to grow strongly, largely due to the good deals offered by lenders in car showrooms.
The FLA's latest statistics also show that 71.2% of all private new cars sold in 2012 were funded by showroom finance, which rose from 63.5% in 2011. The consumer used car finance market also had a good year. Overall in 2012, this market reported both value and growth of 8% compared with 2011.
Part of this growth is driven by incentivised deals which make new car prices attractive for buyers. Those incentives are available across the full range of finance products including hire purchase, leasing and personal contract purchase.
With motor finance companies having provided drivers with an extra £2 billion of finance in the last 12, it remains to be seen of this will be sustainable throughout 2013.
Subdued outlook for the economy and consumer in 2013
Underlying conditions both domestically and globally suggest that the UK economy will continue to struggle in 2013 to emerge from the doldrums of recent years. Weak household incomes, little appetite for fixed investment, declining government spending and generally poor exports underpin the subdued outlook of 0.7% growth for 2013.
That said, the buoyant tone of financial markets in in recent weeks has provided hope that economic conditions in 2013 may prove better than expected. Events in the eurozone have been a major drag on the UK economy in recent years and will be a key influence on its prospects. While it is too soon to call a turning point on this front, the upside risks to our forecasts are clearly building. A critical test will be so see how durable the financial market rally will prove in the face of ongoing subdued economic data and other sensitive events such as the forthcoming elections in Germany and Italy.
Against this broad backdrop, UK vehicle exports remain a success story for UK manufacturing with UK plant proving their productivity and efficiency.
It is encouraging that January new car registration showed a 11.5% rise and the SMMT forecasting annual registrations to rise by 0.6% to 2.057 units in 2013 and by 2.6% to 2.11 million units in 2014. The ability for the automotive new car sales to buck the trend again in 2013 is likely to be driven by the priorities that consumers place upon their vehicle replacement and personal mobility together with the continuation of incentives and point of sale finance. To some extent, the levels of affluence required for new vehicle purchases will create a distortion in the broader and more general measure when looking at the economy as a whole.