Achieving excellence in commercial credit
Leading the way in Credit management best practice - 19th November 2013
Join our workshop to hear commercial credit leaders reveal how credit teams can improve the value they add to the business by embracing a change of culture and making the most of credit management information.
Previous expert opinions
Contract killers or thought leaders… which one are you?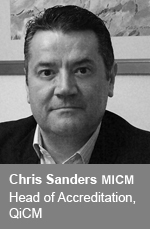 Sometimes it's not what you do it's how you do it that matters. Take your credit control team. You might have goals in common with every other credit team… providing credit arrangements that enable your business to trade and be profitable and ensuring your invoices are paid on time or thereabouts, avoiding the burden late payment or bad debt has on your company cash flow, but there the similarity ends. It's the way you go about pursuing your goals that will dictate how successful you are and the way your team is perceived within your business.
Whilst the best performing credit control teams support the business, have influence on the company strategy and actively help gain new business, there are also those that actually threaten customer relationships. Throughout my years in this industry, I've witnessed four general types of credit team personalities, and I talked about them at the Experian Credit Excellence workshop in July. So it's worth taking a moment to think about the culture of your credit team and see if you recognise your team here.
The Contract Killers.
Also known as the Rottweilers, the debt collectors who beat the customer into submission over payment and do whatever it takes to drive down aging debt and reduce DSO (days' sales outstanding) at all costs. Never mind that DSO could be coming down because simply no sales are being made! They're the teams that believe chasing payment is always the answer, sending the same letter to all customers, regardless of the situation. They aren't averse to conflict and are used to operating in a constant state of war with the sales team. Is this the worst kind of credit control team? Sales certainly think so, because they'll do anything they can to prevent the Contract Killers from seeing customers and potentially ruining hard won relationships.
The Coasters.
They're the docile ones, the credit teams of stable revenue, cash-rich businesses with long standing customers and employees. They're the teams that have no desire or burning platform to change or improve, that are happy to do more of the same, because that's the way they've always done it. The danger is that although on the surface they may appear to be performing well, The Coasters are not adding value to their business merely going through the motions. With limited targets in place, limited investment in credit management, and limited appreciation of best practice, opportunities for more efficient and profitable credit management are being lost.
The Negotiators.
They're the improvers, the trained credit teams that seek to improve performance from within by defining targets and getting input from stakeholders. They're the ones that look to improve billing accuracy, work with sales to improve customer service and look across order-to-cash processes for ways to speed up billing and, as a consequence, payment. The Negotiators are collaborative partners within the business, seeking feedback across departments and externally, and then acting on that feedback to improve their credit management service.
The Thought Leaders.
They're the at the top of their game, the high performing credit teams that look beyond credit alone and focus on maximising working capital. They're the ones that look across the whole organisation, manage stakeholders, credit and debt and takes ownership for the order-to-cash process. By exploring alternative ways of doing things, The Thought Leaders seek continuous improvement and constant change to processes and actively help their business gain new business. Not just a back office, they put themselves forward, help the business set strategy and make these strategies work.
So which credit team type are you? Are you aspiring to be thought leaders? Clearly the Thought leaders are leading the way in how to be of more value to their business. So what can the Contract killers, the Coasters and even the Negotiators learn from them? You could argue that culture plays a big part: whether the team has a shared vision, what motivates them, what gets measured and prioritised, whether time is dedicated to coaching and training individuals. But in addition, they realise the importance of quality, up-to-date and reliable business information that supports the entire customer lifecycle; from initial checking of potential customers to managing customer accounts and collecting on unpaid accounts. The thought leaders also look for ways to be more efficient, ways to speed up and enhance decision making.
You've read my description of different credit control teams. I've been lucky enough to work with a few credit teams in the Thought Leaders category in my career and they stand out: they are so motivated to find ways to do things better and on how they are perceived and valued within their business.
So when was the last time you asked what your organisation thinks of you?
Chris Sanders MICM,
Head of Accreditation, QiCM
Chris has been a member of the ICM since 1989 and has held senior positions in credit management for many years, including Director of Billing Operations for Mercury Communications/Cable & Wireless. For the past 12 years Chris has been assisting major International Companies to improve their credit management performance and leadership. In February last year, Chris was appointed Head of Accreditation at the QiCM and is also a member of the ICM's Advisory Council. Chris is passionate about credit management and improving standards across the industry.
This article is based on a feature published in June 2013 in the Institute of Credit Management's 'Credit Management' magazine.