Need to maximise returns on your budget?
Learn how to use your data to:
Increase business acquisition
Improve lifetime value
Optimise channel strategies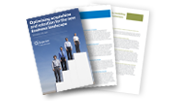 Whitepaper 'Optimising acquisition and retention for the new business landscape'

FREE Data Quality Audit
Want to know how and where you can improve the quality of your data?
Identifying the right business
If your database isn't changing to reflect the changing needs and circumstances of your customers, you can easily waste your budgets and miss profitable sales opportunities. See how you can get a clearer view of your customers, revealing where to find the best opportunities, with the highest value and which propositions will match their needs. Improve the return on every aspect of your marketing investment.