Need to maximise returns on your budget?
Learn how to use your data to:
Increase business acquisition
Improve lifetime value
Optimise channel strategies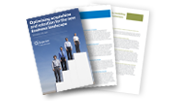 Whitepaper 'Optimising acquisition and retention for the new business landscape'

FREE Data Quality Audit
Want to know how and where you can improve the quality of your data?
Understanding growth opportunities
If you're not getting a full picture of your customers' spending behaviour, you could lose share of wallet to your competitors or lose your customers completely. See how you can gain a deeper understanding of which customers offer the biggest growth opportunities and the strategies you'll need to retain them and increase their long-term value.