Contact us
0844 481 9914
9am - 5pm Monday - Friday
Looking for a specific solution
Refine your credit and collections strategy
As the level of personal debt in the UK is rising*, it is increasingly important that companies work with consumers to reduce their levels of debt quickly and manageably.
We understand the challenges you face and we look at how you can comply with regulatory requirements whilst preparing for market fluctuations, optimising your collections strategies and delivering the best experience for your customers.
At Experian, we can help you to:
Reduce the cost of collections – quickly identify your most high-risk customers so you can support customers in urgent need.
Improve contact rates – with additional contact information, increase the likelihood of reaching a customer before they get in to difficulties.
Maximise your relationships with customers – get a deeper understanding of your customers' individual circumstances and characteristics to build more personalised and therefore better relationships.
Commercial debt management – know when a business is showing signs of financial stress so that you can speak to them sooner to help them manage cash flow at an earlier stage.
If you would like to speak to someone from Experian, you can phone or fill out a form for a call back, using the options on the right of this page.
Download now… Our latest whitepaper addresses the top five collections challenges, offering practical step by step guides to help you.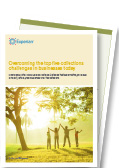 ---
*http://themoneycharity.org.uk/money-statistics/