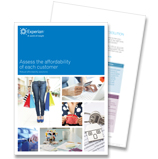 Assess the affordability of every customer and protect your organisation and customers.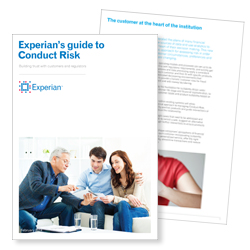 Make sure your company is fully compliant with the new FCA Conduct Risk rules.
Four dimensions of the conduct crackdown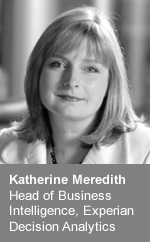 Almost a year into its responsibilities, the Financial Conduct Authority (FCA) has confirmed the rules that will govern the consumer credit market. Supervision of firms has become more hands on, with closer monitoring of lending decisions, affordability assessments, arrears management and forbearance and conduct risk.
Conduct Risk rules, published at the end of February, clearly put the onus on institutions to ensure their cultures and practices put customers' needs first. They include new affordability guidance, a requirement to stress test borrowers to identify those at risk from potential interest rates rises, and further action to strengthen arrears management and collections practices.
For many institutions this necessitates a move from a one or two dimensional approach that considers the risk of a decision and current affordability position, to a four dimensional approach to each decision for a customer.
Throughout product design, targeting and marketing, sales, acquisition and ongoing customer management, culture and processes need to focus squarely on responsible lending and the fit between features and customer need.
Risk & affordability
Credit risk remains at the heart of each decision, with a regularly updated understanding of the impact of risk appetite upon future capital requirements and loss forecasts now business as usual.
And while current affordability assessments are already embedded across most lenders' processes, the MMR goes into detail on each of the elements of affordability and how information provided by the customer must be validated independently, either through manual checks or via models and bureau based income estimates.
Product suitability
A critical element of conduct risk lies in fully understanding each customer and their needs when determining whether a product is suitable. The Mortgage Market Review (MMR) deals with this by requiring mortgage sales to be advised unless extenuating circumstances exist. In other markets the regulatory burden is less clearly defined at present.
Lenders' back books must be assessed to determine whether existing customers were historically provided with the most appropriate product, and to ensure products still meet those needs and that the customer is able to use the features.
As we move forward, institutions will need to ensure each customer is aware of the product features and their suitability for their individual needs. Institutions highlighting potentially beneficial alternatives will become a feature of the acquisition process.
There are a range of options open to lenders when understanding whether their customer base has or is being offered a suitable product for their individual needs:
Review culture and incentives
Pro's: Qualitative information driven. Less time and resource hungry.
Con's: Looks at culture and processes, but doesn't consider the customer as an individual and their specific fit to product features and services.
Understand complaint and attrition levels by product
Pro's: Uses quantitative data typically readily available, based upon direct and indirect customer feedback.
Con's: After the event you need to wait for an outcome, so back-book conduct risk remediation continually required. A complaint or attrition is only manifest where customer recognises an issue, they may not be able to close or transfer to another product due to tie-in clauses.
Model best product fit from information gathered from customer and held internally
Pro's: Uses transactional data and customer behaviour held internally to determine product suitability at an individual level, at point of acquisition.
Con's: Does not provide the full customer picture so may not indicate where a customer already has certain product features elsewhere. Additional customer interaction is also required, extending time to make a decision, increasing cost of sale and creating a poorer customer experience.
Optimise right customer, right product, right time from internal and external data
Pro's: Leverages internal and external information to show holistic customer position, alongside financial sophistication and demographic models to determine most suitable product. In addition, high levels of customer satisfaction, increased loyalty and least open to conduct risk issues.
Con's: May move into the advised sales territory. Is the most sophisticated solution.
Whilst product suitability is a relatively new concept, it is currently unclear at which stage in the customer journey a lender will need to move in order to comply with the regulation. Beyond compliance though, there are significant commercial benefits in ensuring the optimal combination. of customer and product:
High levels of customer satisfaction
Increased loyalty and reduced attrition/churn
Reduced conduct and reputational risk
Stronger customer relationship, creating further product and service opportunities
Time, the fourth dimension
To address conduct risk and realise the additional benefits detailed above, a four dimensional approach is required. It is not enough to simply understand a customer's present financial situation.
The regulatory requirement is now to stress test each element of the decision making process to understand the likely future impact of various economic scenarios upon affordability and losses. Long gone are the days in which credit risk scorecards are built on the assumption that the economy will remain relatively stable throughout the life of a model.
Within the MMR, lenders must apply an independent forecast and analyse the impact that changes in the economy, such as interest rate rises, are likely to have upon a customer's ability to maintain monthly payments moving forwards.
Whilst an UK economic forecast would help meet this objective, to really understand where concentrations of future risk reside – and in particular which individual customers are most exposed to changes in their local economy – more granular analysis that forecasts changes in household disposable income and the cost of living is required.
This approach puts the individual customer at the very centre of a four dimensional regulatory and decision making challenge.
To compliance and beyond
The technical capabilities required to address Conduct Risk at scale provide significant opportunities to improve risk assessment and customer management strategies. Those already achieving best practice in this regard tend to experience lower default rates and greater levels of customer loyalty.
Integrating a product suitability assessment within (or to sit alongside) existing systems allows organisations to take an interventionist approach to managing Conduct Risk, enhancing what they know about their customers through external data assets and assessing each customer to correctly position products and guide interactions.
It also provides the opportunity to reshape customers' perceptions of financial services providers, providing a more personalised service, offering the right product at the right time and rewarding loyalty.
For more information on how Experian can help you address Conduct Risk, please download our latest whitepaper on Conduct Risk or contact us today.
About the author
Katherine Meredith
Head of Business Intelligence, Experian
Heading Business Intelligence, Katherine has responsibility for the benchmarking consultancy service, Market & Portfolio Insight; with over 20 years of credit risk experience she provides insight into the consumer credit market trends, working with clients to develop their strategy from market opportunities for growth to assessing the impact of lending policy upon loss forecasts.
Previous Expert Opinions
Will you ramp up innovation in 2014?
by Justin Furse (Head of Data Innovation Group, Experian)
Higher interest rates: How will you prepare?
by William Thomson (Director of International Economics, Experian)
+ Read more...
Will recovery be sustained into 2014?
by William Thomson (Director of International Economics, Experian)
+ Read more...
Joining the dots and delighting customers
by Paul Vescovi (Managing Director, Experian Credit Services)
+ Read more...
Are you still making the right lending decisions?
by Dr Paul Russell(Head of Analytics, Experian)
+ Read more...
Customer acquisition: under the microscope
by Nick Vanstone(Senior Consultant, Experian)
+ Read more...
Know your customer or lose your customer
by Dave Marshall(Senior Product Manager, Experian)
+ Read more...
Adapting to the new 'normal'
by Paul Vescovi(Managing Director of Credit Services)
+ Read more...
The growing risk of fraud...
by Nick Mothershaw(Director of Identity and Fraud Solutions, Experian)
+ Read more...
Setting prisioners free is the lender's best option
by Katherine Meredith(Head of Business Intelligence)
+ Read more...
Credit appetite and the changing landscape
by Geoff Hunkin (Consultancy Director, Credit Services)
+ Read more...
The clamp down on conduct
by Jonathan Westley (Managing Director, Experian Consumer Information Services)
+ Read more...
Costly collections - is there a better way?
by Mark Keyworth(Client Consultancy Director, Experian)
+ Read more...
Credit and collections strategy in 2013 - what you need to know
by Paul Vescovi(Managing Director of Credit Services)
+ Read more...
The mortgage market review
by Katherine Meredith(Head of Business Intelligence)
+ Read more...
Innovation in a competitive climate: can you rise above the competition?
by Sean Hutchins (Head of Product for Consumer, Experian)
+ Read more...
Uncertain times call for sound credit decisions
by William Thomson (Director of International Economics)
+ Read more...
New regulations in data compliance – are you prepared?
by Beverley Dewhirst (Head of Compliance)
+ Read more...
Are lenders seeing all the distress signals?
by Paul Speirs (Head of Data & Business Development)
+ Read more...
Big headache or big oportunity?
by Paul Russell (Director of Analytics, Eperian UK & I)
+ Read more...
Is bad debt the price of growth?
by David Percy (Business Consultant, GCP)
+ Read more...
Is keeping customers loyal practical?
by Rebecca Galvin (Senior Consultant, GCP)
+ Read more...
Is growth back on the agenda?
by Geoff Hunkin (Consultancy Director, Credit Services)
+ Read more...
Are lenders becoming too lenient?
by Mark Keyworth (GCP Principal Consultant)
+ Read more...
Consolidation vs new entrants – will it lead to a sea change in lenders' customer management philosophy?
by Nick Evans (Product & Propositions Director DA)
+ Read more...
The latest responsible mortgage lending proposals:
Can lenders demonstrate responsible lending implicitly?
by Jonathan Westley (Managing Director, Consumer Information Services)
+ Read more...