Find out more
Browse property solutions
Request a call back
Please complete the form below to request a call back to find out more about Experian property solutions
Reveal hidden insight into your customers and their property
Today, a home is much more than a place to live. It is an investment, a pension, an income, an office, a business and sometimes a potential liability.
From understanding how much equity your customers have left in their property, to knowing when a property is put up for sale, Experian holds a wealth of property data:

Take a look at our property solutions, to help you improve credit risk, enhance collections and improve marketing performance.
View our 'how to' guides, the latest property statistics, and case studies of how businesses have used property data.
Browse property insights
See how equity insight can enhance credit and collections
Download our infographic 'How to improve lending and collections decisions using property data'.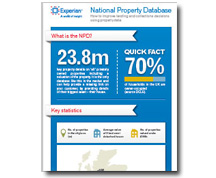 7 tactics to keep a customer when they move house
Here's how you can implement a tailored retention strategy as early as possible when a customer moves home.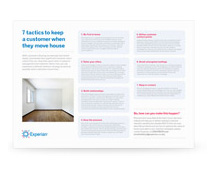 Your customers' property reveals much more than where they live
Download our infographic to see what's really possible...