Creditability is a financial capability computer game designed to teach young people about money management and credit. Creditability is designed for Year 10 and 11 pupils. The game has been awarded the pfeg quality mark and has been mapped to the PSHE curriculum and the Adult Financial Capability Framework (AFCaF).
Creditability is set in four different environments: university, a shopping precinct, TV studios and a village. The purpose of the game is to successfully complete the various tasks and challenges within each environment, learning about money, credit and debt. Players should tackle each game level in the order they appear, starting at university. We strongly recommend that you spend some time familiarising yourself with the game prior to working with students. You can use the fact file documents included in this pack as reference points to answer questions whilst playing the game. The player manual will also explain how to play the different tasks within the game.
Creditability looks at the following topics:
. What is credit?
. Different types of credit
. Budgeting
. Making credit decisions
. Your credit report
. Identity fraud and how to avoid becoming a victim
. Getting help when it is needed
. Debt and insolvency
The supporting pack provides a range of teaching materials and activities to support the game. The game poses a series of financial capability challenges including choosing a student bank account, deciding whether to buy a house and discovering the implications of bankruptcy.
Creditability also looks at identity fraud; how to avoid it and what to do if you become a victim. The game looks at credit reports, what they are and what you need to know. Your credit report is an important financial document. Not only will a good credit report increase your chances of getting credit, it could also improve the rates you are offered by lenders. Knowing how and why to access and manage your personal data is a valuable skill.
Enjoy the game!
Quick start guide >>

Download creditability now >>

Player Manual >>

Supporting pack>>

.................................................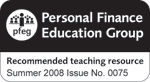 The pfeg Quality Mark shows that this resource meets the pfeg quality standards. At the time of issue the resource contains educational benefits and accurate financial information. For further information visit www.pfeg.org.