Consumer credit report
Click on the thumbnail below to download:
House price report
Click on the thumbnail below to download:
The impact of rising interest rates
Click on the thumbnail below to download:
How can we help?
If you don't already receive it, then why not sign up for our credit industry newsletter:
Write-off rates set to rise as credit growth accelerates
Experian Economics' latest Consumer Credit Report forecasts strong growth in unsecured lending during 2014 and 2015, with write-offs rising [steadily] throughout the same period.
According to Experian Economics' latest Consumer Credit Report, surging business confidence, robust economic growth and lower bank funding costs have driven a rapid improvement in credit conditions over the last year. Demand for consumer credit is set to continue to grow strongly, benefitting from sustained employment growth and a resurgent housing market. Experian Economics forecast robust growth in unsecured lending to households during the second half of 2014, with total net credit growth reaching 2% this year followed by 3% in 2015.
Growth in unsecured loans to households in 2013 was the fastest since 2008, as improving household sentiment, falling unemployment and reduced economic uncertainty all combined to support household spending and bolster demand for unsecured credit. Unsecured net lending has now been positive for eight consecutive quarters, following a two year period during 2009-11 when repayments generally outstripped gross new lending.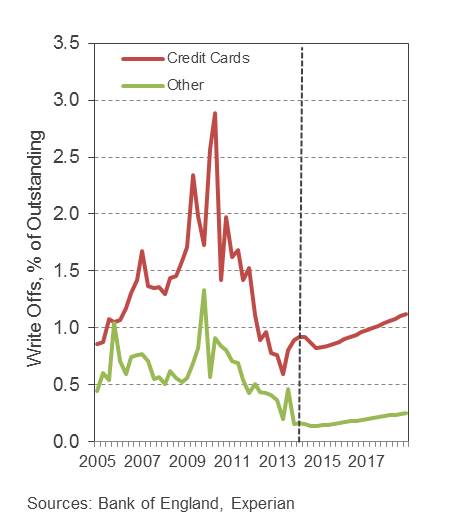 The Consumer Credit Report notes that although gross lending of unsecured credit has been growing strongly, the monthly series remain volatile with occasional spikes and contractions. Consumer credit growth accelerated in March with an increase of £1.1 billion, compared to an average monthly increase of £0.7 billion over the previous six months. Within unsecured lending, vehicle finance continues to expand buoyed by strong car sales. Lenders in the latest Bank of England's Credit Conditions Survey (CCS) reported an increase in demand for personal loans in Q1, with a further rise in demand expected in Q2.
Credit card lending continues to be the weakest performing subsector within consumer credit. The CCS found that demand for credit cards decreased significantly in 2014 Q1. This is consistent with a stalling of growth in credit card lending which has been broadly unchanged in the past six months, with average monthly increase of only £200 million.
Experian expect the recent stagnation in credit card lending to ease and project a steady pickup in activity towards the end of this year, and beginning of next. However, this improvement will be offset by some correction in other unsecured lending as the exceptionally strong growth in auto finance moderates to a more sustainable pace. Given these two offsetting trends, overall consumer credit is projected to rise by over 5% in 2014 and 2015.
Turning to delinquencies, the Consumer Credit Report notes that write off rates for unsecured loans have come down substantially since their peaks during the 2008-9 recession but Experian believe that they may now have troughed. The report forecasts unsecured debt write off rates to rise again given looser lending conditions and anticipated interest rate rises over the medium term.
Want to know more?
Visit www.experian.co.uk/economics-reports or email economics@uk.exprian.com
About the author - Sunita Bali
Head of Consumer Economics
Sunita draws on 16 years of experience as an international economist. At Experian she sets the company's view of the UK and global economies and consumers, helping market leaders in financial services, retail and energy plan for uncertain business and economic environments.
Related Expert Opinions
Higher interest rates: How will you prepare?
Will recovery be sustained into 2014?
The clamp down on conduct
The mortgage market review
Uncertain times call for sound credit decisions