Stress Testing webinar
Click on the thumbnail below to view:
Economic quarterly reports
Click on the thumbnail below to download:
European City Service
Click on the thumbnail below to download:
How can we help?
If you don't already receive it, then why not sign up for our credit industry newsletter:
Can your portfolio withstand stresses?
The UK economy has finally turned a corner and seems to be on a firmer footing, but risks still persist. Recent announcements including that from the Richard Sharp of the Financial Policy Committee (FPC), state that a shock to economy could come from any direction or part of the world and is inheritently unpredictable. Added to this statement was the concern that UK banks, whilst on course to building sufficient reserves to withstand further shocks, are yet to reach their goal. Assessing the risk to and resilience to risk is critical, as is ensuring an appropriate level of capital reserve should the economy turn sour.
Do you know how your portfolio would be affected by economic stresses? Ensuring your strategies adequately address a range of economic scenarios for both regulatory and managerial purposes is critical in a sector governed strongly by regulators and a rapidly changing economy.
As an organisation's business strategies evolve it is imperative to understand the impact these changes are having on the customer base. Detailed in-house monitoring of portfolios is invaluable – but is the results reflective of a change in strategy or macroeconomic factors and overall market trends? Linking in client account level portfolio data on probability of default, exposure at default and loss given default to baseline and alternative economic scenarios can heighten your visibility to risk.
Understanding your portfolio better can unlock hidden potential and highlight future risks – this insight can also help you identify your competitor position and direct your business strategy and objectives. Considering capital requirement amongst economic and non-economic factors could also help. Understanding the influences that can impact loan performance can help reinforce strategies and contingencies should the economy change.
Are you able to evaluate how your portfolio will withstand different economic scenarios for both internal financial budgeting purposes and to meet increasingly demanding regulatory requirements in a coherent and transparent way?
With rising interest rates looming and regulations tightening, assessing customer affordability and suitability is a high priority for all. Ensuring you have the right measures in place to assess such viability as well as stress testing will allows portfolio managers to understand the sensitivities of their portfolios to significant economic change. The implications for provisioning, capital allocation and regulatory compliance are also critical components. Basel II and III mandate certain portfolio stress tests alongside prescriptions for capital approaches.
When developing methodologies for stress testing, it is vital to ensure that any programme adequately addresses a range of economic scenarios for both regulatory and managerial purposes. Rather than using generalised macro-economic assumptions, accessing extensive and detailed economic models allow alternative scenarios to be defined explicitly, which effect local economic and household factors. This in turn identifies economic impact on probability of default and loss given default at an account level.
Stress testing your portfolio, on an individual account level – or portfolio view can help you:
Identify risks and opportunities within your portfolio to improve your risk appetite and meet regulations
Predict loan losses and capital requirements across a range of economic scenarios – ours, yours, or those recommended by your regulator
Understand scenarios through detailed economic models, rather than macroeconomic assumptions
Improve your portfolio's losses by reducing forecasting errors and promoting efficiencies in terms of provisioning and costs
Experian's experts in Economics and Market Insight use a unique approach to making credit decisioning tools 'forward looking'. Whether this is initiated from Market and Portfolio analysis or competitor benchmarking, our services are used daily by the financial sector globally. We provide you with comprehensive commentary and analysis of trends and forecasts allowing you to anticipate future movements in factors affecting your credit portfolios and markets. These forecasts for credit markets are based on our UK macroeconomic forecasts and cover the economic drivers of default on your secured and unsecured loans, together with net lending forecasts, projections of new lending, write off rates and repossessions.
About the author - Eric McVittie
Director of Research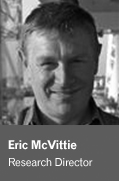 Eric has more than 20 years of experience in economic forecasting and scenario analysis using a range of state-of-the-art econometric simulation methods. Much of this work has focused on disaggregated analysis of regional and local economies, and on the economic analysis of household finances.
At Experian, he has applied this expertise to the economic analysis and modelling of performance metrics for retail credit products – including playing a leading role in the development of Experian's innovative credit
economics solutions which incorporate economic factors within scoring models.
Related Expert Opinions
Write off rates set to rise as credit growth accelerates
Mortgage sizes to be governed?
Is your portfolio at risk?
Higher interest rates: How will you prepare?
Will recovery be sustained into 2014?
The clamp down on conduct
The mortgage market review
Uncertain times call for sound credit decisions