Stress Testing webinar
Click on the thumbnail below to view:
Economic quarterly reports
Click on the thumbnail below to download:
European City Service
Click on the thumbnail below to download:
How can we help?
If you don't already receive it, then why not sign up for our credit industry newsletter:
Is your portfolio at risk?
The economy is set for a period of sustained growth, with no sign of a slowdown in employment growth in the labour market. The strength of the recovery is reflected in the strong upward march of house prices, which has led to talk of a house price "bubble". Incomes have lagged the economic recovery, which has raised new concerns around affordability as wage growth has failed to keep up with inflation and house prices in recent years. While the expectation is that wages will grow more strongly going forward on the back of higher employment, the growing likelihood of rise in interest rates later this year could add additional pressures to customer affordability. As seen in the previous articles, new controls to govern mortgages and our consumer credit trends – the economy is evolving, as is each and every one of your customers.
What does this mean for you?
Many banks and building societies are focussing on growth strategies. The common issue from this is to understand what a good risk appetite framework is, and what the risk limitations are within your portfolio. Having robust credit risk models aligned to loss forecasts and regulatory compliance is critical to your success. Adopting best-practice protocol and associated risk models will help identify stresses and sensitivities within your portfolio as well as develop effective loss forecasts and capital allocation which underpin your growth opportunity and comply with regulation by improving credit risk estimation.
Understanding the opportunity within the market, as well as playing close consideration to emerging trends such as rising house prices and rising interest rates can be complex for you to decipher and prioritise in order to differentiate between the assumptions, limitations, strengths and weaknesses of your current credit risk model. Understanding your portfolio better can unlock hidden potential and highlight future risks – this insight can also help you identify your competitor position and direct your business strategy and objectives.
Comprehensive commentary and analysis of trends and forecasts allows you to anticipate future movements in factors affecting your credit portfolios and markets. Experian's forecasts for credit markets are based on our UK macroeconomic forecasts and cover the economic drivers of default on your secured and unsecured loans, together with net lending forecasts, projections of new lending, write off rates and repossessions.
This can help you:
Quantify credit risk under current and future economic conditions at the level of individual borrowers.
Estimate and predict segment and portfolio level default rates adjusted for current and future economic conditions, which supports segment and portfolio loss forecasting.
Stress these estimates under different macroeconomic scenarios in a coherent and transparent way.
Undertake industry level benchmarking in the light of current and future economic conditions.
Access a forward looking approach to credit decisioning tools by combining powerful data assets with predictive analytics.
About the author - Eric McVittie
Director of Research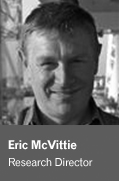 Eric has more than 20 years of experience in economic forecasting and scenario analysis using a range of state-of-the-art econometric simulation methods. Much of this work has focused on disaggregated analysis of regional and local economies, and on the economic analysis of household finances.
At Experian, he has applied this expertise to the economic analysis and modelling of performance metrics for retail credit products – including playing a leading role in the development of Experian's innovative credit
economics solutions which incorporate economic factors within scoring models.
Related Expert Opinions
Write off rates set to rise as credit growth accelerates
Mortgage sizes to be governed?
Can your portfolio withstand stresses?
Higher interest rates: How will you prepare?
Will recovery be sustained into 2014?
The clamp down on conduct
The mortgage market review
Uncertain times call for sound credit decisions