Could perception be helping to drive down the economy?
Would you like this insight report in full PDF format?
Consumer confidence in the current economy
Matthew Sherwood, Senior Global Economic Adviser and Sunita Bali, Senior UK Economist, Experian Business Strategies
Consumer sentiment increased slightly in the final quarter of 2008. But forecasts of doom and gloom are becoming a self-fulfilling prophecy, with retailers facing another tough year.
Q4 CY08: Major trends
One could be forgiven for thinking that consumer confidence has been knocked out by all the bad economic news in recent months. Buffeted by the credit crunch, skyrocketing food and fuel prices and gathering gloom in the global economy, sentiment as measured by our Consumer Sentiment Index (3) hit an alltime low in October 2008.
However, in November and December of 2008, consumers' views of their current situation actually improved to levels last seen in the Spring of 2008. This largely reflected petrol and food prices coming off their recent highs and the Bank of England slashing interest rates by three percent in the quarter.
All the while, consumers have remained comparatively sanguine about the future. The gap between consumers' views of their current and future financial situation remains wide after hitting the low in October.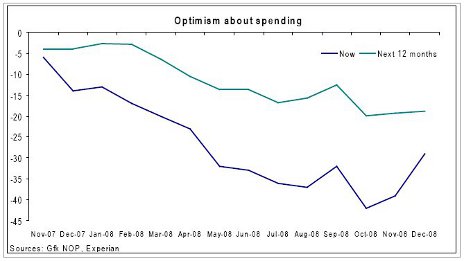 Even so, with optimism about spending over the next 12 months remaining at close to all-time lows, it is not surprising consumers' concerns are hitting results on the high street. Official national statistics continue to show some volume gains in the 12 months to November, but surveys are painting a bleaker picture. According to the British Retail Consortium, like-for-like sales were down 2.7% from a year earlier in Q4 CY08.
Household goods have been especially hard-hit, reflecting the ongoing correction in the housing market. Non-specialist stores are also being squeezed by the consumer downturn. Retailers are still moving clothing and footwear, but only as a result of aggressive discounting. Pre-Christmas sales began earlier than ever and many January sales were brought forward to Boxing Day.
If there have been any 'winners' in the current environment it has been the major supermarkets. Supermarkets are increasingly seen as discounters, with consumers turning to them for cheaper electricals and white goods.
Q1 CY09: A differentiated impact on consumers…
It seems unlikely that consumer sentiment will show much, if any, improvement in the first three months of 2009. While current expectations may improve further from October's low – owing to retailers' discounting and further falls in energy prices – consumers are likely to become even more pessimistic about the future. The economy is forecast to shed at least 200,000 jobs in Q1 CY09, a pace that is expected to be kept up over the rest of the year.
That said, sentiment indicators vary widely depending on households' socioeconomic profiles (see Consumers' hopes and fears Page 5). While Experian has long provided clients with insights into the behaviours of households, a new element is being added, coupling the Experian economic forecasting capability with its Mosaic® geodemographic profiling capabilities. Here the initial findings are more revealing than treating the UK consumer as one.
In the immediate short term, those segments that see their spending power holding up are those that rely least on the markets. These groups include those that take home a substantial share of their income in the form of benefits. They will also benefit from the sharp deceleration in inflation expected in the coming months.
Risk is concentrated in those groups of the population that are extremely reliant on wages and salaries for income, making them especially susceptible to redundancy. With large amounts of debt (especially mortgages) they are increasingly stretched and are finding only limited relief from lower interest rates, particularly as falling house prices mean that the equity in their homes is too small to qualify for better mortgage rates.
Conversely consumers with a high share of income generating assets will continue to cut back on spending, but with their accumulated wealth they are in most cases well-placed to ride out the recession.
Q1 CY09:.....and on retailers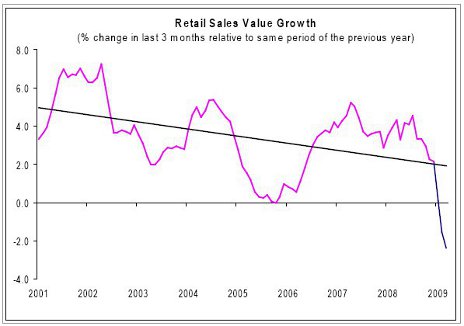 In the retail world, Q1 CY09 will continue to see aggressive discounting, particularly in clothing and footwear. While this will have sustained volumes in early January, it seems likely that falling prices will not be able to stave off the inevitable decline, with a major impact on these retailers' bottom line. Experian forecasts that volumes will fall by at least 1% during the first three months of 2009, which would be the worst performance since Q2 CY1981.
It is worth noting that the retail sector will also see its own set of 'winners' and 'losers' in the short term. The wave of administrations that began in late 2008 will continue in early 2009. These will be centred largely in household goods, DIY stores and electrical stores as the correction in the housing market continues to impact and consumers reduce their spending on fitting out a new home.
Again, the supermarket chains are likely to be amongst the few 'winners' in the short run. The supermarkets' continued aggressive discounting of electricals and white goods means they are set, along with the other major discounters, to weather the next few months.
3. Experian's consumer sentiment index figure is calculated as a weighted combination of questions 1, 2, 4, 5 and 6 from the monthly GfK/NOP survey results. This includes questions on the economic and financial situation past and present, as well as unemployment expectations and the advantage of making major purchases now.
Insight Reports - Archive
2010 Insight Reports
2009 Insight Reports