Could perception be helping to drive down the economy?
Would you like this insight report in full PDF format?
Consumers take control online:
Robin Goad, Research Director, Hitwise®, an Experian company
Consumers are turning to the Internet looking for value for money, information and empowerment online. The winners in the online world will be those who positively interact with their customers, and integrate with a strong offline presence.
Q4 CY08: Major trends
As the economic downturn really started to bite during the latter half of 2008, people turned to the web for information and advice in record numbers. Searches for terms such as 'credit crunch' and 'recession' increased significantly and economics-related terms were amongst the top searches sending traffic to Wikipedia, the web's favourite information source.
The banks may have suffered, but online banking was more popular than ever during 2008. Consumers logged on in record numbers to find the best mortgage deals, while searches for everything from 'interest rates' to 'petrol prices' shot up following even minor changes in the market. Traffic to property websites fell by 14% during 2008, but searches for 'house price crash' increased by 44%.
However, searches for bad news stories are not the only way that people are responding to the downturn online. Consumers have quickly realised that the web is a massive source of deals and discounts. Searches for discount vouchers increased by 143% during 2008, and a wealth of new websites emerged to feed this new British appetite for discounts. A typical online retailer now receives 1 in every 100 of its UK Internet visits from a voucher website such as HotUKDeals or MyVoucherCodes.
The thirst for discounts had a big impact on the Christmas shopping season. The sales were more important this year than ever, with many retailers starting before Christmas. As a result, online retailers experienced increases in traffic during the week leading up to Christmas, although in many ways this was an extension of the discount culture that took hold as early as November. Marks and Spencer, for example, experienced its busiest ever day online thanks to its 20% discount event on 20 November.
The real beneficiaries during the sales this year were the high street stores, both offline and online. During December the websites of high street retailers received 32% more UK Internet visits than their online-only rivals. High street retailers also did well online after Christmas, receiving 68% more Internet visits than those with an online only presence. Indeed, increased online sales seemed to have helped a number of high street retailers escape the worst of the credit crunch. Meanwhile, following a decrease in visits to stores before Christmas, Experian Footfall® reported an annual increase of 12.5% on Boxing Day.
During 2009, online will continue to steal shoppers from the high street, but the biggest beneficiaries will be web-savvy high street retailers. Spending shifted from the high street to online this Christmas, but more of that online spending is going to familiar names than web-only start ups.
Q1 CY09: Predicted market opportunities and red flags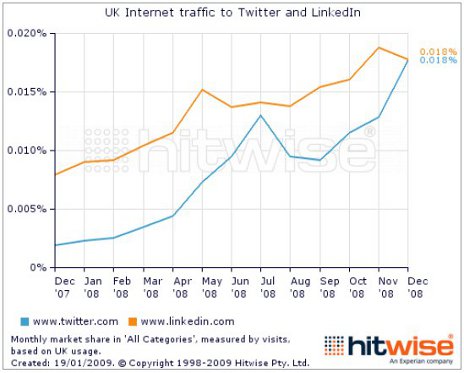 It is interesting to compare the massive increase in discount voucher searches with the more moderate increase in sales searches this Christmas. While sales searches are driven by the retailers themselves – they typically shoot up while the sales signs are on display on the high street, but soon drop off as the signs disappear – the popularity of discount vouchers has been a consumer driven affair. Many of the most popular sites with bargain hunters contain a lot of consumer input. The interactive forum section of the 'consumer revenge' website MoneySavingExpert, for example, now receives more UK Internet visits than the main site.
The success of such websites has proven that user generated content is useful for more than just teenage gossip on MySpace. Social media sites continue to gain popularity in the UK, and they now account for 10% of all UK Internet traffic. Facebook is the second most popular website in the UK after Google, while YouTube sits at number three. Video content is an important ingredient in the social media mix, and the market will continue to expand in 2009 following a 68% growth rate during 2008. The biggest success was the BBC's iPlayer website, which went from launch in December 2007 to become the 21st most popular website in the UK by December 2008.
Smart companies will continue integrating user generated content and social elements into their websites in 2009. Many of the sites that will continue to grow rely on user generated content. These include Facebook, Youtube, and MoneySaving Expert, as well as Twitter (the 'micro-blogging' service that experienced a nine-fold increase in traffic during 2008) and LinkedIn, the professional networking service that was the second most popular job website in the UK after Christmas.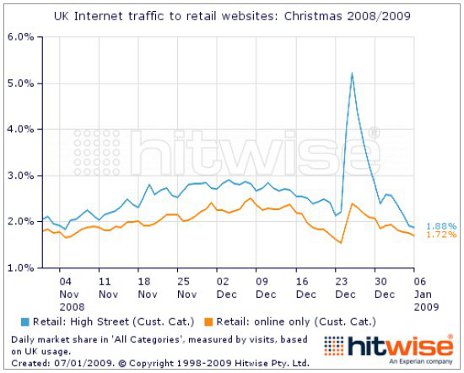 Turning insight into action
The Internet has long empowered consumers, and social media has played a big role in that process. However, with the economic situation worsening and customers fewer and further between, consumers will take even greater control during 2009. The most successful web businesses will be those that are able to tap into this mood of empowerment by responding to genuine consumer demands.
Even businesses that don't naturally fit in online can use the potential of the Internet. During the last few months of 2008 the restaurant sector successfully won new customers despite the tough economic conditions. By offering discount and two-for-one vouchers via email and social networking sites, a wide range of restaurants managed to bring customers onto their premises despite a decline in consumer spending on socialising over Christmas. This type of success proves that all business can benefit from listening to and interacting with their customers. And there will be no better place to do that during 2009 than online.