Could perception be helping to drive down the economy?
Would you like this insight report in full PDF format?
The Consumer Landscape
Consumers' hopes and fears: Joe Staton, Planning Director, The Future Foundation, and Experian company
Expectations of what is yet to come are still driving changes in consumer behaviour faster than current circumstances necessitate. Consumers have minimised household spend and the focus has shifted to fears around the reduction of funds coming into the home in view of job losses, wage reductions and lower returns on savings and investments.
* Q4 CY08: Major trends
Today's consumers are facing the current economic downturn against a radically different backdrop to that of the recession in the early Nineties.
The fact that this is the first recession of the globalised and networked age makes a huge impact on how we think, feel, act and react to the impact on our own lives, those of our friends, peers and colleagues and the world at large. The majority of us now live in a world where widespread broadband Internet usage gives us faster access to news and views from personal, professional and all manner of social networks twenty-four seven; a world where we use Twitter and blog endlessly about absolutely everything, both good and bad; where non-stop, real-time news and conjecture is pumped into our lives both at home and on-the-go and 'round the clock; where increased levels of wealth, freely available credit and competitive pricing have shifted erstwhile luxuries, such as multiple foreign holidays, the latest car and the most upto- the-minute gadgets, into mainstream lifestyles; and where Green issues have risen up the national agenda to complicate every consumption and brand choice we make on a daily basis.
Against his backdrop, we are witnessing a marked perception : reality gap in consumer behaviour. Just as the 'feel good factor' fuelled by rising house prices encouraged high consumer borrowing, so the 'feel bad factor' is out of kilter with reality for many who are changing their behaviour in response to the perceived rather than the real. Many consumers are ahead of the recession curve.
In Consumer confidence in the current economy (see page 11) we note that consumer confidence has fallen sharply and remains low, though it is beginning to show signs of stabilising.
Our Consumer Priorities Consortium1 found that more than three-quarters of adults felt that the UK economy would worsen over the coming six months, a sentiment felt particularly strongly by 'Symbols of Success' and 'Rural Isolation' groups in our Mosaic® consumer classification system. Investment income accounts for 12-13% of total gross earnings for 'Symbols of Success' and 'Rural Isolation' – the latter increasingly includes members of the former, who have been heading to the country in recent years. The fact these segments are cutting back on spending has already been reflected in the higher ends of markets, especially property, luxury goods and cars.
By contrast, less than half of adults in the UK felt that their own personal finances would worsen over the same time period, with the 'Urban Intelligence' Mosaic group showing the greatest optimism.
Recent indications are that consumers believe the worst has already happened for the economy in general, and most feel that credit/mortgage availability is about as tight as it is going to get, but the knock-on effects for their own personal finances are yet to be fully played out. Past optimists are now declaring a more pessimistic outlook. A key driver for this is fear of falling income (e.g. reduced overtime) or redundancy, with 'Blue Collar Enterprise' feeling this threat more acutely than any other group.
Confidence is tied up with awareness of what is going on, levels of concern and tangible personal impacts. Consumers have historically paid little attention to the likes of inter-bank lending rates, and even stock market fluctuations, more readily focusing on prices of day-to-day items such as food, fuel, electricity and gas – where price increases impact their budgets most severely. The development of a sticky housing market and reports of job losses, accompanied by falling prices, have kept the media coverage bubbling.
More than four in five (82%) feel either very or fairly well informed regarding the economic situation – but there are significant knowledge gaps felt by those in 'Municipal Dependency' (28% feel not very/not at all informed) in particular.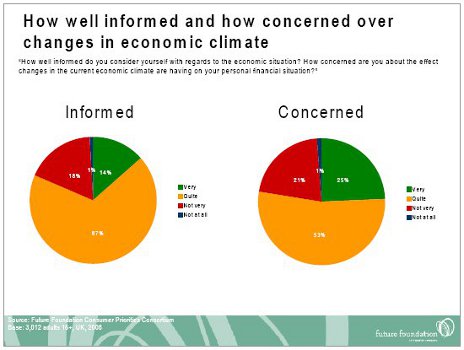 For many, greater knowledge equates to higher, rather than lower, levels of concern (79% are very/fairly concerned), and concern is felt most strongly by 'Blue Collar Enterprise'. This group are also the most likely to expect to be worse off in six months' time (along with 'Rural Isolation' and 'Symbols of Success') - and this fear is impacting on their current spending behaviour.
Q1 CY09: Predicted market opportunities and red flags
The zeitgeist finds the majority of consumers having changed their behaviour in response to the downturn, but still a minority are not consciously adapting (just 14% have neither made any changes nor expect to – a state most prevalent amongst 'Suburban Comfort' and 'Grey Perspectives').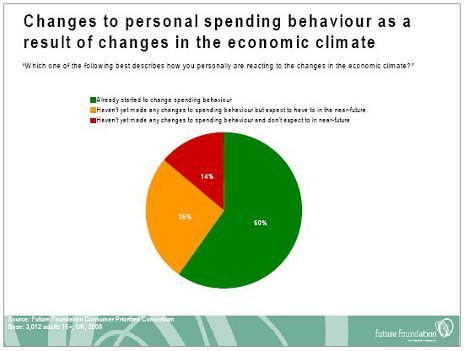 We can look at three broad consumer categories in terms of their response to the downturn:
Firstly, those who have always had to be cost-conscious and careful to make ends meet. We may expect to see their ranks swell with those forced into this circumstance by reduced incomes or unemployment. Those in 'Blue Collar Enterprise' and 'Welfare Borderline' are the most likely to have changed their behaviour already and perhaps the most likely to form this group.
Secondly, a group whose habits haven't been significantly impacted - yet. One in four consumers does not expect to see any difference in how well off they are over the next six months. This belief is most prevalent amongst the 'Suburban Comfort' and 'Grey Perspectives'. They are generally older and wealthier and concerned about the state of stock market and the strength of their investments rather than fears about the state of the labour market.
Our third group is the one to watch as they are highly volatile and irrational when it comes to changes in spending priorities; it is becoming increasingly hard to predict where they will trade-down, trade-off or, even still, trade-up. This group of consumers are suffering from 'slowdown psyche' driven by a lack of confidence in their financial future, specifically, when it comes to job security and the value of their home. The new 'fashionable thrift' and 'makedo- and-mend' mindset is rampant amongst these people despite many being better off courtesy of lower mortgage repayments and the ever downward pressure on retail prices. We believe that they can still be tempted to spend if their purchase is seen as canny, savvy and representing great value-formoney, However many are postponing large discretionary purchases (such as a new car or dishwasher) just in case.
Our Consumer Priorities Consortium data shows that out-of-home entertainment was the number one area consumers would cut back on, followed by treats (e.g. snacks, coffee, confectionary). Many of these relatively easy changes have now been made, and we anticipate the previously untouchable areas such as holidays may soon increasingly come under the budgeting microscope, along with other major purchases such as cars, replacement furniture and white goods. Direct debit auditing is likely to result in a streamlining of dusty membership subscriptions. Repayment of debt takes priority over savings and paying back friends and family, store cards and overdrafts top the list.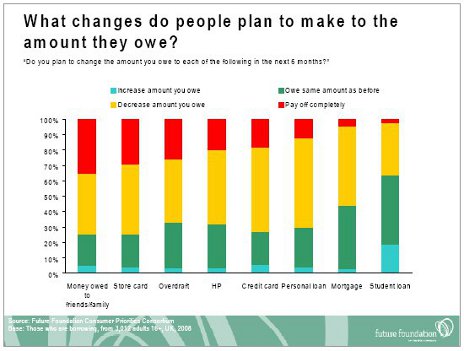 It is not only purchases of goods and services that get affected – personal life choices are also being mediated by financial concerns. Research from the Experian CreditExpert™2 service reveals that 30% of UK adults are holding off from buying a property, more than a quarter (27%) are cancelling any plans they had to change jobs, and almost a quarter (23%) of 25-34 year olds are delaying having children.
Q1 CY09: Turning insight into action
Consumers have been given the opportunity to reconsider everything they spend money on – all goods and services are open to fierce scrutiny. The key trend of 'Volatility and disloyalty' will be more relevant than ever. Savvy shoppers will hunt for the best bargains without necessarily lowering their expectations for quality and good service. Default behaviours (e.g. "I always shop here", "I always eat there") will be exposed to significant disruptions and will be boosted by the enhanced sophistication of online information sharing. Discount vouchers and limited offers will tempt the brand waverers.
Almost a third of adults claim to have no emergency fund to provide for unexpected expenses so those lenders offering small, cheap, short term loans or overdraft extensions may disproportionately boost their customer loyalty. A further third have a 'small amount' leaving a significant number eager to find a safe, instantly accessible home for their safety net.
Another of our key trends, the growing 'Cult of the home', is being boosted as feelings about our homes begin to move away from 'most important asset and investment' and back towards 'your nest and cocoon' or 'your fortress'. This yields a plethora of opportunities for those supplying low cost entertainment and home makeover solutions. However, durable replacement cycles are lengthening and the newest technology is again the realm of the early adopter as caution grows amongst the mainstream.
Customers are demanding (and receiving) better service, even as companies want to cut the cost of providing it. Consumers are looking for brands that treat them in an honest and fair way and in today's landscape, tone of voice is just as important as the message itself.
Millions will travel relatively untroubled through the downturn and so maintain a demand for premium experiences and social and cultural capital accumulation. The desire for quality, luxury and indulgence still remains - especially amongst those groups who remain largely unaffected. And, in tough times, the need and desire for life's little luxuries grows for all. However, the accumulation of permanently-owned possessions is now clearly not the only route to consumer fulfilment as renting, 'fractional living' and trading in secondary markets will chime well with both the ethical and economic mood of the times.
Using highly targeted marketing techniques that play to consumers' needs and behaviours and clearly demonstrating value for money is going to be critical for those brands looking to engage effectively with their customer base.
Mosaic® classifications
Happy Families
Happy Families contains people whose focus is on career, home and family. They are mostly young couples, married or living with their partner, raising pre-school and school-age children. This group's educational attainment has enabled them to secure positions in large organisations in either the private or the public sector, with the prospect of future career advancement. These neighbourhoods consist of modern, purpose-built family housing, either detached or semi-detached, on estates with other young families. These estates are often some considerable distance from major commercial centres but an easy driving distance from many potential workplaces, such as major new industrial or office 'parks'.
Blue Collar Enterprise
Blue Collar Enterprise people are practical and enterprising, rather than well educated. Many live on council estates where a high proportion of tenants have exercised the right to buy. The lifestyles of this group have improved in recent years. They have become home owners; they may have one or even two cars, putting them in reach of a new range of jobs with higher wages and other incentives; in the more prosperous regions, unemployment has declined, creating a seller's market; their health has improved; the crime rate in these areas has fallen and the environment is generally pleasant.
Suburban Comfort
Suburban Comfort people have established themselves and their families in comfortable homes in mature suburbs. Children are becoming independent, work is less of a challenge and interest payments on homes and other loans are becoming less burdensome. These people live in inter-war suburbs and work mostly in intermediate level, white-collar occupations, where they are beginning to plan for approaching retirement. They are likely to be married and most have children, who may be at secondary school or university, or grown up and starting families of their own.
Symbols of Success
Symbols of Success people are well set in their careers and their incomes have risen far into upper income tax ranges. Some work for large corporations in senior management positions; some hold respected roles in professional practices; others have built successful enterprises with their own commercial acumen. These are people with busy and complex family lives. Their children are now less time consuming, with more independent lifestyles, but with leisure interests that are likely to be more expensive.
Rural Isolation
Rural Isolation people live deep in the countryside in small communities that are little influenced by the influx of urban commuters. Here, people have different levels of income but share an attachment to the local community. Despite the mix of incomes, most people own their homes and there is substantial hidden wealth, much of it inherited, in the form of land, property, investment and small business ownership.
Municipal Dependency
Municipal Dependency families lack the funds to buy their own homes and are reliant on local authority housing, which is typically on large, low-rise estates far from the centre of the city. Living in council accommodation, reliant on buses for mobility and on television for entertainment, these people lead particularly passive lives, with far less choice than the better-off groups.
Grey Perspectives
Grey Perspectives people are retired but still independent, with time on their hands and in reasonably good health. They own and run their own homes and are financially independent. On retirement, they may have swapped their suburban home for a property in a coastal resort or pleasant heritage town or rural village, or in a smart apartment block in the outer London suburbs. This down sizing is likely to have left them with a significant amount of capital.
Welfare Borderline
Welfare Borderline people are struggling to achieve the material and personal rewards that are assumed to be open to all in an affluent society. Few hold down rewarding or well-paid jobs; most rely on the council for their accommodation and on state benefits to fund bare essentials.
1. Future Foundation Consumer Priorities Consortium – Wave 1 end Oct 2008, Wave 2 Dec 2008
2. CreditExpert research
Insight Reports - Archive
2010 Insight Reports
2009 Insight Reports