Fraud in the private sector
Would you like this insight report in full PDF format?
The emerging first-party fraud threat
Chris Farmer, Fraud Product Director at Experian, considers recent increases in first-party fraud and identifies the consumer groups turning to it.
Throughout the recession, UK banks, building societies, mortgage providers and credit card companies have been increasingly targeted by first-party fraudsters. These are consumers manipulating their own information to try and obtain credit and other financial services. Based on our analysis, this threat has clearly increased as the economic conditions have worsened. In a depressed economic climate, where credit will remain harder to obtain for certain consumer groups, it is highly likely that even more first-party fraud will be committed over the next year.
The first-party fraud shift
It is clear from our analysis that the balance between first-party and third-party fraud shifted dramatically during 2009. As a proportion of total fraud, first-party fraud accounted for around 28 percent of fraud cases identified by Experian in the first three quarters of 2009 (see Figure 5). This figure leapt to over 46 percent in the final three months of the year, while third-party fraud also continued to grow.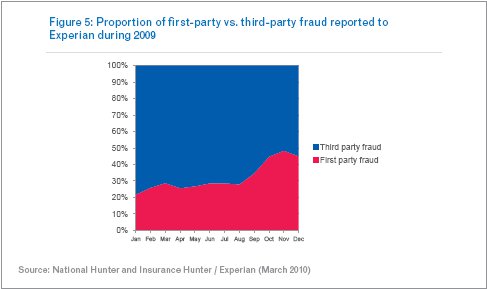 Looking across all sectors, the main trend Experian identified was a rise in applicants with adverse credit histories at a previous address which they had not disclosed. By omitting the address from an application, 'hidden adverse' fraud went from accounting for 13 percent of frauds recorded to 30 percent during the course of 2009.
With tighter lending criteria being applied, high levels of financial stress and a shortage of sub-prime credit, many consumers who would traditionally have applied to this sector are now omitting information when applying for prime sector credit and being detected as fraudsters.
Geographic analysis of first-party fraud
Examining the locations where Experian knows first-party fraud is perpetrated reveals a cluster of fraud hotspots around the East End of London. Analysis of data collected through the National Hunter fraud data sharing scheme shows that Shadwell, Stepney, East Ham, Walthamstow, Woolwich, Peckham and Barking saw far higher than average instances of first-party fraud attempts, as did other London districts such as Streatham and Willesden. Outside of London, there were hotspots in the less affluent parts of Chatham, Leicester, Birmingham and Bolton (see Figure 6).
Figure 6: Reported instances of first-party fraud attempts by postal district in 2009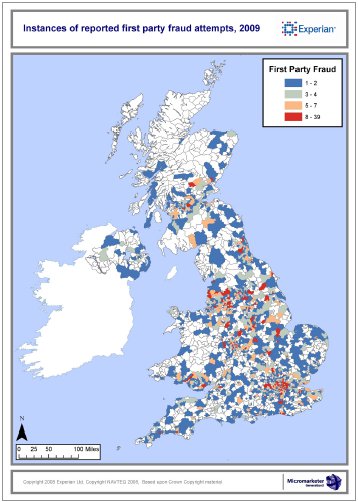 Source: National Hunter and Insurance Hunter / Experian (March 2010)
First-party fraud perpetrators
Our data highlights that most first-party frauds are perpetrated by individuals aged 23 to 27, and these people represent a quarter of all cases. However, even greater insight can be gained by analysing cases reported to Experian by financial institutions and other creditors using Experian's Financial Strategy Segments (FSS) classification.
This level of analysis shows that three key groups of individuals emerge as the most likely to attempt first-party fraud:
Those living close to the poverty line – singles and lone parents with very poor means living in the lowest quality housing – were responsible for one in five attempts in 2009. Responsible for almost 11 percent of cases, the Child Raising Challenge demographic, within which there are many who rely solely on benefits, was the most prolific offender.
Young people in the early stages of establishing careers and setting up home also feature highly. Groups such as Looking to the Future – young house sharers who, although earning reasonable wages, are not immune to money problems – and Limited Livelihoods – singles in their 30s in mostly council-rented flats – were responsible for around nine percent and four percent of attempts respectively.
Finally, young credit-hungry families, that previously spent beyond their means and became reliant on credit, also featured strongly amongst the most active first-party fraudsters. These include groups such as Hocked to the Hilt, where incomes are not enough to cover daily expenditures and Downscale Mortgagees, mortgaged families who have struggled onto the property ladder by buying the lowest value terraces and flats.
Mapping these groups across the UK shows that there are high concentrations in Northern Ireland, the central areas of Birmingham, Manchester, Nottingham and London's East End, as indicated in more detail in Figure 7.
Figure 7: FSS consumer types most associated with first-party fraud attempts in 2009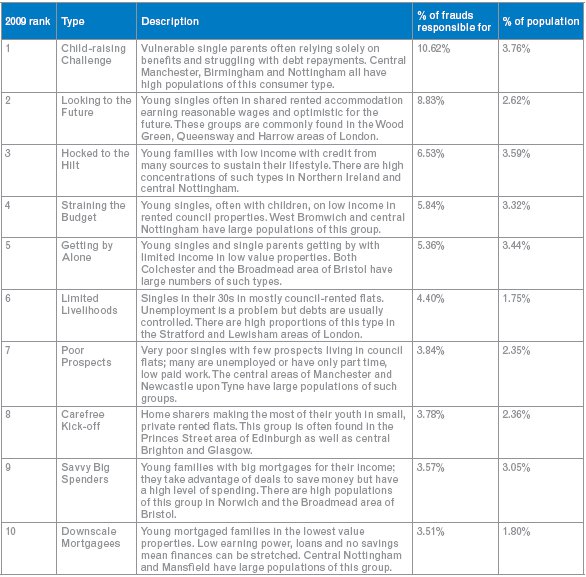 First-party fraud in 2010
The increases seen in first-party fraud have undoubtedly been exacerbated due to the recession. Those people perpetrating it tend to come from financially-stressed, low income households. With peaks in unemployment typically lagging overall economic performance, there is no reason why this trend will not continue.
As a result, Experian expects to see first-party fraud attempts, which leapt in Q4 2009, to continue growing throughout 2010, particularly across mortgages and insurance. With a shortage of sub-prime and self-certification mortgages, it is realistic to expect increasing numbers of applicants attempting to obtain mortgages through deception. Furthermore, insurance fraud also rises in difficult economic times as financially-stressed consumers increasingly claim on home insurance to gain goods which they can no longer afford to replace.
These lessons learnt in 2009 simply underline that, in order to combat first-party fraud effectively, it is vital that organisations validate all details of an application. Address history and employment details should also be subject to thorough, automated checks and any suspicious elements flagged for further investigation.
While the majority of first-party fraud is concentrated amongst the most financially stressed, more affluent segments are far from immune. Demographics such as Confident Consumers – young, thriving families with high outgoings – Independent Investors – successful families with good incomes – and Professional Solos – successful professionals or managers who are mostly living alone – each saw first-party fraud attempts increase more than seven-fold in the second half of 2009.
Are you concerned about fraud in the private sector?
Let Experian help your business with our fraud prevention services. Contact us today!
Insight Reports - Archive
2010 Insight Reports
2009 Insight Reports