Fraud in the private sector
Would you like this insight report in full PDF format?
The Experian victims of fraud survey
Experian operates a victim of fraud support service that helps consumers impacted by third-party / identity fraud to reclaim their identities and put right the damage done to their credit reports. Nick Mothershaw looks at the victims' experiences.
Victim volumes
Experian uses a range of measures to track identity fraud. Traditionally, this has centred on victims of fraud survey data, although this has recently been supplemented with additional data now being collected through National Hunter.
Over 5,000 identity fraud victims sought help from Experian in reclaiming their identities in 2009 – an increase of 20 percent on 2008 (Figure 8). Experian surveys the experiences of each of the victims it helps, providing valuable additional insight into the evolving nature of identity fraud. These findings are backed up by National Hunter data from 2009. Just 10 percent of attempted identity frauds reported to Experian during the period were in the first quarter of the year. This rose to reach 38 percent of cases in the final quarter.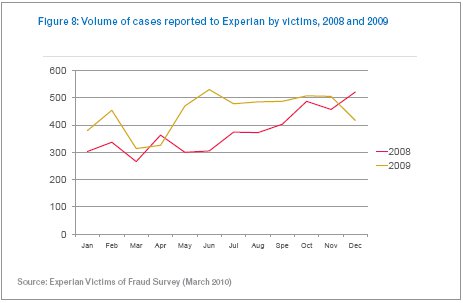 Younger groups more at risk
2009 saw a marked shift in the age of victims, with the 18 to 30 age group being increasingly targeted (up seven percent) and the 50+ age group dropping by a similar amount.
A detailed analysis of cases reported to Experian in 2009 using the Financial Strategy Segments (FSS) classification has revealed that both wealth and lifestyle attributes make consumers attractive to fraudsters. Figure 9 details the 10 most commonly-targeted groups in 2009, which are each given a risk score based on this propensity.
While the wealthiest sections of society continue to be at high risk of identity fraud attack, as mentioned earlier, fraudsters are now targeting the mass market (Figure 9).
For example, more affluent younger people feature prominently amongst the highest risk groups. Solid credit ratings and renting mean that groups such as the Up & Coming Elite – high-flying graduates privately renting in good areas – and those Looking to the Future – young singles in shared rented accommodation earning reasonable wages – are firmly on the fraudsters' radars, with risk scores of 293 and 268 respectively. With the average risk score for UK consumers being 100, these scores indicate that both groups are more than two-and-a-half times more likely to be targeted by fraudsters. Analysis of cases filed by lenders through the National Hunter fraud data sharing scheme confirms that fraudsters increasingly targeted younger groups throughout 2009.
Older and wealthier victims also feature strongly. Corporate Top Dogs – wealthy company directors and business owners – were the most at-risk group for identity fraud in 2009. A risk score of 306 signals this group as being more than three times more likely than the average UK consumer to fall victim to identity fraud. The Cream of the Crop – the highest income earners in premium price city flats and residences– with a risk score of 265, we're the fourth most at-risk group.
Likewise, Greys in the Pink – wealthy retired couples with high disposable incomes – were victims in 2009. This group has many investments, creating income and also paperwork which can be intercepted and the details used to commit fraud.
Figure 9: Top 10 FSS consumer types most at risk from identity fraud in 2009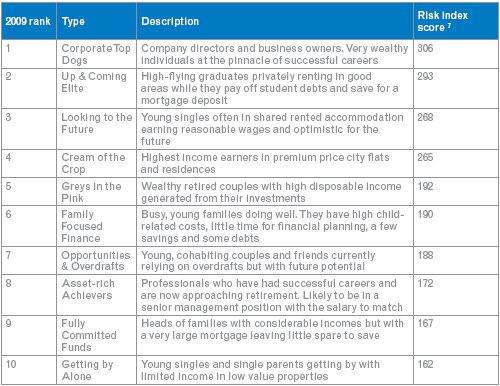 Identity fraud hotspots
Using its research into the types of people most likely to become victims, Experian has been able to identify the UK's identity fraud hot spots – the areas that contain the highest proportions of most-at-risk residents. As seen in Figure 10, London remains the UK's overall fraud hotspot. Across the UK, districts with a high proportion of rental properties were especially vulnerable.
With high concentrations of the most targeted groups, London's Knightsbridge, Docklands and Blackwall districts are prime locations for identity fraud activity. This is consistent with our earlier observations about fraudsters attacking within striking distance of where they are based.
Outside of the capital, new-build locations with a large rental sector dominate. The Quays development in Salford, Liverpool Street in Manchester and Cardiff's dockside regeneration area also feature highly on Experian's risk indices.
Figure 10: High risk fraud areas in 2009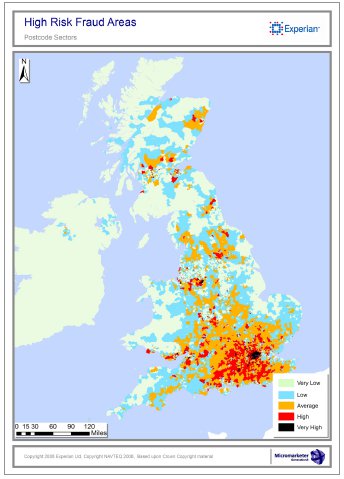 Identity fraud modus operandi
Based on Experian's analysis, forwarding address fraud – where the fraudster redirects the victim's post to another address – was used in 31 percent of cases, suggesting the ongoing involvement of organised crime in this area. Present address fraud – a more opportunistic crime perpetrated by someone living at, or having access to the victim's current address – increased in 2009: this accounted for 30 percent of cases. Present address fraud often requires access to mail delivered to the address through collusion, interception or redirection.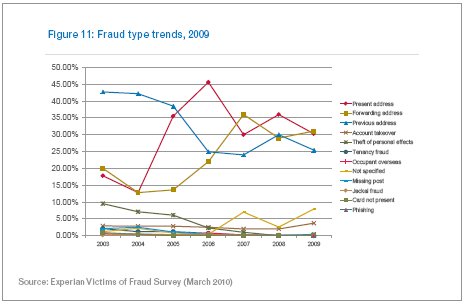 Furthermore, National Hunter data supports this view (Figure 11). Across all product areas during 2009, the current address – which would include present address and forwarding address frauds – was used in 61 percent of cases of attempted fraud reported by organisations. Previous addresses accounted for 11 percent of fraud attempts.
Consumers must remain vigilant and take every precaution possible to protect their identities. It is important to be careful not to share personal information online and to shred sensitive documents, such as financial statements, before throwing them away. Regular credit report monitoring – so individuals can reassure themselves that no one has gained unauthorised access to their personal information and is abusing it to commit crime – offers the best level of protection.
Are you concerned about fraud in the private sector?
Let Experian help your business with our fraud prevention services. Contact us today!
Insight Reports - Archive
2010 Insight Reports
2009 Insight Reports