Victims of Fraud Survey
Would you like this insight report in full PDF format?
The bigger picture
Identity fraud cases
The number of identity fraud victims who sought help from Experian last year was almost 20 percent higher than the year before. In 2009, 5,353 new victims contacted its Victims of Fraud service for help in reclaiming their identities. In 2008, the figure was 4,490.
As shown in Figure 1, year on year, fraud attempts rose most sharply in early summer, rising by 57 percent in May to 470 cases, and by 74 percent in June to 530 cases – the highest number ever reported to Experian in any single month. They had, however, fallen back down to close to 400 a month by December. It remains to be seen if this downward trend continues, or the fraudsters just stopped for a Christmas break.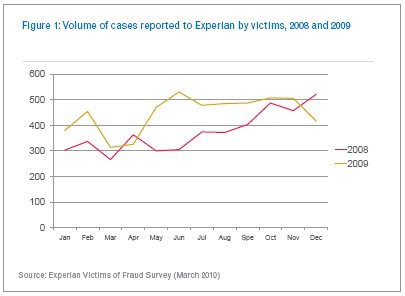 The average financial loss per person was £1,100 in 2009, marginally higher than the 2008 figure of £1,040. However, the most extreme loss reported to Experian was for almost £59,000.
Hire purchase saw average losses nearly double in 2009 from £16,544 to £31,112, while credit and store cards, which accounted for 55 percent of identity fraud losses, saw the average loss fall to £1,753 per account, down £154 on 2008. Mail order, which accounted for seven per cent, also saw average losses fall by £31 year on year to £169. Fraud on mobile phone accounts accounted for three per cent, with an average loss of £318, almost the same as last year's £321.
Discovering fraud
Victims of identity fraud typically only discover the fraud when they review their credit reports. In 2009, nearly three in five of victims discovered that their identity had been compromised by checking their credit report.
For one in ten, the first clue they had that they'd become a victim of identity fraud was a notification of fraud from a financial services company or a letter chasing an unknown debt.
Despite consumers being more aware than ever of the risk of identity fraud, it is taking victims longer to discover their identity is being used fraudulently. In 2008, it took victims an average of 399 days to discover they had become a victim of fraud. In 2009, this rose to 416 days, giving criminals more than 13 months to open new lines of credit and destroy an individual's credit rating.
How identity fraud is committed
Experian's analysis shows that most identity fraud is premeditated. In 2009, as shown in Figure 2, the most common technique used by criminals was to redirect their victim's post to another address. Known as forwarding-address fraud, it was used in 31 percent of cases. Almost as common was present-address fraud, which typically requires some form of mail interception. It is usually committed by someone living at, or having access to, the victim's current address and often involves a shared mailbox or communal hallway. This method accounted for 30 percent of cases.
Previous-address fraud fell to 25 percent of reported fraud. This is typically an opportunist crime – the victim changes address but fails to redirect their post or does not notify organisations such as banks or credit card companies. Someone with access to the old address then uses the victim's details to open new accounts in their name.
Together, these three types of fraud show why people living in rented accommodation – with shared letterboxes or a communal hall for postal deliveries – and frequent home movers are more at risk of identity fraud than others.
Account takeover fraud, where criminals take over a victim's existing bank or credit card account, doubled to four percent of cases. Internet fraud phishing, through which account details are obtained via false e-mails or a fake website, made its appearance for the first time this year.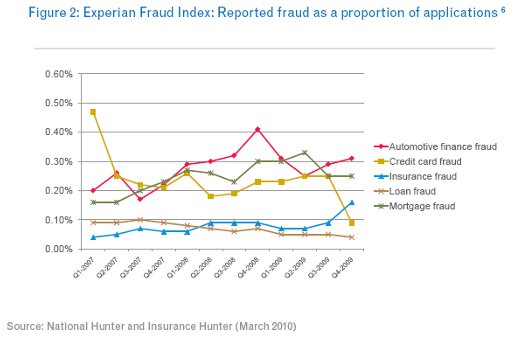 The prime suspects
In the majority of cases, victims were unaware or unwilling to disclose who they believed had hijacked their identities. Only 31 percent were aware and prepared to disclose who they believed had committed the fraud.
Of those who believed that they knew the perpetrator, the majority suspected a family member or a tenant. Family members – the people most likely to have easy access to personal details – are cited by over two-thirds of those who believe they know who carried out the crime. Tenants are suspected of being the guilty party by a quarter of victims, and of committing previous-address fraud.
Friends represent three percent of suspected identity fraudsters, followed by ex-partners (two per cent). This year, for the first time, work colleagues have been identified in one percent of cases where the perpetrator is known or suspected. All of these groups are in a position to know a lot about their victims – and to take advantage of that knowledge.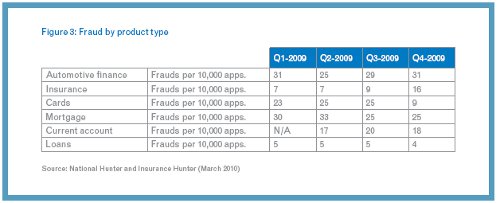 Insight Reports - Archive
2010 Insight Reports
2009 Insight Reports