Getting the bounce back into the economy
Would you like this insight report in full PDF format?
Recession creates a new twist on old north/South divide story
Matthew Sherwood, Senior Global Economic Adviser, Experian Business Strategies
The epicentre of the recession sparked by the UK financial crisis may have been London and the South East, but the aftershocks for both industry and consumers have hit hardest in the UK's traditional manufacturing heartlands.
The expectation was that the UK recession would be centred in London, the South East and other financial centres across the country. Just last autumn, newspapers were full of headlines proclaiming a 'middle-class recession' as thousands of white-collar workers in those regions and centres faced the axe. While London and the South East have been affected, the global nature of the recession, especially in the wake of Lehman Brothers' collapse, means UK manufacturing has been hit especially hard.
Indeed, job cuts in manufacturing since mid-2008 have matched those in business services, while losses in banking and insurance have paled by comparison. And looking ahead, manufacturing is projected to shed over 350,000 jobs between mid-2008 and mid-2010. Construction and distribution will also take significant hits. While business services is just behind manufacturing in terms of projected job losses, redundancies have so far been mostly limited to non-professional positions, such as admin and back-office support.
This has major implications for northern England and the industrial heartland of the West Midlands. Indeed, consumer confidence in the West Midlands and the North West – the latter encompassing Liverpool and Manchester – is lower than in London and nearly as low as in the South East, the region with the worst sentiment readings in the country. In the East of England, South East and London, employment is actually holding up surprisingly well, considering that the knockon effects of the meltdown in financial services and property are concentrated in the region.
With this in mind, it should be no surprise that the North is facing a tougher time of it, as revealed by a marrying of our economic forecasting and consumer segmenting capabilities – Mosaic Economics. The Mosaic types worst affected by the recession are those where employment prospects look bleakest, in terms of rising rates of unemployment. These segments comprise mostly low-skilled labour employed in low-paid manufacturing, as well as very small businesses, such as corner shops and the like.
Small Enterprise - Well-qualified minority groups, many from Asia, living in semi-detached suburban areas
Low-paid Manufacturing - Larger families, many of South Asian origin, in highdensity terraces
High Density Urban - Tenants of public housing in inner city areas, with a high proportion belonging to minority communities
Families on Benefits - Disadvantaged families with children on very low incomes, typically living in low rise council estates.
Low Horizons - Tenants reliant on city councils for housing and transport, where few neighbours have bought their homes
They are largely concentrated in the urban centres, especially north of the River Trent.
A typical example might be a family living in Felling, Tyne and Wear. They have always had to be cost-conscious and careful about making ends meet. In that sense, their reaction to the recession is "What's new?!" While they are not affected by the falling housing market per se, their low-paid jobs are increasingly at risk. Rising benefits and lower inflation will help, but their behaviour is likely to have already changed, in terms of cutting back on discretionary spending. And with credit hard to come by, purchases of bigticket items or other status symbols have been postponed indefinitely.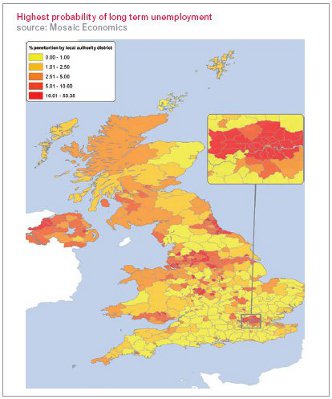 That is not to say that London and the South East will not be hit. The area is home to a significant number of households that derive a sizeable portion of their incomes from financial investments. Markets have declined sharply since late 2007, hitting incomes and wealth. Even with the recent rally in equities, prices are down a third from their 2007 peak. And with interest rates near zero, those living off their savings will face a tougher time of it. While the wealthier are still in a position to weather the storm, it does seem likely that discretionary spending will be toned down in the short term. Like their northern cousins, these Mosaic types have already adjusted their spending behaviour. Those most affected include:
Golden Empty Nesters - Families in later lifestages, many retired following successful careers, in select neighbourhoods
Provincial Privilege - Well-educated older professionals living in established suburbs
Semi-rural Seclusion - Higher income families living on the outskirts of commutable metropolitan areas.
Close to Retirement - Older couples and families reaping the benefits of their industrious working lives
High Spending Elders - Well-off early retirees enjoying affluent and active lifestyles in pleasant locations
These segments are largely concentrated in the counties along the southern coastline and in the London commuter belt (see map below).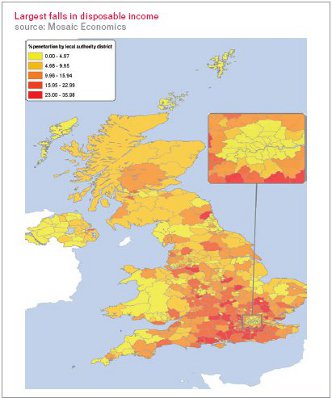 The post-recession landscape
Consumer spending growth will slow over the next decade as a result of more subdued income and employment growth; a weaker housing market; the heavy servicing burden of existing debt; and the growing need for retirement savings.
It seems likely that London and the South East will once again lead the way in terms of growth. That said, the UK economy's rate of growth will be slower than in the 1990s and early 2000s. A return to the buoyant financial markets of the past seems highly unlikely, with implications for the Mosaic types that rely on savings and investments for a significant share of their incomes.
But it seems that all consumer segments will have to face up to reality, with employment and wages growing at a far slower pace in the future than the norm for most of the 1990s and 2000s. While borrowing rates currently may be low, at least for those with enough equity sunk into their houses, the massive loosening of fiscal and monetary policy will have to be wound up before inflation returns with a vengeance. This will see interest rates rise significantly sooner rather than latter. Those households still toiling under a mountain of debt seem most likely to see their behaviours change more significantly in the longer term.
A typical example would be a Happy Family living in a place like Milton Keynes. Let us call them Nick and Claire. Their middle-management jobs seem relatively secure, although their wages are likely to have been frozen, or even cut. This will hit their bottom line, particularly as wages and salaries comprise almost all of their income. Nick and Claire took a sizeable mortgage out a few years ago as they started their family. With the fall in house prices they find themselves in negative equity, limiting their access to better borrowing terms and their mobility. They may also have maxed out their credit cards. So far they have not changed their behaviours substantially, but reality will probably kick in by 2010, with big purchases and holidays abroad on hold. In the post-recession environment, it will be the Nicks and Claires who will have to adjust their expectations accordingly as wages grow slowly and their debt burden remains significant.
Mosaic® classifications
Happy Families
Happy Families contains people whose focus is on career, home and family. They are mostly young couples, married or living with their partner, raising pre-school and school-age children. This group's educational attainment has enabled them to secure positions in large organisations in either the private or the public sector, with the prospect of future career advancement. These neighbourhoods consist of modern, purpose-built family housing, either detached or semi-detached, on estates with other young families. These estates are often some considerable distance from major commercial centres but an easy driving distance from many potential workplaces, such as major new industrial or office 'parks'.
Blue Collar Enterprise
Blue Collar Enterprise people are practical and enterprising, rather than well educated. Many live on council estates where a high proportion of tenants have exercised the right to buy. The lifestyles of this group have improved in recent years. They have become home owners; they may have one or even two cars, putting them in reach of a new range of jobs with higher wages and other incentives; in the more prosperous regions, unemployment has declined, creating a seller's market; their health has improved; the crime rate in these areas has fallen and the environment is generally pleasant.
Suburban Comfort
Suburban Comfort people have established themselves and their families in comfortable homes in mature suburbs. Children are becoming independent, work is less of a challenge and interest payments on homes and other loans are becoming less burdensome. These people live in inter-war suburbs and work mostly in intermediate level, white-collar occupations, where they are beginning to plan for approaching retirement. They are likely to be married and most have children, who may be at secondary school or university, or grown up and starting families of their own.
Symbols of Success
Symbols of Success people are well set in their careers and their incomes have risen far into upper income tax ranges. Some work for large corporations in senior management positions; some hold respected roles in professional practices; others have built successful enterprises with their own commercial acumen. These are people with busy and complex family lives. Their children are now less time consuming, with more independent lifestyles, but with leisure interests that are likely to be more expensive.
Rural Isolation
Rural Isolation people live deep in the countryside in small communities that are little influenced by the influx of urban commuters. Here, people have different levels of income but share an attachment to the local community. Despite the mix of incomes, most people own their homes and there is substantial hidden wealth, much of it inherited, in the form of land, property, investment and small business ownership.
Municipal Dependency
Municipal Dependency families lack the funds to buy their own homes and are reliant on local authority housing, which is typically on large, low-rise estates far from the centre of the city. Living in council accommodation, reliant on buses for mobility and on television for entertainment, these people lead particularly passive lives, with far less choice than the better-off groups.
Grey Perspectives
Grey Perspectives people are retired but still independent, with time on their hands and in reasonably good health. They own and run their own homes and are financially independent. On retirement, they may have swapped their suburban home for a property in a coastal resort or pleasant heritage town or rural village, or in a smart apartment block in the outer London suburbs. This down sizing is likely to have left them with a significant amount of capital.
Welfare Borderline
Welfare Borderline people are struggling to achieve the material and personal rewards that are assumed to be open to all in an affluent society. Few hold down rewarding or well-paid jobs; most rely on the council for their accommodation and on state benefits to fund bare essentials.
Urban Intelligence
Urban Intelligence people are young, well educated and open to new ideas and influences. They are cosmopolitan in their tastes and liberal in their social attitudes. Few have children. Many are in further education while others are moving into full-time employment. Most do not feel ready to make permanent commitments, whether to partners, professions or to specific employers. As higher education has become internationalised, the Urban Intelligence group has acquired many foreignborn residents, which further encourages ethnic and cultural variety.
Twilight Subsistence
Twilight Subsistence people have reached the late stage in previously independent lives and now require the support of housing and social services departments. Most rely entirely on state benefits for their income. They either rent their homes from the public sector, rather than owning, or use local authority rather than private care homes. This reflects their low levels of savings and incomes; most do not hold any equity, either in their homes or in financial investments, and their incomes are likely to be restricted to the basic state pension supplemented by other welfare benefit payments.
Ties of the Community
Ties of Community people live in very established, rather old-fashioned communities. Traditionally, people in this group married young and had manual jobs in industries such as docks and mines. Today, this group has a younger than average population; many are married or cohabiting and bringing up young children. Social support networks are strong, with friends and relations nearby.
Insight Reports - Archive
2010 Insight Reports
2009 Insight Reports