Getting the bounce back into the economy
Would you like this insight report in full PDF format?
How will companies take advantage of user-generated content in a post-recession world?
Robin Goad, Research Director, Hitwise, an Experian company
The recession has seen user-generated content (UGC) come into its own, embraced by consumers and forward looking online segments alike. With sites offering social networking and UGC now amongst the fastest growing on the web, the challenge is on for more traditional online segments to embrace UGC ready for the upturn.
Consumer behaviour has changed as a result of the recession, and many of these changes have been reflected online. From the growth of money saving websites to an increase in searches for home comforts, UK online behaviour has mirrored what is happening in the 'real' world. But Internet usage has also evolved to meet the challenges that the recession has posed for the more traditional online segments.
With money tight, UK Internet users are spending less of their online time on transactional websites. In March 2007, before the credit crunch started to bite, the main content driven websites (news, media and entertainment sites, plus social networks) received 35% more UK Internet visits than retail and travel websites (which combined account for the majority of UK eCommerce revenues). Over the last two years, that gap has widened significantly; in March 2009, content driven sites picked up 138% more visits than their transactional counterparts.
Of course, websites offering something for free have always thrived online, but they have fared particularly well during the recession. For example, social networks overtook retail websites in the UK for the first time in January 2009, and by March 2009 were already receiving 14% more Internet visits. Sites that take advantage of social media and user-generated content (UGC) have been amongst the fastest growing over the last two years. Facebook saw a 769% growth in traffic between April 2007 and April 2009, while Youtube's traffic increased by 177% and Twitter's by some 17838% over the same period. Social networks now account for one in every ten UK Internet visits and one in every five page views.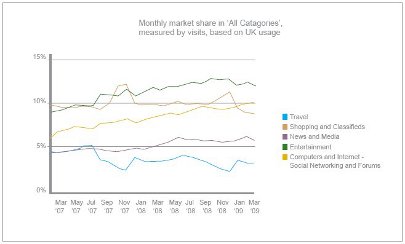 For the sites that have picked up a significant amount of UGC, monetisation remains the main challenge. The original plan went something like this: build a compelling site that people wanted to use and will return to frequently, then sell advertising. And not any old advertising; highly targeted personalised ads based on the content, preferences and lists of interests that users had previously shared with the site owners. Unfortunately, the global advertising slump has dented some of these ambitions. True, online has suffered less than other channels, such as print and TV, but it isn't immune to the recession. For example, the proportion of search traffic that an average website received from paid listings fell from 12.1% in March 2008 to 9.4% in March 2009.
The commercial model may not have worked out quite as planned, but consumers have taken to the world of 'Web 2.0' with gusto. And, as a result, there is no turning back. Compare the user experience on a well executed retail website, i.e. one that incorporates rich media content and user recommendations, with a more basic site and there's no contest. Therefore, the sites best positioned to take advantage when the market turns will be the ones meeting these new consumer requirements for interactivity.
Content driven sites, from Friends Reunited to Twitter, may have been the first to embrace UGC, but more transactional driven companies can benefit just as much. Firstly, there is the benefit of all that (almost) free content driving visitors to your website, especially if they are arriving via search engines. Forward thinking retailers serving sectors as diverse as fashion and DIY are already attracting customers to their websites with everything from catwalk videos to 'how to' forums. This trend will continue, and the companies that stay ahead of the game will be those picking up the most new customers in the free-spending, post-recession world.
Then there is the benefit in terms of conversion rates. Getting customers to your site is only part of the battle; getting them to spend with you when they have a vast number of other choices elsewhere is an even bigger challenge. Good UGC doesn't only help with the customer experience, it also improves conversion rates. More and more sites are adding user reviews, and they are becoming more prominent. An increasing number of retailers sort product search results by customer rating rather than price or company defined 'relevance'. Why do they do this? Because, given the right safeguards, customers trust other customers more than corporations.
This trend will continue, but with even more sophisticated content and feedback mechanisms. And the impact of all this UGC won't only be felt online. Information collected online, from product reviews to sophisticated technical support solutions, will increasingly find its way into offline marketing. Your hotel is rated number one on a popular travel website? Why not take advantage of this in your press and TV advertising! Similarly, if you're using user ratings to choose which products to push on your website, why not do it in store as well? The savviest organisations are using the web to collect data on everything from their customers to their products, and this will prove to be an invaluable tool across all channels and business functions when the good times return.
Insight Reports - Archive
2010 Insight Reports
2009 Insight Reports