Contact us
Or call us on
0845 234 0391

Related products
Motorway Man remains key to election success
It appears that Motorway Man may hold the key to election success – for all the three main political parties. Analysis of YouGov voting intentions data up to April 2010 revealed how this group had turned Conservative, having voted Labour in 2005. However, since the TV leadership debates, Motorway Man is now showing a real and tangible interest in Nick Clegg and the Liberal Democrats.
This group was identified by Experian using its Mosaic classification. The name Motorway Man refers to often childless voters in their late twenties and thirties, living in modern homes close to motorway junctions. The Motorway Man group
of voters consists of Mosaic Groups H – New Homemakers (defined as 'Young singles and couples in small modern starter homes') and some sections of
G – Careers and Kids ('families with young children where both parents are
likely to earn solid incomes providing for a comfortable modern home'). These people do not have strong community ties and have a greater focus on material possessions, which makes them more politically and ideologically footloose
than other voters.
Motorway Man is significantly over-represented in the key target marginals where it commands over 15 per cent of the electorate. It is therefore a crucial group for all political parties.
Motorway Man is heavily influenced by personality politics and the new best thing, and is more concerned about the economy than public services or healthcare. The Experian Hitwise table below illustrates the segmentation of visitors to each of the main political party home pages by Mosaic Group over the last four weeks. As you can see, both Groups H and G are over-represented as visitors to the Liberal Democrats homepage – in fact H is currently the top group for the Lib Dems. Group H is also over-represented on the Labour homepage, but under represented for the Conservatives; while the opposite is true for Group G.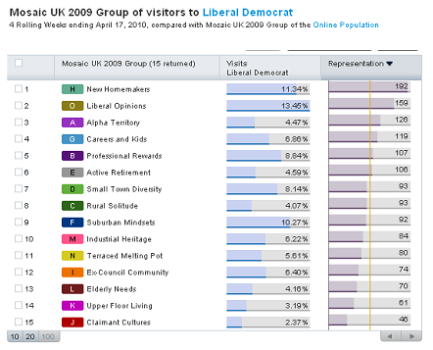 The question now is whether Nick Clegg and the Liberal Democrats can win over Motorway Man in the long term. The second leadership TV debate last night was less clear cut and the latest Experian Hitwise analysis (see table below) shows that the Conservatives now have the edge. However, the margins are still very thin and there remains everything to play for as the 2010 election is fast turning out to be one of the closest in generations.