Contact us
Or call us on
0845 234 0391

Experian Mosaic UK
Experian Mosaic UK is the leading classification of UK consumers.
Uncovered: the real Middle Britain
Experian identifies Slough as social heartland of Middle Britain today
London, 14 December 2010 — If you live in a semi-detached house in Slough, drive a Ford Focus, shop at Tesco and can't find enough hours in your day, you could well have joined the ranks of the UK's biggest social group: Middle Britain.
Framed against the perennial debate about who or what constitutes Middle Britain, and increasing use of the term Middle Britain as a societal reference point, Experian has today painted a revealing new picture of the most talked about demographic in Britain today. Based on insight using Mosaic, Experian's consumer classification tool, this fresh perspective challenges typical notions about Middle Britain and looks beyond average income and class stereotypes to encompass characteristics, attitudes, behaviours and locations.
Experian has defined Middle Britain using Mosaic, which uses over 400 social and economic variables to better understand consumers. In Experian's view, Middle Britain today is represented by 13.1 million people making up nearly a quarter of the population (21%). This definition of Middle Britain is based on a series of key statistical measures including income, age, car ownership, type of house, number of holidays, attitudes and behaviours1. Based on Experian's analysis, the picture that emerges of Middle Britain is of a group that is pressurised, faces many challenges and is more complex than might be expected. Middle Britain is no longer epitomised just by middle managers living with their families in leafy suburbs but instead spans the full cultural spectrum of UK life – taking in both single person households and married couples of all ages living in brown field inner city locations, through to the outer edges of large towns and cities as well as affluent suburbs.
According to Experian's analysis, the place in the UK with the highest density of people personifying Middle Britain today is Slough, with almost two thirds of the population here (63%) falling into the Middle Britain band. The top ten places in the country – all based in the South - that represent Middle Britain are (ranked by local Authority):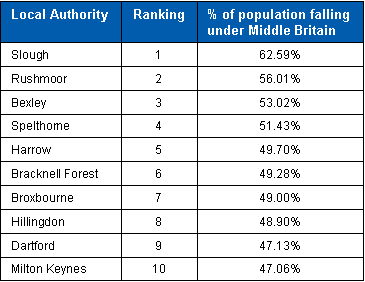 In fact, Experian's analysis suggests that Middle Britain represents almost a quarter of the UK population (21%). Interestingly, Hindus and Sikhs are 1.6 times and 1.8 times more likely to be in Middle Britain compared to the UK average.
Nigel Wilson, Managing Director, Experian Marketing Information Services, UK & Ireland, said: "Middle Britain is often discussed yet it has rarely been examined in a meaningful way, taking into account behaviours and consumer habits. We need to dispel the myth that Middle Britain is simply either those on average incomes or is somehow synonymous with being middle class – it takes in a much broader sweep of the population than either of those two descriptors. It's essentially a new consumer order.
"Slough is a microcosm of Middle Britain today – a melting pot of classes and cultures. It forms a corner of a Middle Britain triangle shared with Harrow in the north and Bexley in the south-east that absolutely encapsulates why more of us are members of Middle Britain than we might think."
Middle Britain traits
Middle Britain in 2010 comes in two flavours – those living in older, more established suburbs such as Bexley or Harrow and areas of more modern housing and a younger population such as Thurrock, Slough or Milton Keynes. Middle Britain today is 2.5 times more likely than the national average to live in a semi-detached house and 14% of this group live in new properties – compared to a UK average of only 6%.
Based on Experian's Mosaic analysis, Middle Britons in the older suburbs are increasingly worried about rising fees and costs, having difficulty in covering their mortgage and at the same time facing reduced pension values. Coupled with this, parents in this group are also concerned about the challenges their children are tackling, for example, university debt and getting on the housing ladder. Middle Britain's other side is younger and lives in predominantly newer housing. In places around Eastleigh and Dartford the younger Middle Briton worries about high mortgages, job security and high levels of debts.
Despite these differences between the mature enclaves of Middle Britain and its new neighbours, inhabitants have a common set of characteristics. Experian's research shows that whilst 54% of Middle Britain are happy with their standard of living, 60% acknowledge that 'in this day and age it is important to juggle various tasks at the same time'. Middle Britain today struggles with finding enough hours in the day (57%) yet displays optimism in admitting they can change their life if they want to.
Home is where the heart is
Family is very important to Middle Britons: many have children, which is a major influence on their leisure time. This group tends to have a low-key social life, encompassing the gym and local cinema, to trips to the seaside, parks and themes parks. They also choose to spend much of their leisure time at home. Not only are days out planned with the kids in mind, but even at home, this group is more likely than the rest of the UK to watch children's programmes with sci-fi / fantasy and property genres also popular.
Conscious of their health, many are members of the gym, running is popular amongst parents of primary school children and cycling is a regular past time amongst families with children of all ages. Martial arts are a stand-out past time of younger Middle Britain. When it comes to watching sport, football as with the rest of the UK is the overall favorite (30%) although Middle Britons are more likely to watch extreme sports (e.g. skateboarding) compared to the rest of the UK.
Middle Britain in the digital age
Experian's data shows that Middle Britons are huge technology consumers and by 2015 their spending on communications technology will increase by over 40%.
Many are parents juggling busy working lives making them frequent internet bankers and shoppers. As experienced users of technology at work, they take a strong interest in the latest digital gizmos and gadgets. In the newer neighbourhoods, Middle Britain's consumers rely on searching the internet for information and advice about products and services with 50% using the Internet as their preferred channel for making purchases.
This group's favoured means of communicating socially is through using the Internet (31%), more than the telephone (29%) and email (23%). It perhaps comes as no surprise then that Facebook is the second most visited website by this group, after Google. However, if mobile and internet providers are going to benefit, it is the hospitality industry that stands to lose out on the Middle Britain pound with a spending on bars, hotels and restaurants set to decrease by 3% by 2015 according to Experian's economists.
Middle Britain's spending power?
Household income for Middle Britain is around 10% higher than the national average at £47,300 per year. Although outgoings are also higher, mainly in terms of income tax and mortgage commitments, disposable income is nonetheless 8% higher than the national average. Almost half (48%) of Middle Britons perceive themselves 'coping financially' rather than being 'financially comfortable' (29%).
By 2015, Experian's economists forecast that Middle Britain's average income is expected to grow by about 6.6% in real terms – slightly higher than the national average of 6%. However, outgoings are likely to increase faster than the national average with the net result that Middle Britain's disposable income is set to increase by 2.7% by 2015. However, this group is likely to be more exposed than the general population to increases in mortgage interest rates over the coming years.
Brands are important to this group and buying decisions are governed by both value for money and technical excellence. Experian's research shows that whilst almost half (44%) state that they plan their weekly shopping carefully, almost a third (31%) also admit to buying the cheapest product. Word of mouth endorsement holds particular sway and this group is increasingly open to text based marketing over direct mail.
Nigel Wilson continued: "Middle Britain has to become a consumer touchstone for companies. This is a group that represents a broad section of society and has the power to make or break a brand. Unlike the traditional stereotypes, our analysis shows that Middle Britain encompasses a variety of ages, ethnic backgrounds, likes and dislikes, as well as being scattered across the country. With our research showing how technology-savvy this group is, successful brands will be the ones that tap into what these consumers really want from the companies they deal with by using personalized, relevant and timely digital content."