Contact the Team
0845 234 0391
Outside the UK? Call +44 115 901 6019
9am - 5pm Monday - Friday
Pitch pack
Going for new business? Our insight can help you win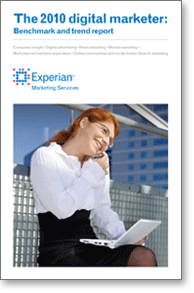 Client Case Study
CCR case study - benefit statement
Agency and reseller events
Event 1 link
Event 2 link
Leadership Team
Tom Blacksell
Managing Director, Experian Marketing Services, UK & Ireland
Tom joined Experian in July 2013 as Managing Director of Experian Marketing Services in the UK & Ireland.
Tom is responsible for overall business performance in the region, leading Experian Marketing Services as it grows its consumer insight and targeting, data quality and cross-channel marketing services.
Prior to joining Experian, Tom spent 18 years with Capgemini where he held various executive and board level roles, including CEO of UK Consulting. Most recently he focused on the consulting specialism of digital transformation and he was previously UK board sponsor for Marketing.
Tom has a strong client-focus, having worked with enterprise clients across a range of industries in his previous roles with Capgemini, Ernst & Young and Exxon Mobil.
Nigel Wilson
Managing Director, Consumer Insight & Targeting
Nigel has been Managing Director, Consumer Insight & Targeting, Experian Marketing Services since March 2008.
He heads up the division of Experian which is responsible for consumer segmentation and insight, customer acquisition and geo-spatial offers.
Prior to this role, Nigel was Sales Director, responsible for sales revenues and sales disciplines across the division. In his 14 years at Experian, Nigel has also been Director responsible for the Market Planning Group with a particular focus on the retail property and leisure sectors.
Simon Martin
Managing Director, Cross-Channel Marketing
Simon has worked across the media, digital marketing and payments industries. He is leading Experian's email and cross channel marketing business in UK.
Simon began his career in the mid 1990's at PHD (media planning), before becoming a director of MediaTel (media intelligence). He then joined a high growth payments start-up (Eiger Systems) to lead business development. Eiger was acquired by Experian 7 years ago after which Simon led Experian's UK government vertical, moving to global proposition learning leader. He has a 1st class degree in computer science and marketing (London) and is a board member of Byte Night (Action for Children).
Joel Curry
Managing Director, Data Quality
In October 2010 Joel Curry was appointed as Managing Director of Experian Data Quality, UK and Ireland. Joel will play a key role in growing the Data Quality business. He brings a wealth of experience to the role, having served as Chief Operating Officer of Experian Data Quality North America, the company's senior executive for all strategic business decisions in the United States and Canada.
Prior to Experian, Joel worked in sales at ATI Technologies. Joel earned a degree in Human Physiology from the University of Birmingham and a MBA from City University Business School in London.