Upcoming events and webinars
Read our latest blogs

Marketing and Customer Insights from Experian's Latest Thinking blog.
Digital insights from the Experian Hitwise blog.
Stay ahead with our e-newsletter

Latest news, events and marketing insights
Analysing big data for marketing ROI
Big data is the raw material of modern marketing, but it is a combination of analytics, consultancy and actionable insight that delivers the final product — customer understanding, the ability to target and acquire new consumers effectively and retain and grow existing customers. In today's aggressive business environment where customer engagement is hard-won, complete analysis of your big data is a competitive advantage.
Experian can provide the consistent, multi-channel insight that you need to break down internal data silos and gain real understanding of your customers' on and offline identities. With the most comprehensive data sources in the UK, deep proprietary segmentation capabilities and industry leading technology solutions, our consumer analytics and consultancy teams define, target and engage your customers across all marketing touch points:
direct mail
call centres
websites
digital display advertising — working with Microsoft and Yahoo!
email
mobile
social media — including Facebook and Twitter
Experian stands out with its depth and breadth of consumer cross-channel analytics, consultancy and practical insight, which delivers:
Definition: collect, link and make sense of your and other data sources.
Application: develop and test new strategies, use technologies to implement informed approaches and deliver consistent reporting in real-time.
Cross-channel analysis and reach: harness and combine insight across all channels for national and localised markets, combined with accurate measurement for ongoing improvement.
5 steps for bottom line benefit
Data, analytics, consultancy and actionable insight for effective, measurable and profitable marketing.
Find out more
Consultancy services
Our consultants are focused on providing workable, real-world solutions that deliver revenue growth.
Find out more
Meet our consultants
Find out more about our consultants and the areas they specialise in.
Meet our consultants
Consumer marketing insights
Managing analytical projects
Hints and tips for planning and managing analytical projects.
Harness the power of data to drive marketing ROI
How can Data Driven Marketing improve your marketing results?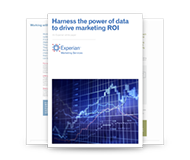 Marketing consultants - they aren't what they used to be
Find out why talking to our consultants won't cost you a penny but might prove priceless.