Upcoming events and webinars
Read our latest blogs

Marketing and Customer Insights from Experian's Latest Thinking blog.
Digital insights from the Experian Hitwise blog.
Stay ahead with our e-newsletter

Latest news, events and marketing insights
5 steps to actionable consumer insight
The objectives of harnessing big data are clear: identify who your customers are, what they are interested in and the channels through which they want to be engaged; then take this consumer understanding and insight, learn from it and create marketing campaigns that engage with individuals for higher transaction rates and ROI.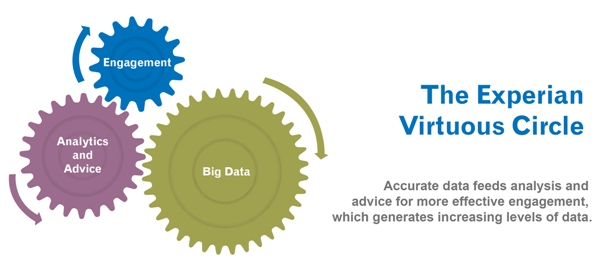 Experian has the data resources, analytical expertise and quality of consultancy services to take you through all five steps that turn data into actionable consumer insight solutions.
5 steps for campaign planning and bottom line benefit:
Before we do anything else, Experian will take the time to understand your business, campaign and/or planning objectives.
We are honest brokers, which means we'll work with you to realise the true potential of your data and, where necessary, challenge assumptions to get to the right business outcome.
The more information you can access, the greater the customer detail possible — but Experian takes a pragmatic approach, cutting through the clutter to focus on the data and analytics that can deliver actionable insight.
We audit and analyse your customer data to ensure that it is accurate, whilst also looking at ways of refining what you capture and how it's captured. It is then merged with Experian's own sources: we have the scale and reach to analyse and integrate data across all channels, with online, email, mobile phone and social media insight.
The journey from data to delivery begins with detailed data analytics that lead to practical solutions, and our expertise is extensive. Using single variables such as age, or multiple factors such as gender, ethnicity and income, we have analytical approaches to suit any size of company, at whatever stage of data maturity:
Customer profiling and segmentation
Predictive modelling e.g. regression analysis
Response analysis and marketing ROI
Decision tree analysis (CHAID)
Campaign planning and optimisation
Cluster analysis
Customer scoring
Factor analysis
Our analytics and consultancy teams work with you to identify how our data, technologies and people can be harnessed to achieve objectives. We then employ closed loop analysis techniques to develop, test and learn from proposed solutions, ensuring that they are always practical and always deliver the best possible marketing returns.
With flawless data, deep analysis and practical advice, Experian delivers consumer insight solutions that lead to action and bottom line benefit. You can now:
see who your customers are, what engages them and how they are engaged;
identify potential new customers and target them with highly specialised content that speaks to them as individuals, improving transaction rates and marketing ROI; and
engage with existing customers to retain them, increase their value and build priceless brand capital.
Experian helps you to follow one, several or all of the five steps to bottom line benefit. It leads to a virtuous circle of ever-more extensive data capture, ongoing analysis and advice and increasingly effective customer engagement.
Related information
Marketing consultancy
Our consultants are focused on providing workable, real world solutions that deliver revenue growth.
Find out more
Meet our consultants
Find out more about our consultants and the areas they specialise in.
Meet our consultants
Contact us
Find out more about cross-channel analytics and insight, and our consultancy services.
Contact us