New guide for the Smarter Marketer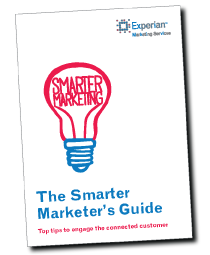 About Experian Marketing Services
Experian Marketing Services helps you deliver smarter marketing campaigns by providing you with deeper, more intelligent insights and the tools to apply them across all marketing channels. We make campaigns more efficient and effective, and provide a positive and continuous impact on sales. We help you measure engagement and results more effectively and apply these outputs to improve ongoing and future campaigns
DMA-IDM Scotland Conference
Experian Marketing Services was delighted to sponsor the DMA-IDM Scotland Conference on 12 June 2013 in Edinburgh. It was great to be amongst the smartest minds in the Scottish marketing industry and hear from industry thought leaders, who shared strategic insights and give practical guidance on the impact of the latest digital innovations in marketing.
» Read our Scotland & NI Manager Justin Armsworth's blog on the event
Colin Grieves, Head of Strategy & Propositions spoke on the future of cross-channel target marketing:
Colin's presentation was for customer-centric marketers who want to keep abreast of the ever-changing ways to engage their customers across online and offline channels. In the session, Colin explored the future of cross-channel target marketing and how, using data, insight and technology, brands are creating more intelligent interactions with customers – from traditional direct marketing channels to social networks and targeted, data-driven TV adverts.