A financial services focus
What will 2013 bring for financial services marketing? With ever increasing pressure on marketing budgets, how can you ensure effective client engagement, lead generation and retention and sufficient engagement from multi-channel marketing techniques?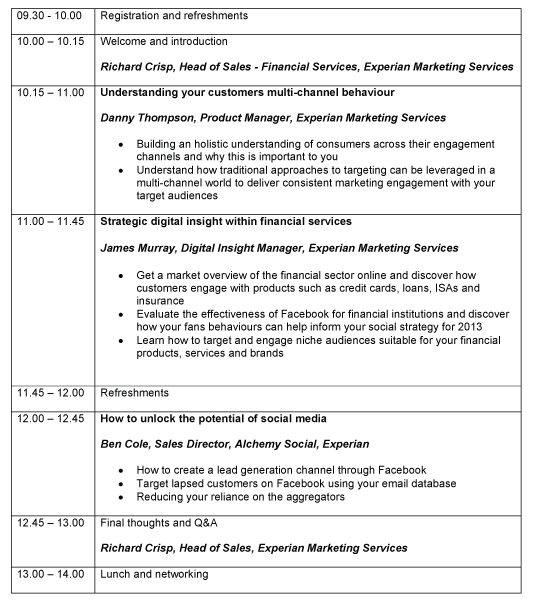 Danny Thompson, Product Manager, Experian Marketing Services

Danny Thompson has been working for Experian for over 12 years and is currently responsible for the development and enhancement of the Credit Marketing and Financial Strategy Segments portfolios. With a client facing background, Danny's approach to product development is to ensure client requirements and benefits are at the heart of the development ethos and has many years experience helping Financial Services clients maximise use of Experian products and services.
James Murray, Marketing Research Analyst, Experian Marketing Services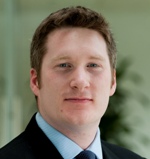 James provides insight into the digital marketplace and works with Hitwise data to identify key trends in the online space. James writes regular Insight Reports on a range of industries - including retail, travel, automotive and finance - covering affiliate marketing, search, and audience profiling. He is a regular speaker at industry events in Europe, and has been widely quoted in the media.
Ben Cole, Sales Director, Alchemy Social, Experian

Ben Cole is the Sales Director for Alchemy Social, the first UK Facebook advertising partner which has been recently awarded the status 'Strategic Preferred Marketing Developer' of which there are only 12 agencies Worldwide. Ben is a channel specialist who has helped clients like Swiftcover, Gala Coral, Sainsbury's, Capital One, ebookers, Carphone Warehouse etc… create successful strategic approaches to Facebook marketing. Ben can provide expert guidance on the best use of Facebook's ever evolving range of marketing products and has over 10 years experience in digital marketing.
Richard Crisp, Head of Sales - Financial Services, Experian Marketing Services

Richard has worked in financial services for over 23 years in retail banking, intermediated mortgage sales and mortgage asset trading. During this time he was heavily involved in setting up Salt, the specialist lending arm of Derbyshire Building Society (now part of Nationwide), and traded over £3bn of mortgage assets. At Experian, Richard now heads up the Financial Services Team working closely with some of the UK's leading financial services organisations, helping them to develop and deploy engaging multi-channel marketing strategies.
Date
Thursday 17 January 2013
Timings
09.30 – 13.00
Venue
Experian
Landmark House
Experian Way
NG2 Business Park
Nottingham
NG80 1ZZ
Map
RSVP
Email Lizzy Crabtree
Call 0203 042 4098