Contact the Team
0845 234 0391
9am - 5pm Monday - Friday

Stay Ahead With Our e-newsletter
Latest news, events and marketing insights
Consumer Data Interactive Guide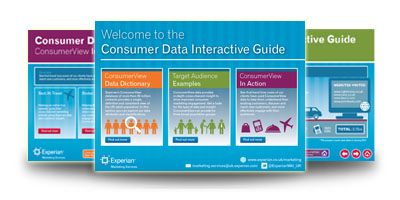 Reach, Enrich and Engage with your best customers
ConsumerView provides a definitive and consistent view of the UK adult population, containing accurate cross-channel contact data aligned with in-depth insight to drive improved consumer marketing engagement. Download the interactive guide discover first-hand how some of our clients have used ConsumerView data to better understand their existing market, reach new customers, and more effectively engage with their audiences.
Download the Interactive Guide
Please complete the form below.