Defining the data powered future
An Experian guide to EU GDPR
Upcoming regulation represents a real opportunity for businesses and marketers to put their customers at the centre of all their activity.
Although it is a daunting prospect in actual fact GDPR should be embraced as a chance to change your business for all the right reasons.
Transparency and honesty are the key themes of new regulation and as marketers we need to truly understand what that means and how we need to act in future to be successful. In short, provisions within GDPR will enforce best practices that can only improve relationships with customers.
In this white paper, 'Defining a Data Powered Future', we explore some of the key steps that organisations should consider and also contemplate what life after GDPR may well look like.
Download the white paper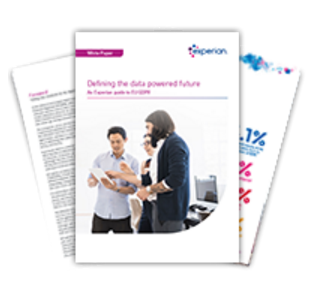 If you have any queries, please don't hesitate to contact us and a member of our team will be happy to help.
Call us on 0845 234 0391
Outside the UK +44 115 901 6019
Calls cost 2p per minute plus your phone company's access charge
Get in touch