5 tips to improve the effectiveness of your travel marketing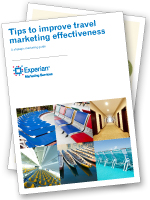 Insight to improve travel effectiveness
In today's economic climate, where spend on discretionary items is being squeezed, organisations in the travel sector are finding it increasingly difficult to fill seats, hotel rooms and cabins.
This challenge is only set to increase as more direct offering and niche players emerge via the web. Only travel brands that understand their customers are likely to be successful and buck the trend by not having to discount their offering.
Data and insight can help move towards a more strategic approach to marketing and sales. How can you add value to your business with Experian Marketing Services data and insight?
Understand the profile of customers who take up different products in your portfolio to:
identify opportunities for growth
assist brand development
establish market potential
source the customers of the future and identify their key needs
Gain insight to aid category management based on customer profiling and demographics to understand:
What should you invest in?
What is the target audience for your potential new offering?
What features should your new offering have?
Understand your customers and how they behave across offline and online channels to:
stay engaged with your customers throughout the whole customer journey
up and cross sell effectively across different products and brands
tailor offers, messages and channels to each customer
Identify the most attractive prospects for acquisition based on their likelihood to buy your product
Prioritise and target enquirers most likely to convert
Understand (the profile of) who is currently buying your products to identify similar targets for acquisition
Experian helps to give TUI UK greater customer focus
Experian has been appointed by TUI UK, the travel and leisure business, to help it gain a more accurate view of its customers, becoming a more customer-centric organisation.
TUI UK is part of TUI Travel Plc, which is one the world's leading leisure travel companies operating in over 180 countries with more than 30 million customers in 31 key source markets, including the UK where it operates under brands such as Thomson and First Choice.
Experian was tasked with working alongside TUI UK's incumbent CRM partner Creatormail to deliver a Single Customer View (SCV) service that would bring together more than 40million customer records held across two different legacy systems to create a more complete and accurate view of each customer and their interactions with TUI UK brands over a number of years. This SCV will allow TUI UK to put its customers at the heart of its business, supporting its multi-channel campaigns by driving more relevant and engaging communications based on insight into its customers' interests and holiday preferences.
Experian uses its powerful suite of data quality, matching and consolidation tools in order to enable duplicates to be accurately identified within the database. The tools provide each record with a unique personal identifier which then allows a master record to be created for each individual customer.
With its data in one source and a single view of its customers, TUI UK will join the so-called SCV Elites, gaining valuable customer insight to improve its relationship, retention and cross-selling activities. Recent research conducted by Experian revealed that while 72 per cent of UK businesses recognise the competitive advantage of using data and insight to put their customers at the heart of their business only 16 per cent have a true SCV in place .
Louise Kendall, Business Lead for Customer Data Management at TUI UK & Ireland commented: "Our challenge was to create an accurate view of all of our customers across our UK mainstream travel brands, bringing together several systems and customer interactions over many years. Our incumbent CRM partner was selected to build the SCV, and after extensive research and reviewing the best of breed products and services in the market, we selected Experian's Link and Unify products to integrate into our build to provide us with the customer centricity that we were missing. We're confident that we have selected the strongest products to help us enhance our customer data capabilities."
Nigel Wilson, Managing Director, Data & Analytics, Experian Marketing Services, UK & Ireland commented: "Being truly customer-focussed and putting customers at the very centre of the business is vital for brands looking to drive engagement in today's multi-channel world. Our research shows that 84 per cent of consumers would vote with their feet and take their business elsewhere if they felt an organisation didn't understand their tastes and preferences . Working with TUI UK has been a great opportunity to use our expertise to show the power of a Single Customer View in managing customers across channels."