The data explosion
Big Data; the latest management buzzword has exploded on to the scene in the past year or so. We have seen many metaphors used to describe the impact data will have on organisations; 'data explosions', 'data avalanches' and 'data tidal waves', each sitting alongside descriptions of data as the 'new oil', the 'new gold' – even the 'new plastic'.
What is clear is that the increasing volume, velocity and variety (3V's - another new acronym) of data will soon begin to impact organisations – and, if it is managed correctly, should add significant value to a business. Alternatively, if this data is not managed or understood, organisations will at best miss opportunities, and at worst, buckle under the unimaginable volumes of data that will soon be with us. This position is made yet more precarious as many organisations now understand that one of the competitive differentiators they must possess is 'high grade' analytics, and the subsequent ability to apply that interpreted data.
In other words, it's not just that there is more data that needs to be dealt with: it's what you do with it that counts. The rewards can be rich. Recent research for Capgemini¹ shows that, for processes where Big Data analytics has already been applied, organisations have seen an average performance improvement of 26% in the past three years.
A data and insight evolution
Much of the debate and coverage of Big Data to date seems to be focused on the technology required to incorporate, store, manage and act on this flow of data. But there is much more to it than just technology. Big Data isn't about abandoning existing databases and warehouses, data structures and analytics. We see it as an evolution rather than a technology driven revolution. Big Data is the new stage of the data evolution; how new data sources can help businesses to explore and exploit new opportunities; or add greater insight to existing ones.
This evolution has to build on existing expertise in data quality, Master Data Management (MDM) and the privacy and security of data. Data management has to evolve by prioritising business needs and focusing on areas of data enhancement, where you can not only see a business benefit but, where you stand a realistic chance of taking actions based on it.
There are three questions we believe a business needs to consider alongside the technology debate when considering Big Data for customer management:
How can all of this disparate data be sourced, and then linked, in order that it
relates to real people doing real things – as opposed to anonymous
behavioural data?
How can Big Data users make sense of additional data – customer level data –
in order to make better business and customer decisions?
How can these decisions be actioned and deployed to customers at the right
time and sometimes in real time, through any channel and in any location?
We have long advised clients about the benefits of robust data management
capabilities. In the world of Big Data there's a need to manage three different
types of data sources; this in turn places greater emphasis on the need for
quality.

We believe the principles of these capabilities are just the same with Big Data;
it's just more complex and much bigger. And whilst the rewards are bigger, the
risks are too.
The garbage in, garbage out (GIGO) rule applies to any system. The difference
with Big Data is that the consequences of getting the inputs wrong and
mismanaging large volumes of customers' data would not only lead to a loss of
sales but also damage the reputation of the brand. The larger the data volumes,
the greater the impact of poor quality becomes – and the smaller the opportunity
to correct problems by hand. The consequences of poor inputs are particularly
serious when trying to make sense of customer data. If you fail to identify
a customer correctly in different transactions, you could form the mistaken
impression that you are looking at five customers instead of one customer buying
five products. That can impact not only the company's internal analysis but also
the customer's experience.
The secret of mastering Big Data relies on delivering a robust data strategy and
data management programme.

The ability to identify and link individual customer level data records together is essential in any customer centric data solution. The role of Single Customer View (SCV) processes and business rules will grow in importance as Big Data evolves and grows. The challenge with some of the new data sources associated with Big Data will be to identify an individual and be able to link it in with any existing customer records. As with any SCV project getting the core linkage right will ensure consistency and correct interpretation. With tight control of the SCV and
linkage data, analytics work better, and more value can be derived from Big Data.
Linking of new data sets is the key to creating a view of consumers that is significantly more valuable than the sum of its parts. Linking data assets has historically relied upon name and address. Experian's ability to accurately describe over 49m UK adults, based on this link, means we can identify a business' customers and prospects today.
However, it is no longer the case that people are 'anchored' to where they live as the means by which they can be contacted. Nor do they see their postal address as their own unique identifier. It is increasingly the case that consumers provide email addresses and/or mobile numbers as the primary method of communication with friends and organisations. Organisations are also often only asking for email address as a way for a customer to register or identify themselves.
Consequently, it is these identifiers that are becoming the new 'addresses' for consumers. This creates 'new' identifying linkage keys. It would be difficult to overstate the importance of the email address as a means to link online and offline consumer data and personas.
To that end, Experian has built a current view of UK individuals and their (sometimes multiple) email addresses and mobile numbers to enable clients to link online and offline in tangible and beneficial ways.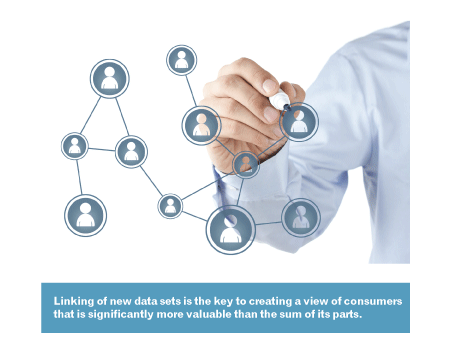 Implementing Big Data projects
Marketers may be daunted by the amount of disparate data available and where to focus their efforts. Clearly this depends on which sector they are in; some are more familiar with data, for others this is a new area of expertise. But no matter what your heritage or needs, the key to making sense of Big Data is to identify those data assets which are easier to collate, manage and drive value from. And if you are not sure, then identify some possibilities and start testing. If possible get samples of the data and test it before you begin investing in new data management capabilities with IT.
If you have existing segmentation and targeting models, start there and look at how you can enhance these – or supplement them. Once you have linked together the different sources of customer data, the next step is to begin interpreting the new customer and prospect volumes into familiar segmentations.
This process of making sense of the data will provide you with actionable insights on which to base marketing decisions. There are many possibilities as to what this could look like.
Big Analytics?
Much is also spoken about Big Analytics as well as Big Data – the power of the new data can only be exploited through the use of clever analytics. Rather like data, many of the existing techniques in predictive analytics using tools such as SAS and SPSS are still of use in this new era.
Sure, there are also new techniques to be developed in the analysis of behavioural data particularly with the enhanced and faster processing tools that should be available but is this where you start? It could be depending on your business and priorities. It seems that many of the newer developments in analytics are either associated with the mining of behavioural data or new BI tools. But no matter what your priorities are in terms of analytics, it has to focus on ACTIONABLE insights. Clever insight is of little use if it is difficult to understand or deploy.
The role of the analyst in this new era is going to be critical. Now is not the time to invest in very clever 'geek' types who may be very skilled statisticians; now is the time to employ commercially focused, data minded analysts. They need to be able to identify insights that answer key business needs and goals and tell a story and communicate their insights to the business. Clever insight is of little use if it is difficult to understand or deploy.
Deploying Big Analytics Insights
Sourcing, linking and understanding Big Data provides insight. But it is only at the point where decisions are made and consumers engaged that the real impact of Big Data can be felt. It is the ability to engage a consumer though any channel at any time with appropriate messages
that will add value.
Businesses not only need to understand what they want to say or do with a consumer or prospect, but to offer the complete range of channels to optimise the effect of that message or decision.
That might take the form of posting a message on a Facebook wall about a new product; it might be a targeted message from a 'face of' about sponsorship activity. It might be partner offers sent to mobiles whilst a consumer is in a store or branch; it might be a more meaningful message displayed whilst visiting an ATM or even whilst watching TV. And in more established channels such as email, the refinement of targeting and email content may be enabled through
the use of Big Data. This is more likely to fall in to the event or behavioural and trigger based arena but greater insight cannot be dismissed for the refinement of batch and push email communications.
Beyond core email campaigning capabilities, a new era of deployment tools which interface to platforms via APIs need to be considered if the value of the investment in Big Data is going to be realised.
Whilst there is a lot of hype and media noise about Big Data and Big Analytics, and some caution should be exercised before plunging into this area, there is little doubt that more and more data will be used to make more informed business decisions.
The keys to success are:
Build on tried and tested data management techniques
Ensure that data linkage keys and the SCV processes are robust to deal with the growth in data feeds
Adopt a phased approach – an evolution rather than a radical change in the early stages
Focus on data that can more easily be turned into actionable insight AND deployed
Recruit commercially focused data analysts rather than the brightest
statisticians – practical solutions are the key to success
Learn from previous projects, e.g. CRM, and ensure that people and processes are adapted and the business doesn't just focus on technology solutions and new data feeds