Contact us
0844 481 5883
9:00am - 5:00pm Monday - Friday

Request a call back
Submit your details below and an Experian expert will be contact with you shortly

Bank Wizard Absolute - Bank account verification in real-time
Make the connection between your customer and their bank account details in near real-time.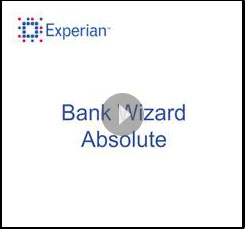 By implementing Bank Wizard Absolute, you can dramatically improve profitability and customer service by reducing failed transactions and improving your Straight-Through-Processing rates.
By confirming the ownership of a bank account up-front, Bank Wizard Absolute can help you to minimise payments fraud and improve the efficiency of your acquisition process by negating the need for paper-based verification measures, allowing you to begin making collections from your customers earlier.
Since the introduction of Chip and PIN there has been a shift in fraudulent activity from cloned payment cards to Direct Debit, Direct Credit and to Cardholder Not Present (CNP) transactions.
Research by insurance group LV= has revealed that over 97,000 Brits have fallen victim to criminals setting up fraudulent Direct Debits from their accounts, with this figure expected to escalate over the next three years.*
Identifying these fraudsters can be difficult, posing as legitimate customers they often take advantage of the fact that you cannot check that the bank account data they supply is correct, current or belongs to the name and address provided. Where goods and services are offered prior to the collection of the first Direct Debit or card payment (i.e. mobile phones), it is imperative to ensure that customer bank account and card details are correct at the point of sign-up to prevent loss of stock, income and wasted time spent dealing with indemnity claims and incorrect payments.
Bank Wizard Absolute minimises the potential for payment fraud by confirming in near real-time that the bank account details provided actually belong to your customer, that card details are in the correct format and are linked to your customer's address and that the card is in your customer's possession for CNP transactions. For debit cards, Bank Wizard Absolute will also confirm that the card and the associated bank details are issued by the same banking group
In the financial services sector the FCA stipulate that Know Your Customer (KYC) checks should be carried out on all new customers. Increasingly, other best practice guidelines (such as the Bacs guidelines for AUDDIS and Paperless Direct Debit) advise you to take measures to 'know your customer' to reduce payment failure and fraud.
By making the connection between your customer and their bank account details in near real-time at the point of sign-up, Bank Wizard Absolute can help you comply with increasing regulatory requirements, legislation and best practice for KYC. Bank Wizard Absolute allows you to make risk-based decisions on customer acquisition whilst enabling you to acquire customers more efficiently online, over the phone or in-store without the need for paper based authentication.
The Faster Payments Service allows businesses to make same day UK payments in near real-time at a lower cost than CHAPS.
Where working capital management is vital to your organisation, the Faster Payments Service enables you to hold money in your accounts for longer as it allows payments to be made on the actual due date. Faster Payments can also help you deliver improved customer service and gain advantage over your competitors when making customer refunds, loan transfers or benefit payments.
As Faster Payments are irrevocable however, confirming that the beneficiary account is valid and can accept a Faster Payment before submission is critical to providing a successful service. Bank Wizard Absolute confirms the validity of account details at the point of entry and enables you to identify where a Faster Payment would fail due to account closure, non-existent accounts or deceased account owner.
The speed of the Faster Payments process also reduces the amount of time that originators have to identify potential fraudulent activity. Using Bank Wizard Absolute, you can verify that the recipient account is correct, reducing exposure to possible payment fraud.