Contact us
0844 481 5884
9:00am - 5:00pm Monday - Friday
Request a call back
Submit your details below and an Experian expert will be in contact with you shortly

Bank Wizard - Comprehensive bank account validation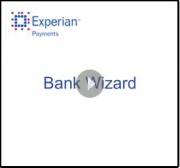 Bank Wizard helps improve Straight-Through-Processing of UK and international payments by reducing errors in your data up-front to minimise the number of rejected payments and the associated costs.
Bank Wizard is our unique bank account validation software which removes the problem of managing updates to complex and constantly changing payments data within your business systems.
Our dedicated Data Team identify and confirm changes to bank data on a weekly basis, meaning that updates can automatically be incorporated into your systems to ensure that you benefit from working with the most accurate and up-to-date information available.
Designed to be easily embedded within existing applications, the solution allows you to check the validity of bank details before you submit them to an automated clearing system such as Bacs, Faster Payments or EBA STEP2.
Bank Wizard has over 80% coverage of worldwide SWIFT payments, including the whole of Europe. It has been implemented by some of the largest users of automated payment solutions.
BIC and IBAN Validation
Whether you operate in a single domestic country or across several international locations, the quality of your electronic payments data will impact your cash management and business efficiency.
Getting your payments data right will deliver improved Straight-Through-Processing, reduce your business risk and lower your costs.
Bank Wizard validates bank account details for over 50 countries and territories, including all 31 SEPA countries and the whole of Europe.
Supporting inter-bank and international clearing systems, it facilitates domestic Direct Debit and Direct Credit transfer as well as cross-border payments.
Additional bank and branch BIC data is also available through Bank Wizard, helping you to complete missing information for international payments. Bank Wizard's Global BIC look-up facility will enable you to quickly validate an existing BIC code or find a correct BIC code for your international payments across 228 different countries and territories.
Country Coverage
The mandatory use of BIC and IBAN in all EU cross-border euro credit transfers can greatly increase the cost of international payments processing.
This is due to the charges levied by banks for submitting invalid data and the cost of correcting rejected payment information.
As well as validating and reformatting BIC and IBAN data at the point of capture, Bank Wizard converts basic bank account numbers (BBAN) into the required BIC and IBAN format so that you only submit accurate beneficiary details for processing.
This greatly reduces the time and cost associated with administering rejected cross-border payments and leads to greater operational efficiency.
The Faster Payments Service requires transactions to be processed in near real-time.
If there are any errors present in submissions or a beneficiary account is unable to accept a Faster Payment, the service will be invalidated, resulting in:
delay in payment where alternate methods must be used
poor customer service and damage to reputation
repair costs for failed payments
negative customer experience resulting in high attrition rates
potential for fraud
The Bank Wizard Faster Payments module validates bank account details at the point of entry. It also checks that the beneficiary accounts support Faster Payments prior to submission. This allows you to identify upfront that you can offer a Faster Payment to a customer and make payments correctly at the first attempt, avoiding the cost of mis-routed payments.
Organisations currently making electronic payments to personal UK building society and credit union accounts have no means of identifying whether a roll number is required, where it is needed and whether it is valid. This is further complicated by the different formats and rules used by the various financial institutions in their generation of roll numbers. As a result, a significant number of Direct Credit payments are misapplied and Originators are spending unnecessary time and cost rectifying these errors.
The Bank Wizard Roll Number Validation module identifies accounts that require a roll or reference number by:
modulus checking the roll number against the specified sort code and account number verifying that the roll number conforms to specified format rules, highlighting any errors at point of input
transposing the roll number into the standard format required by Bacs
Bank Wizard for Bill Payments is a unique service and software solution specifically developed for banks and EBPP suppliers offering telephone or internet bill payment facilities to their customers.
It provides a comprehensive and accurate database of information on UK billers, including card operators, telecommunications companies, utilities and local authorities.
Bank Wizard for Bill Payments validates the details of customer bill payments at the point they are first entered by the bill payer and prior to submission to the biller's bank account.
Online banking is now used by over 13 million people in the UK and financial services websites are amongst the most popular online category of site visited.
As consumer confidence has grown, financial service providers have offered increased levels of online functionality and bill payment facilities have proved popular with customers.
However, as online banking users have become more adept, their attention span and "mouse-click" tolerance has reduced. Research shows that one in four users who experience a problem whilst making an online bill payment will simply cease to use the facility.
Bank Wizard for Bill Payments eliminates the problems associated with online bill payments and is being used by many of the most innovative providers of online banking including Nationwide, Egg and Coventry Building Society.
Key facts:
Comprehensive and accurate database of biller information
Reference number validation and format rules
Provides accurate Direct Credit sort codes and account numbers
Returns biller contact details for paying banks
The Bank Wizard Web Service enables you to implement Bank Wizard in a Service Orientated Architecture environment within your network, using industry standard interfaces.
This is the most efficient method of integrating Bank Wizard with multiple systems and enables you to:
reduce the overhead of maintaining several implementations of Bank Wizard
apply a consistent level of validation across an organisation's network
provide an industry standard method of integration, ensure compliance with your organsiations architecture standards
make Bank Wizard available to business areas where previously it was precluded
provide ad-hoc access through the Web User Interface for validation across the organsiation's Intranet or Extranet.