Contact us
0844 481 5886
8:30am - 5pm Monday - Friday
Contact an Experian expert
To request a call back to discuss BIC and IBAN further, please submit your details below and we will be in contact with you shortly
Under SEPA (Single Euro Payments Area) your organisation can benefit from lower cost credit transfers and Direct Debits across the EU.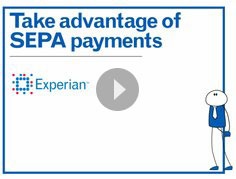 However, to take advantage of this you must now be able to supply a valid IBAN (International Bank Account Number) and BIC (Bank Identifier Code) for all EU cross-border payments and direct debits and from February 2014 this will also apply to all domestic euro payments and direct debits also.
Your organisation should, therefore, be able to capture and validate IBANs. In addition, you may also need to establish an IBAN and BIC from a given domestic BBAN (Basic Bank Account Number), where the IBAN is not known.
If you fail to include the correct IBAN it will result in rejection, correction and repair charges being imposed by the banks. This may significantly outweigh the savings expected from the new service.
How we can help you capture and validate IBANs and BICs
Our market-leading IBAN and BIC validation software, Bank Wizard, can check the accuracy of IBAN and BIC details and reformat data at the point of entry, ensuring that you capture and process only valid bank account details and only SEPA compliant instructions are submitted for payment.
This can substantially reduce the cost and time associated with administering incorrect and rejected cross-border and domestic payments so that you can:
achieve significant cost savings
make business efficiency improvements
enhance customer service
The Experian Payments Data Conversion Service helps you comply with the latest SEPA legislation by forming IBANs from your validated BBANs and adding BICs where required.
Learn more about International Bank Account Number and Bank Identifier Code.
Resources

Will poor quality in domestic account data affect the migration to SEPA?
EU payments - all change - Your step by step guide to getting the most out of SEPA
Bank Wizard Demo -

Click the logo above to view our Levi Strauss & Co case study