SEPA end date announced - Make sure you stay compliant
Contact an Experian expert
To request a call back with one of our SEPA experts to discuss SEPA payments in more detail, please submit your details below and we will be in contact with you shortly
The Single Euro Payments Area (SEPA) is a European Commission (EC) and European Payments Council (EPC) initiative that plans to drive down the barriers of other countries payments and create a single set of standards for euro payments across the EU.
Importantly, SEPA will align the cost of cross-border transfers with that of domestic electronic transfers, resulting in significant cost reductions.
SEPA is underpinned by the Payment Services Directive (PSD) which provides the legal foundation for the creation of an EU-wide single market for payments.
From November 2009 the PSD has been implemented in national law throughout the EU.
The SEPA-compliant cross-border schemes were introduced in January 2008, with SEPA Credit Transfer (SCT).
The SCT is a cross-border euro payment scheme which allows transfer payments to be made between any SEPA country, including euro payments within the UK. SEPA Direct Debits (SDD) was launched in late 2009.
This allows Direct Debit originators to collect pan-European Direct Debits from any of the SEPA countries using a single Direct Debit service instead of the country-specific services that currently exist. SCT and SDD will eventually replace existing national payment schemes although a specific end date for existing domestic schemes has yet to be agreed.
The SEPA schemes will be fully operative by February 2014 (SDD) for cross-border and local payments across all EU member states.
---
How does SEPA work?
For Euro payments, there will be a range of options available to organisations via their banks. Under the SEPA scheme the use of International Bank Account Numbers (IBANs) and Bank Identification Codes (BICs) is now mandatory for cross border euro payments and is also to become mandatory for domestic euro payments from February 2014.
Banks can reject payments from corporate organisations that do not include valid BIC and IBAN data.
This, together with the associated rising costs and penalties of submitting payments with incorrect BIC and IBAN data, means there is a need for cross border validation at an early stage of the funds transfer process.
Migration to BIC and IBAN can be time consuming and costly, particularly for organisations that need to update large numbers of account details.
---
How we can help with your SEPA payments
Our Data Conversion Service provides an automated service for validating and converting domestic payment databases from BBANs to IBAN plus BIC, enabling you to realise the cost and efficiency benefits of SEPA.
Bank Wizard performs fast, accurate IBAN and BIC validation within your application automatically, significantly reducing error rates, meaning fewer bank charges and better confidence in your payments.
---
Resources

Will poor quality in domestic account data affect the migration to SEPA?
EU payments - all change - Your step by step guide to getting the most out of SEPA
SEPA IBAN white paper
SEPA brochure
Bank Wizard Demo -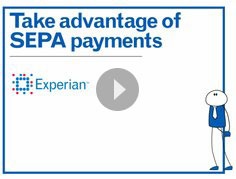 ---

Click the logo above to view our Microsoft case study
---

Click the logo above to view our Levi Strauss & Co case study