Call us today on +44 115 8287039
8:30am - 5pm Monday - Friday
Request a call back with our international payments data experts
Please submit your details in the form below:
Improve Straight-Through-Processing by reducing errors in your data up-front to minimise the number of rejected payments and the associated costs.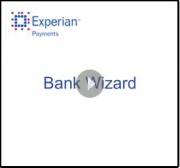 Bank Wizard is our unique bank account validation software which removes the problem of managing updates to complex and constantly changing payments data within your business systems.
Our dedicated Data Team identify and confirm changes to bank data on a weekly basis, meaning that updates can automatically be incorporated into your systems to ensure that you benefit from working with the most accurate and up-to-date information available.
Designed to be easily embedded within existing applications, the solution allows you to check the validity of bank details before you submit them to an automated clearing system. Bank Wizard has over 80% coverage of worldwide SWIFT payments, including the whole of Europe. It has been implemented by some of the largest users of automated payment solutions.
BIC and IBAN Validation
Whether you operate in a single domestic country or across several international locations, the quality of your electronic payments data will impact your cash management and business efficiency.
Getting your payments data right will deliver improved Straight-Through-Processing, reduce your business risk and lower your costs.
Bank Wizard validates bank account details for over 50 countries and territories, including all 31 SEPA countries and the whole of Europe.
Supporting inter-bank and international clearing systems, it facilitates domestic Direct Debit and Direct Credit transfer as well as cross-border payments.
Additional bank and branch BIC data is also available through Bank Wizard, helping you to complete missing information for international payments. Bank Wizard's Global BIC look-up facility will enable you to quickly validate an existing BIC code or find a correct BIC code for your international payments across 228 different countries and territories.
Country Coverage
The mandatory use of BIC and IBAN in all EU cross-border euro credit transfers can greatly increase the cost of international payments processing.
This is due to the charges levied by banks for submitting invalid data and the cost of correcting rejected payment information.
As well as validating and reformatting BIC and IBAN data at the point of capture, Bank Wizard converts basic bank account numbers (BBAN) into the required BIC and IBAN format so that you only submit accurate beneficiary details for processing.
This greatly reduces the time and cost associated with administering rejected cross-border payments and leads to greater operational efficiency.
Click here for details on specific country and territory coverage >>