A Consumer and Small Business approach to navigate out of the cost-of-living crisis
The past 3 years have been the most challenging for consumer and small business finances in recent history. Escalating inflation, interest rates surging, and energy prices hitting unexpected highs, combined to a perfect storm of financial strain.
But, we are starting to see signs of relief. With UK consumers and small businesses adapting their behaviours and prioritising spends to help better navigate out of the storm.
In our latest research, directly with UK consumers, small businesses and lenders, we explore how the past few challenging years have impacted perceptions of financial stability and affordability, how consumers are changing spending patterns to accommodate increasing costs, how small businesses are looking to return to profit, and how lenders are adapting to Consumer Duty requirements.
In this report we cover: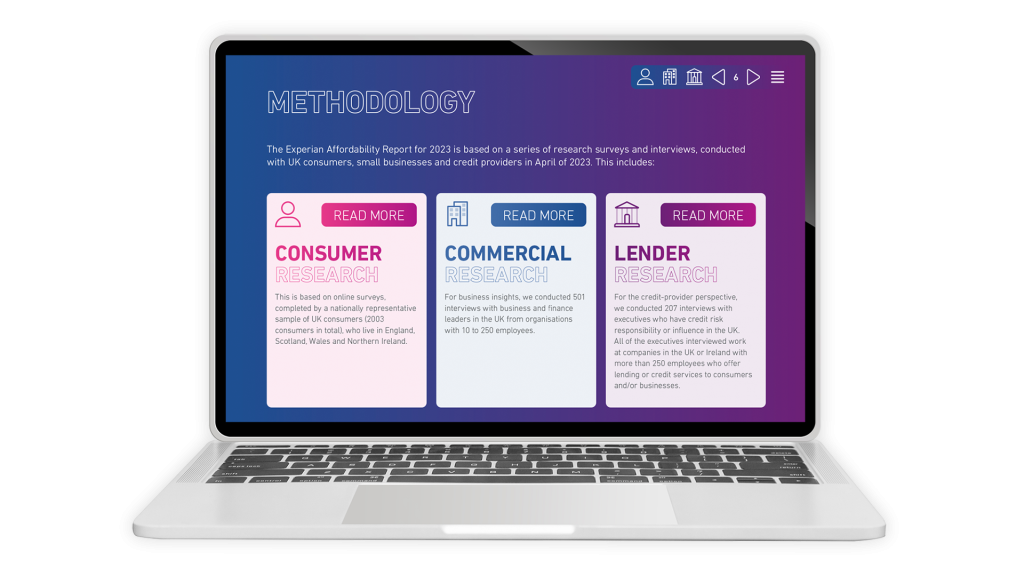 Consumer lending

How are consumers feeling about their own financial stability?

Commercial lending

How are small businesses planning to return to growth?

Consumer Duty

Why the regulation is more than a compliance exercise.
A sneak peek into:
Experian Affordability Report 2023
69% of UK consumers believe that they have been negatively impacted by the rise in living costs – but 24% expect their financial situations to improve in the next 6 months
This year's report shows that, in spite of favourable changes to the UK economic outlook, and widely reported wage increases, more than half of employees question whether their salary can keep pace with rising prices. At the same time, only 30% of consumers say they currently feel financially secure, and 82% have become more conscious of their spending in the last
12 months (up 15% from last year).
60% of consumers worry that they won't be able to afford what they need over the next 12 months (up 11% from last year), and almost the same number (59%) agree with the statement: "my financial situation causes me a lot of stress, and I think about it a lot".
Consumers are changing the way they work to make ends meet
With wages seeming to be falling behind inflation and rising costs, 36% of employed people have increased their working hours to earn more. At the same time, 13% have changed to jobs that offer higher pay, and 9% have delayed their retirements.
Did you enjoy the read?
Download the full Experian Affordability Report 2023
How can lenders better understand and predict customer behaviour out of a cost-of-living crisis?