As a result of the tumultuous few years behind us, competition in lending is heating up. And with today's demanding consumer, lenders need to be able to offer more than the competition. A strong CSR programme, or cashback incentives sometimes just aren't enough. Today, lenders need to show they care about the customer – about improving their quality of life and ensuring their financial wellbeing.
It's the right thing to do. It turns the message of marketing into a lived experience for consumers. It's likely to become an FCA obligation as the regulator firms up its New Consumer Duty. And it is good business: for 66% of customers[2] expect companies to understand their unique needs and expectations.
But building financial relationships based on trust and loyalty rather than convenience or inertia is hard.
Four in five consumers still see their relationship with financial providers as purely transactional[3].
Only three out of ten people[4] think providers know them and their financial needs well.
This is why we are excited to be launching a way of building better, stronger relationships with consumers – Financial Education tools.
Education + help = loyalty + trust
Education and support are psychologically powerful. When we think of our own early life, it's clear that those who help us achieve our goals inspire trust and loyalty.
So, by giving consumers personalised financial support to hit their targets, lenders build loyalty and trust. And in business, that means customer retention.
Financial Education: Tools to move beyond the transactional relationship
Increasingly, consumers want to know how the financial world sees them. They need to understand what's stopping them from accessing certain financial products and what they can do to change that. And they want to learn this from a source they can trust.
With Financial Education white-label tools, we can now build financial education, personalised recommendations, and better outcomes seamlessly into lenders' customer journey.
The tools help customers understand where they are now financially, where they want to get to, and how they can best make the journey.
They offer personalised support that treats a customer as a segment of one. And they help consumers achieve goals. That means stronger, more trusting and better customer relationships.
How it works
Financial Education tools blend bureau and Open Banking data to give a full and rich picture of a customer's financial life. That picture then informs three stages of the customer's Financial Education journey: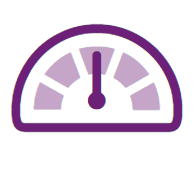 Step 1: Score and Report
We give the customer a simple single picture of their financial lives, including how they look through lenders' eyes.
Step 2: Coach me
Next comes guidance. These tools give personalised guidance on how a customer can improve their credit rating and broader financial health. We help develop a six- to nine-month journey, a journey that will open up a landscape of better-value products.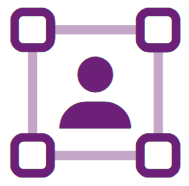 Step 3: Future me
Finally, the tools offer personalised recommendations on how to turn a lifestyle goal – like homeownership – into a financial reality. This focuses on recommended products that will help hit a goal.
Benefits for lenders
Powerful yet simple to integrate into customer journeys via APIs or white label, Financial Education tools allow lenders to:
Win customers by treating them as individuals, not numbers – something 84% say is very important to securing their business
Demonstrate clearly to regulators that the lender is doing the right thing for customers to live their best financial lives
Retain customers by helping them take control of their finances and achieve goals, moving the relationship from transactional to one of trust and loyalty.
Create customers who offer better value to the lender by helping them improve credit scores and financial health. Here they become eligible for higher-value products and services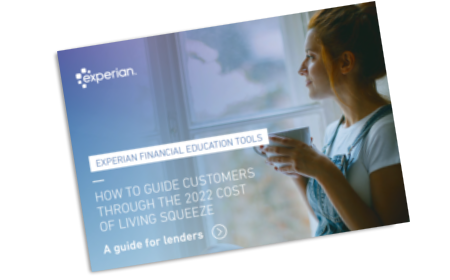 Download our whitepaper to find out more about Experian's Financial Education tools
Read now
And for consumers?
Integrating Financial Education tools into your customer journey will allow consumers to take better control of their own financial future by:
Let customers see themselves as lenders see them with an Experian credit score and report
Provide insights into what that score means and why it is as it is.
Explain what their score means for offers in the market and their cost of credit.
Provide a menu of products personalised for the consumer
Guide customers on a 6–9-month journey of improving their score, opening up the possibility of new, better-value products
Help people achieve own financial goals by showing the best route and products
Deliver personalised recommendations and messages, such as congratulations on paying down debt, even if held with unrelated institutions.
By blending insights from credit bureau and Open Banking data, the tools provide the essential information about a consumer's financial life simply and in a single destination, so they can make the best decisions and lead their best financial lives.
---
Sources
[1] House of Commons – Coronavirus: Impact on household debt and savings
[2] Salesforce – State of the Connected Customer (4th Edition)
[3] Convince & Convert – 8 Key Statistics from Salesforce's "State of the Connected Customer" Report
[4] Accenture – Banking Consumer Study