The current official unemployment rate is currently around 4%. When we have supplemented official figures with additional factors, we have calculated the rate to sit closer to 6%. Through further modelling, we believe that the eventual unemployment rate will rise to near 9%.
To understand the likely scale and duration of the economic impact of Covid-19 on a regional and local level, there are a number of factors to consider. At Experian, by using our local area data, household data and  house price data, we have created an index that gives confidence in credit risk decisions, helping you to identify the areas of the country which are going to be most resilient to the recovery phase in our delayed reshaped recovery giving you confidence in your risk decisions.
Sector composition
A key contributing factor is the sectoral make-up of each area. Retail, Accommodation, and Transport and Recreation are all likely to endure the greatest losses in the short term, while Construction and Manufacturing are set to suffer from investment projects being scaled back. The least exposed sectors include Health and Pharmaceuticals, Telecoms, Computing and Information Services, and Agriculture and Food Production.
Occupation profile
The occupation mix of an area is also crucial. Working patterns across the UK have changed dramatically and for some occupations, working from home is now a viable arrangement, while for others it remains impossible. When looking at the occupation mix across the UK, we can also see who is vulnerable based on their ability for remote working.
Demographic profile
Those in the younger and retired demographics have been disproportionately impacted, suggesting that the age composition of the population could provide an indication of an area's vulnerability.
House price growth
House price growth is a great indicator in terms of resilience in terms for mortgages. This allows lenders to consider the risk of loan to value ratios are and where across the UK which areas are going to see the biggest fall in house prices.
Furlough take-up
By mid-June 9.1 million British workers had been still furloughed – this continued to grow to 9.5 million by July 19th 2020. A significant proportion of this cohort are facing genuine uncertainty over the future of their jobs and earnings with many people who are still furloughed will be coming back into employment. Therefore having an view of which parts of the country are more is most exposed to furlough is a key factor.
Unemployment rate
The proportion of people who are now in unemployment highlights the pockets of vulnerability across local areas.
Identifying areas of resilience
Based on factors such as sectoral makeup, occupation mix, age composition, furlough take-up, unemployment and growth outlook, Experian has constructed a local index that aims to benchmark areas  in terms of confidence and recovery profiles.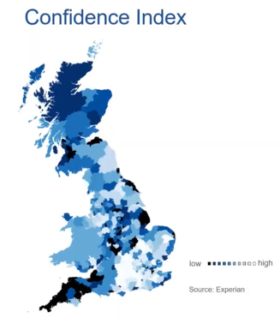 Using the index, local areas we deem most resilient in the next 18 months are:
South Cambridgeshire
West Berkshire
Reigate and Banstead
Windsor and Maidenhead
Basingstoke and Deane
All of these are located in the greater South East. South Cambridgeshire, with its large public-sector presence, fast-growing business services base, growing working-age population, resilient housing market and high proportion of skilled workers is expected to weather the economic storm better than most other areas.
In contrast, areas dependent on tourism (such as Cornwall, Devon and Great Yarmouth to name a few), those exposed to vulnerable sectors (Sunderland with its reliance on the automotive sector) or those with higher levels of Covid-19 infections compare unfavourably in the league tables. Of the UK's largest cities, Birmingham, has the weakest performance.
Using this information can give you a greater understanding of where you might need to provide more support to customers – and where you can identify areas for growth. While generally Scottish performance is weak, Edinburgh still performs relatively well in the rankings due to its healthy sector mix and large public sector employment.
Our chief economist, Chaudhri, Mohammed, shares a quick overview of the tool in our 10 minute webinar.
Learn more about Experian can help you:
Join our monthly insight webinars – registration and attendance is critical, as the sessions are live and not recorded
Browse our Covid-19 resource hub – containing assets relevant to the market, and challenges
Book a consulting visit at Business.Enquiries@uk.experian.com– where we can work with you to share insights, and thoughts around the necessary strategies needed to help you understand your exposure to economic shock