At Experian our main goal is to help our customers exceed their data ambitions. That makes understanding how you feel about us, our products, and how we work together one of the most important activities on our agenda.
My role is all about improving customer experience and so every year we run the Experian NPS Customer Relationship Survey which, if you're a customer, you may well have seen in previous years. It offers the opportunity to provide detailed thoughts and opinions on all aspects of your relationship with Experian.
For us, this is absolutely business critical. Far from simply being an item on the agenda of the next board meeting, the results from our Relationship Survey land on the desks of every single one of us. We build our strategy and operational activity around the feedback to shape long-term changes and ensure that we are creating an improved experience.
This year I'm excited to announce that our Customer Relationship Survey is just around the corner, launching in a week's time on the 21st September. With that in mind what better way to launch it than with a look back at some key improvements we've made in the last year – here's my top five.
What's new? Five ways we've turned customer feedback into a better customer experience
1) A brand new Customer Support Hub
I recently blogged about the launch of a new support hub. We built this off the back of comments we received from customers about how to manage support cases in a better way. Five months down the line and we have 583 regular users and that's growing every month.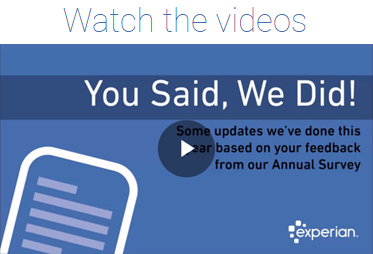 2) A new customer welcome program
Our customers told us that they didn't always have all the information they needed once they'd purchased from us. Enter the roll out of an extensive onboarding programme, providing all the information a customer would need after a purchase. It also includes a new Customer Information page to provide a one-stop shop for all relevant links.
3) Better technical resources
We were asked for more ways to access technical help. In response we created the 'Knowledge Base' to provide the answers to common support questions at any time of day (or night!). We also added more technical FAQ video tutorials, to demonstrate how to solve specific issues in less than 60-seconds.
4) An improved user experience for accessing data updates
We recognised that getting data updates for our products wasn't as straightforward as it could be. So now customers have a simplified user experience on our new and updated Electronic Updates platform and much quicker download speeds for data updates. The latest version also benefits from no more password lock-outs and increased security.
5) A speedy quote process
We've been working hard to fix all those niggly bugs slowing down the quote process. That means we can provide quotes faster and help customers get up and running swiftly with new products and services. In fact, we've even introduced a robot to automate some of the processes and become even quicker going forward – watch this space for a blog on this exciting innovation to come soon.
Get on board with our latest survey – we'd love to hear from you
If you're a customer, your invitation to the Customer Relationship Survey will be heading to your inbox on the 21st September. You'll be able to give your opinion on a host of topics, and you can provide both quantitative and qualitative feedback to share as much detail as you like. Once the survey closes, we will be using your responses to first solve any of your immediate or reoccurring issues, and then look at how we can work improvements into our wider customer strategy.
I look forward to updating you later in the year on all the exciting improvements we are making as a direct result of your comments. In the meantime, you can reach out to your Customer Success Manager to find out more or answer any questions. Why not also have a look at our series of 'You Said, We Did' videos which highlight some of the other improvements we have made this year.