An Experian guide to EU GDPR
A core theme of the European Union's General Data Protection regulation (EU GDPR), which is to keep consumer interests front of mind at all times, mirrors sound fundamental advice for all companies. Customer-centric business practices are especially essential in the data-driven age, driving innovation and opportunity.
With the advent of GDPR, this type of joined-up thinking will need to become the new normal, as the "datafication" of our world continues. I would encourage businesses of all shapes and sizes to take the opportunity that this moment brings. Now is the time to create a truly consumer-centric approach to data governance and strategy, and to secure your customer's place at the heart of your data powered future.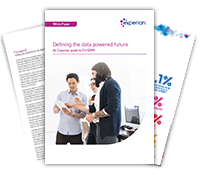 Please note that while we can support businesses with their preparations for the GDPR, we cannot offer legal counsel or compliance advice.