It's time to fully enable innovation
While most of the innovations were around before the Covid crisis, digital transformation quickly became a necessary requirement for business survival, rather than something to aspire to in the future. We think these changes are here to stay, creating an enormous opportunity for businesses to better harness the potential of data. However, doing so effectively requires some fundamental shifts in mindset.
Download the full whitepaper to explore this topic in more detail
Two years into the global pandemic, the UK is a more digital society
This has created a significant 'data opportunity' for businesses looking to drive improvements in their products, services, lead generation and customer retention capabilities. While many companies accelerated their use of digital solutions as a reaction to the widespread disruption of Covid-19, those that learn to utilise their data more effectively could have a real advantage.
Most businesses already collect data in some way, but being able to classify, analyse and process it into the insights needed to enable better decisions and open up a range of opportunities like process automation and AI is another matter entirely.
In fact, there are a number of potential barriers that need to be overcome before businesses can truly unleash the benefits of data:
Getting high-quality data isn't easy
There is no escaping it: if your data inputs aren't good enough, your outputs won't be either.
Training a digital workforce
The digital skills gap is growing as more companies continue to find it hard to fill data roles.
Trust in the digital age
Customers are more reluctant to share their information.
Building skills
Many companies simply don't understand what expertise they need to achieve their digital transformation ambitions.
In this insight report, we will cover: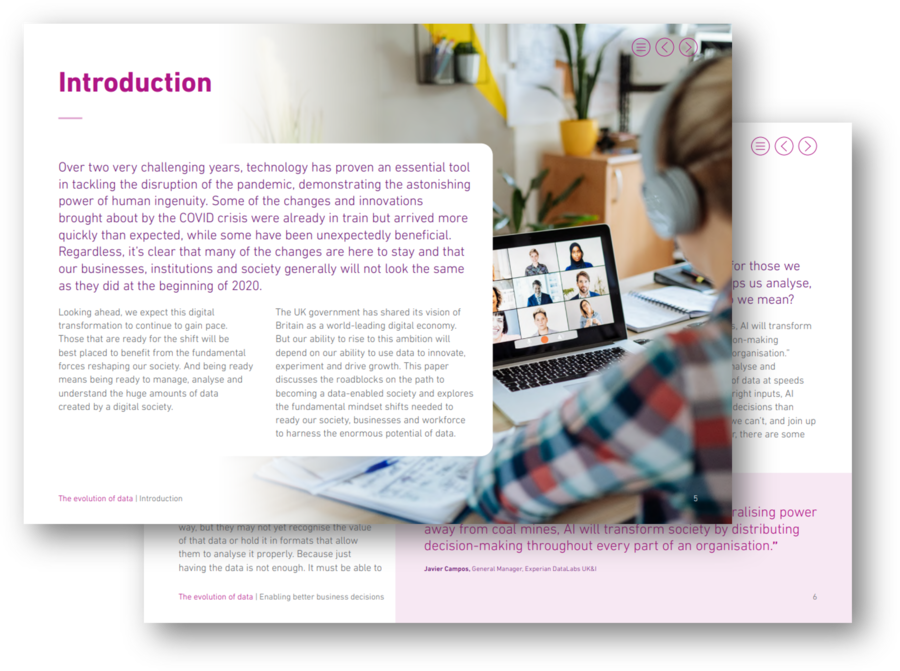 Enabling better business decisions

When we talk of the 'data opportunity,' what do we mean?

Building customer trust

Customers are willing to share their data when the benefits of doing so are clear.

Training a digital workforce

The economy of the future will be built around technology and data, so boosting data skills across all sectors will be essential.

Enabling innovation

We are hurtling towards a bright future with data and digitalisation at the centre of our society.
A sneak peek into...
The Evolution of Data: Unlocking the potential of data to transform our world
Foreword
Prior to the COVID-19 pandemic, the digitalisation of businesses was already widespread and gaining pace, with rapid developments in technology enabling innovation across sectors. The pandemic has accelerated this trend, leading to a dizzying pace of change.
For businesses looking to keep that pace, the use of data and analytics will be a key enabler, helping to enhance the customer experience, find solutions to intractable problems and make better business decisions. But a fundamental mindset shift is needed if we are to achieve the enormous potential of data.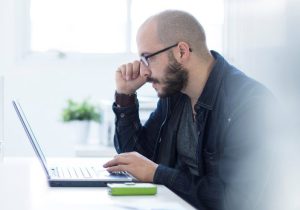 As we observed in our previous whitepaper, the COVID-19 pandemic has challenged economies, altered consumer behaviour, and forced businesses to adapt the way they work. Changes that previously took years to enact were implemented within days and weeks, particularly when the first national lockdowns were announced.
The explosion in online retail is one such example. In the UK, the sector experienced four years' growth in the 12 months to July 2021, with its share of total retail spend rising to over 34%2. By 2025, we estimate that online retail sales will have reached levels not previously expected until 2035 – that is a full decade of digital acceleration.
Today, we have reached a point where the stars are aligning in terms of dramatic increases in data processing power; artificial intelligence (AI), including machine learning (ML); and a willingness by businesses to deploy this technological power to enhance the customer experience.
As writer, technologist, and author Azeem Azhar notes, we have entered an exponential age. Ours is the first era in human history
during which technology is constantly accelerating while the price per unit drops. And although this presents some extremely exciting possibilities, it also raises some questions:
How can businesses prepare themselves?
Do businesses have the necessary data skills?
Do businesses have the right frameworks to use customer data appropriately?
Did you enjoy the read?
Download the full paper on the evolution of data
We are really only at the start of the digital transformation journey. The potential applications of AI and high-powered processing are almost limitless. Being able to meet the opportunities of tomorrow head-on means adjusting the way we think about data today.