What is data quality?
Without an accurate understanding of what quality data looks like, companies, non-profit organisations, or other entities cannot have the highest data quality. There are many ways to define data quality, but all definitions have some things in common.
According to data quality experts, when the data meets the requirements of its intended use, the data is of high quality. In other words, when companies can use this data to communicate effectively with their constituents, determine customer needs, and find effective ways to serve their customer base, they know they have high-quality data.
This definition of data quality is broad enough to help companies with different products, markets, and missions to understand whether their data meets standards.
Why should you invest in Data Quality?
The onset of the unexpected Covid-19 pandemic highlighted the gravity of quality data in modern businesses. With many companies switching to digital formats—from workplace culture to online sales and customer services—data is more critical than ever. Based on Experian's global data management research study, 72% of businesses say that an accelerated digital transformation has made them more reliant on data and data insights. It is therefore essential to maintain accurate and trustworthy data to avoid dramatic effects on business goals.
Investing in data quality management gives confidence in data validity to support strategic, tactical, and operational decision-making, irrespective of legacy or new data for businesses. The initiative to establish high-quality data can give you a competitive edge and turning point in your industry. For example, you can use your data to customise a marketing plan tailored for your targeted consumers to be ahead of the game. Read the customer case study from Bunches and explore how they attract new customers by delivering better-targeted marketing campaigns.
5 risks of untrustworthy data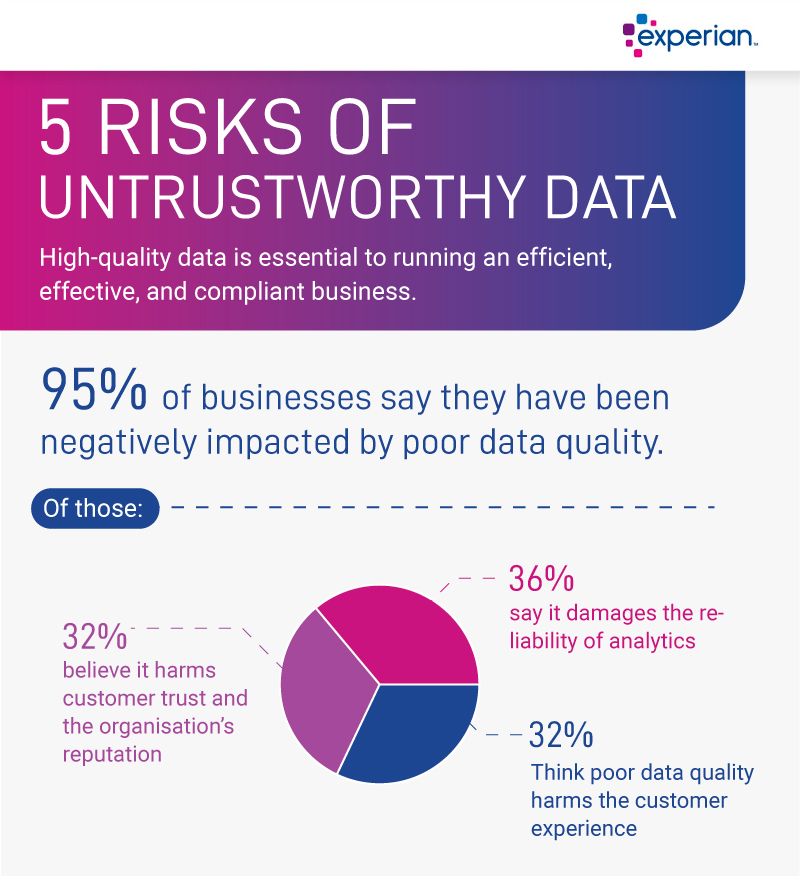 A good data quality management plan often involves technology, employee participation, and support from data quality experts. The right resources and tools are vital to realise the best quality of data to run a profitable business that focuses on continued growth by eliminating the below risks:
Wasted time
Duplicate data is a pressing issue as it negatively impacts business with astronomical costs, low productivity, and ultimately brand image. Manually deleting duplicates is a significant waste of time and effort. These extra steps reduce employees' productivity rather than encouraging them to focus on rewarding opportunities leading to innovation in business.
Missed opportunities
Across industries, many businesses leapfrog their competitors by leveraging data to unlock significant value. However, poor data quality due to inconsistencies in formats or error entries undermines business, potentially driving opportunities away to a competitor with advanced data governance process to capitalise.
Compliance issues
Data issues impose challenges to businesses on financial growth, productivity, and unreliable decision making. With the introduction of regulations like the General Data Protection Regulation (GDPR), organisations must be cautious in data collection, usage, and storage. Non-compliance with GDPR and security breaches impose stiff fines that affect reputation and interruptions to business operations. Whereas good data helps lower the risk of security issues and keeps you compliant with the latest data regulations.
Poor customer experience
Successful companies invest in providing their customers with a personalised brand experience as part of their core strategy. Inaccurate or outdated data can affect the rate of return on investment as it becomes challenging to analyse consumer behaviour, consumption patterns, and purchase history. It may affect the positioning of the right customers with the right products, leading to a waste of marketing efforts.
Unreliable decision-making
Poor data can lead to profound consequences. One of the biggest challenges is the inability to make accurate decisions. According to Experian's research, 55% of business leaders lack confidence in their data assets. Hence, these leaders are reluctant to unlock insights to create value which affects day-to-day business decisions. Improving data quality provides assurance and trust into the insights generated for meeting business goals.

Download our infographic '5 risks of untrustworthy data'

4 tips to start improving your data quality
Accessing the right tools, processes, and methods helps you design a sustainable data quality management plan. This plan requires a comprehensive mix of technology and people to embed the design into your strategy roadmap:

Speak with a data quality expert today about Data Validation for Salesforce and Microsoft Dynamics 365
Contact us now
Get in touch with Experian's data quality experts to learn how we can help you better manage data quality for your business.