As fraud rises and consumers expect fast, frictionless digital journeys, the size and scale of the challenge is growing. In this blog, we explore the challenges facing fraud managers, and the steps you can take to tackle fraud prevention in a way that benefits your business, and your customers.
What are the top five fraud prevention challenges?
Accelerated digitalisation and remote interactions
The Covid-19 pandemic has accelerated digital adoption by up to 10 years, with consumers having no choice but to go online and deal with organisations remotely. For consumers who weren't already digitally savvy, that's meant a very steep learning curve. Without the experience that comes from migrating to digital, it's often difficult for consumers to tell the difference between a genuine interaction with an organisation, and a potential scam.
Fraudsters quickly capitalised on the opportunity, leveraging people's digital inexperience and their understandable fear and anxiety during the pandemic to scam them into handing over money, or their personal information. On average, over £4 million a day was stolen by fraudsters in the first half of 2021, using techniques such as text and cold-calling scams.
Digital identities
Who is it you're dealing with? A trusted customer or a fraudster? As consumers increasingly buy and transact online, digital identities are becoming increasingly important, for both consumers and organisations. Consumers expect the organisations they deal with to keep their personal information safe and secure while providing quick and easy access to products and services online. Not only do businesses need to effectively authenticate individuals to ensure they are who they say they are, but they also need to protect their business from fraud.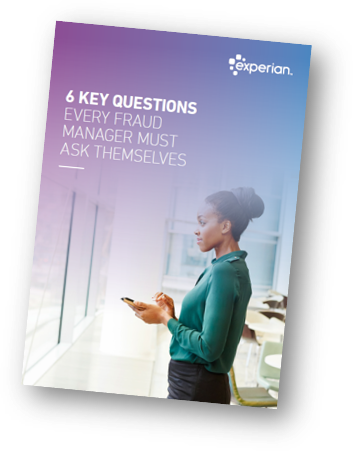 6 key questions every fraud manager must ask themselves
Download our self-assessment guide
Changing credit market
Alternative financing options are transforming the credit landscape. For example, almost 1 in 10 UK consumers now use Buy Now, Pay Later providers to make online purchases. Buy Now, Pay Later is also bringing new consumers into the credit market, including those managing on tight finances, who may not be eligible for traditional lending products, such as bank loans and credit cards.
With speed and convenience one of the main benefits of Buy Now, Pay Later for consumers and retailers, providers need to provide seamless digital journeys. This has seen many take a light-touch approach to security checks such as ID verification, making it easy for fraudsters to step in – using false or stolen information to set up new accounts or takeover existing accounts, and first-party fraud such as buying goods with no intention of paying for them.
Changing consumer behaviour
Consumers expect quick and easy digital journeys, but they also expect organisations to keep them safe. Our research shows that in the increasingly digitised marketplace, online security is a top concern for consumers, with 62% saying it was their top priority.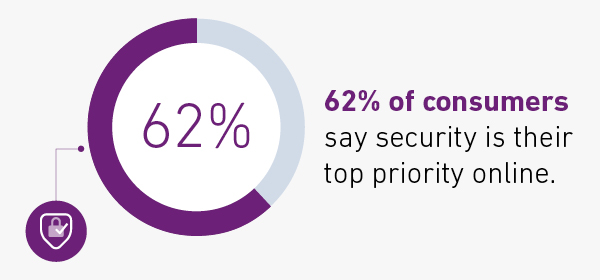 Prioritising security in mobile and digital channels is a smart move for businesses. Organisations that successfully secure their digital experiences can win consumer trust and gain access to a wider range of data to personalise the customer relationship at every touchpoint.
Cost of living crisis and escalating energy bills
The typical profile of first-party fraudsters changed significantly during the pandemic, as people found themselves struggling financially. For lenders, it can be hard to differentiate between first-party fraud and credit risk. A consumer could exaggerate or withhold information to access the products and services they need, but it may only be identified as first-party fraud if the debt ends up in collections. It's vital that organisations keep reviewing their existing customer risk profiles. Not just at the application stage, but throughout the customer journey.
How can these challenges be solved?
Get on the front foot
You need a modern fraud strategy to help you spot the differences that will decipher fraudsters from genuine customers – without impacting quick and easy digital journeys. Think about the digital identity of the customer and their digital journey to make sure you've got the right solutions in place.
Tap into more tools
Plug gaps by using the range of tools at your disposal – including invisible, frictionless fraud prevention methods such as device checks and physical and behavioural biometrics, alongside risk scoring and ID verification.
One size doesn't fit all
With a multi-layered approach, you can dial fraud prevention measures up or down making sure the level of friction introduced is appropriate to the level of risk involved. Using different tools, for different consumers, at different points in the customer journey, will help you get the best outcome for your organisation and the customer.
In-life fraud management
Just because a customer wasn't fraudulent at application doesn't mean they won't be later on. It's important to consider fraud prevention throughout the whole customer lifecycle, not just at the application stage.
Involve your customers
The best firms are asking their customers what they want to do and educating them on the importance of online security. For example, some of the more advanced companies allow their customers to choose whether to access their accounts by fingerprint or face recognition on their mobile apps. Whilst others will let their customers set up payment thresholds, bind their mobile devices to their accounts and geo-fence the use of their account cards. This is a good way to engage with your customers and tailor fraud prevention to their preferences.
How can Experian help?
With the right approach to fraud prevention, it is possible to reduce both fraud and friction. While innovating new digital products and services and building customer relationships built on trust.
Our fraud and identity solutions, delivered through our CrossCore platform, deliver a future-proof, fully-customisable way to modify your digital identity strategies quickly, identify fraud faster, improve compliance, and enhance the customer experience. Find out more here or download our guide on the 6 key questions every fraud manager must ask themselves.