Onboarding new customers can be strewn with pitfalls. Slow or complex processes can result in high customer drop offs and low first-time pass rates. Incomplete or inaccurate data can see your hard-won customers receiving a poor experience from you later down the line.
Perhaps you're a loan provider with a registration process so complex that frustrated potential customers abandoned you for a competitor. Maybe you offer currency exchange where paying into the correct consumer account is paramount, so your data collection has to be complete and accurate from the word go.
Whatever your business in retail finance, you need to be sure that those customers are who they say they are. Do they really live at that address? Are they old enough to purchase your products? Do they own that bank account?
You need a robust verification system to ensure positive identity verification, that customers are an appropriate age, that their bank account information is correct and so you can comply with BACS requirements for setting up payments such as direct debits. All this, along with the provision of a streamlined, clear and effective customer experience.
How can we help?
Our Consumer Onboarding solution offers an automated, frictionless onboarding system that seamlessly verifies your new customers' data in real time. Our solution:
Reduces onboarding time, resulting in higher first-time pass rates and happier customers.
Identifies fraudsters early without disrupting genuine customers.
Improves the quality of data capture by validating it at point of entry.
How it works
When a customer opens an account and enters their name and email address, we match it against our extensive database.
The customer inputs their mobile number and if it's incorrect, we highlight it.
Upon providing their house number and postcode, we find and validate the full address.
When the customer enters their bank account number and sort code, we check those details are correct and linked to the customer.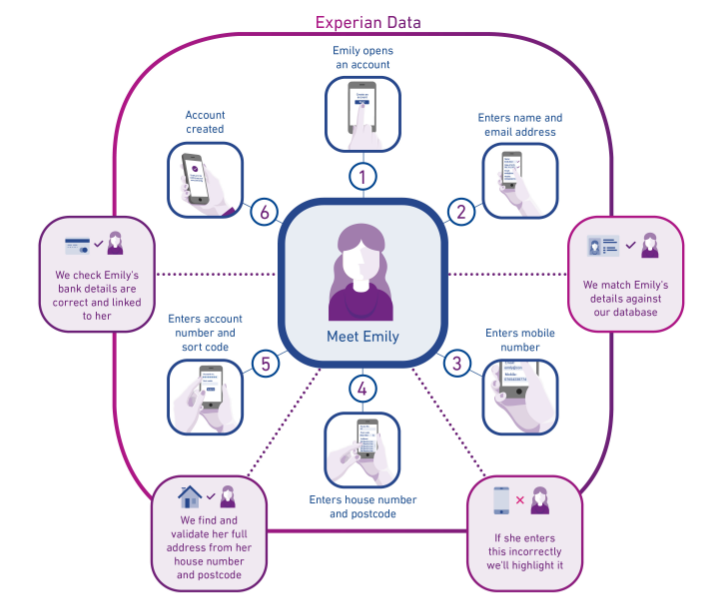 Contact data is validated, banking information is verified and your customer's new account is either approved, referred or declined, depending on your specifications.
Consumer Onboarding can help you in many ways – help you improve your customer experience, help you to reduce fraud, help you be compliant and can help reduce costs to your business.
Ready to find out more about improving your customer onboarding? Fill in the form on this webpage and we'll be in touch.