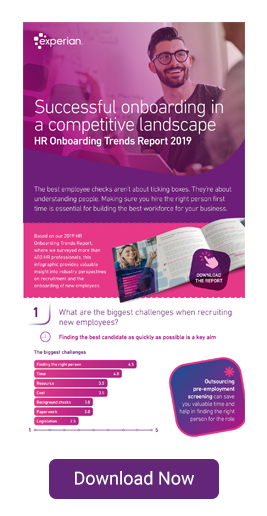 Successful onboarding in a competitive landscape
The best employee checks aren't about ticking boxes. They're about understanding people. Making sure you hire the right person first time is essential for building the best workforce for your business.
Based on our 2019 HR Onboarding Trends Report, where we surveyed more than 400 HR professionals, this infographic provides valuable insight into industry perspectives on recruitment and the onboarding of new employees.
Our respondents were asked about their hiring practices – everything from their biggest challenges when finding new employees, through to pre-employment checks and onboarding processes. The results reveal interesting trends, from the most commonly followed pre-employment checks to the amount of time it can take to conduct due diligence on new recruits. Download the full infographic here.
If you'd like to learn more about pre-employement checks and how they can help you recruit with confidence, visit our website or request a call back from one of our specialists.