We operate in a fast-moving and dynamic industry and it's important that as marketers we're aware of all the trends and themes impacting both our businesses and our customers.
In this paper we gather seven views from seven Experian experts as to what they feel the biggest trends and challenges will be over the next few years.
We start with the power of data, touch upon the role data will play in the advertising ecosystem, dwell momentarily on upcoming regulation and then take a look at what the next big thing will be (AI anyone?)
Download your copy today for an interesting and engaging top level look at some of the key aspects of modern marketing.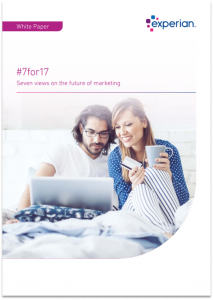 Download the whitepaper