1. Assert your authority through content marketing
According to the Content Marketing Institute's 2019 trends report, 93% of the most successful B2B content marketers report their organisation is extremely or very committed to content marketing 1.
But there's a difference between doing it and doing it right.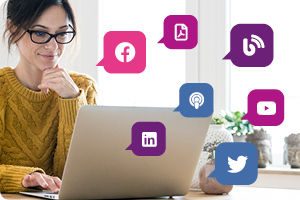 Good content needs to put the customer at the forefront, building a relationship and responding to their informational needs, not just a series of sales pitches in disguise. Concentrating on what you have the authority to talk about will help to build your position as an expert in the field, building customer trust and confidence and in reward, sales.
Use a variety of tools to get your message across. From webinars, blogs and videos to traditional print reports and infographics, explore the channels that resonate best with your audience and combine them for the best effect.
2. Attract the right people with the right message through email marketing
The best email campaigns send the right message to the right people – those with a proven interest in your products or products that are similar to yours. Inboxes are crowded places but when email is done well, it can provide Return on Investment of up to £32.28 for every £1 spent 2.
High quality data is essential to the success of your campaigns and that data needs to be regularly cleansed and updated, to give it the best chance of hitting the mark.
Don't forget to test your emails to make sure you are improving them each and every time, as well as driving increased value from this channel. A/B testing simply involves creating two subtly different versions of your email – perhaps changing the subject line, call to action buttons, or first sentence to see which version gets the best response from your customers.
3. Work smarter and faster with chatbots
Chatbots have seen an explosion in popularity. Bots provide a great service by automating certain tasks, such as chatting to website users on your behalf. The most advanced use Artificial Intelligence to understand complex requests, personalise their responses and improve the quality of their interactions as time goes on.
Bots typically reside either on your company website, or within messaging apps such as Facebook Messenger or WhatsApp. With 1.6 billion active monthly users on WhatsApp and 1.3 billion on Facebook Messenger 3, these channels are growing in popularity. Placing a bot inside a messaging app makes the result even more streamlined for your customers.
4. Create a professional, effective website
Modern websites are more than just a nice-to-have, they're an essential part of your corporate identity and authenticity.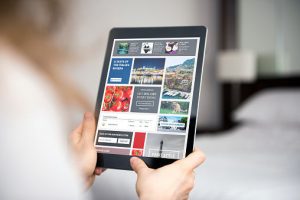 Your website needs to support you in attracting prospective customers and building engagement with them, before turning prospects into loyal clients.
You should be aiming for high quality content that provides useful information to your site visitors, wrapped up in professional design and carefully crafted search engine optimisation (SEO). If a search engine views your site as credible and authoritative, it will reward you with higher placed rankings.
5. Use analytics for constant feedback
Gone are the days when campaigns were sent out with crossed fingers and no definitive methods for analysing their success.
Analytics are a huge part of a modern marketing toolbox and accurate data should be the cornerstone of any campaign. This starts with having clean and accurate data that is regularly updated. Good quality data in turn generates meaningful insight into your customers' requirements, creating an effective loop for increased sales.
A good quality Customer Relationship Management (CRM) system can also help you to simplify how you manage your contacts, from leads to closed sales. Giving you a single view of each customer allows you to easily understand their needs and prioritise your approach.
6. Think creatively about your social media
With more than a billion people around the globe using social media on a regular basis, you're missing a trick if you think these platforms are only relevant to B2C audiences.
Many people have concerns that their business is too "boring" to market on social media, but it all comes down to the right content, in the right place. For example, commercial real estate company CBRE's Instagram account 4 posts images of amazing buildings around the world, with an emphasis on brilliant photography; while cloud-based software company Salesforce's Facebook page 5 is great inspiration for creative, fun content that brings their brand to life.
Business-oriented platforms such as LinkedIn and Twitter are a good starting point for B2B content, but expand this out to others such as Facebook, Instagram and Pinterest if they are right for your business and your products.
Think of your B2B social media as an extension of all the offline activity that your employees do – creating relationships and demonstrating your ethos. Don't be afraid to engage with your audience and tackle both positive and negative discussions on your social platforms. Be human. Your content should serve your audience, offering solutions and solving problems.
7. Tap into the value of referral marketing
Referral marketing is hugely valuable. Who doesn't want a steady stream of new customers coming through your door, simply thanks to the recommendation of your existing clients? It's simple, cost-effective and easier for you and your customers.
When a business is looking for a new supplier, it can take hours of research and exploration to narrow down a shortlist. A recommendation from someone they trust removes the risk of the unknown and places you closer to a new contract.
To achieve positive referrals, the first step is to make sure that your service is impeccable, not just for your customers, but for your employees too. Your mission is to make it as easy as possible for everyone associated with you to have no hesitation in recommending your services.
Finally, don't forget to show your appreciation for those who have taken the time out to refer you. This can be as simple as a note of thanks, or a more tangible reward such as a discount or other benefit.
8. Be unmissable with tactical event marketing
Your next event might be a sure-fire success but building a solid marketing strategy for it is essential to ensure healthy ticket sales.
Once the buzz around the initial launch of your event has subsided, keep potential visitors interested with the lure of early bird discounts, or release tickets in phases to keep the momentum going.
Create partnerships with relevant industry ambassadors and influencers to demonstrate that your event is going to be the place everyone wants to be at.
Issue a press release to relevant trade titles and then go beyond it by creating thought leadership pieces around key topics that your event will cover. Use your email lists to full effect and keep potential visitors well informed of what's going on.
Finally, don't forget about your existing attendees. If they're coming, could they bring a friend or colleague? You could encourage referrals by offering discounts or special offers to incentivise visitors to share the event far and wide.
Integrated B2B marketing strategies are key to success
Whichever strategies you decide to use, making sure they're seamless and integrated is really key to staying ahead of the competition. If your marketing message is consistent across all the channels when your customers come into contact with, you stand more chance of connecting with your target audience and rising above the white noise. This means building your marketing content around selected key themes; knowing your audience well enough to tap into their needs and desires and choosing the channels that you know your prospects will engage with. Do all this and we're sure that 2020 will be your best B2B business year yet.
Extend the reach of your marketing campaigns with comprehensive B2B prospect data from Experian. Find out more here.
1 https://contentmarketinginstitute.com/2018/10/research-b2b-audience/
2 https://dma.org.uk/press-release/emails-roi-increases-despite-concerns-about-testing-and-gdpr
3 https://www.statista.com/statistics/258749/most-popular-global-mobile-messenger-apps/
4 https://www.instagram.com/cbre/
5 https://www.facebook.com/pg/SalesforceUK/