The power of combining first- and third-party data
This new report from Experian and The Drum explores how by using first- and third-party data together, marketers can achieve better customer understanding and more accurate targeting, as well as greater scale for their campaigns with greater efficiency, than they can with first-party data alone, which leads to better outcomes for the brand and the consumers they serve.
To find out more about rethinking third-party data across the customer lifecycle, download the full report.
Deliver more effective campaigns
In our recent report with the drum leading advertisers, agencies, and publishers focused on the need to blend together first and third party data to deliver that really effective advertising.
By incorporating third-party data, all parties can develop more rounded consumer insights to deliver more effective and efficient campaigns.
To find out more, download the full report.
Increased transparency
Building the trust with people who are sharing and consenting for their data.
Linking interactions
Understanding the journey a customer goes on before they are ready to buy.
People led campaign planning
Focusing on the audience that they want to reach and understanding them better.
Operate consistently
Investing in third party data on a consistent basis across all countries.
In this report, we cover: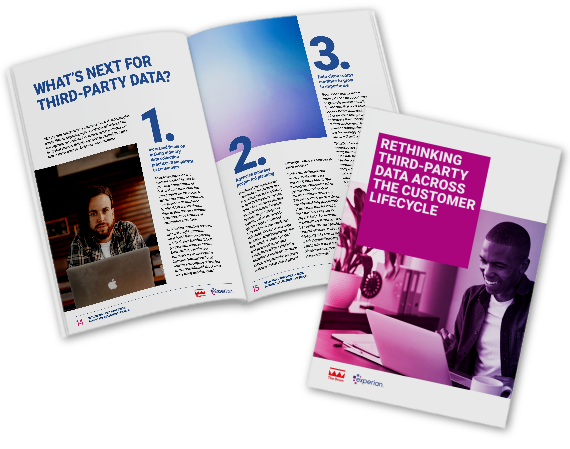 Making the case for three dimensional third-party data

How can we use the data we've collected? How can we collect it in the future?

Remixing the marketing data mix

The different views businesses have of third-party data and the role it plays.

Making the most of marketing's sphere of influence

Interpreting available data to find, reach and engage specific audiences, effectively and efficiently.

What's next for third-party data?

How can organisations combine their first-party data with third-party data to ensure greater success?
A sneak peek into...
Rethinking third-party data across the customer lifecycle
Making the case for three dimensional third-party data
It's all very well having first-party data so you can retarget customers, but how are you going to get new customers? First-party data is the engine – but you need other components to make it work. You need third-party data to model out your first-party data.

Alison Harding – Vice-President of Data Solutions, Lotame
The adoption of GDPR by the EU in 2016 sent marketers around Europe and beyond into panic. How can we use the data we've collected? How can we collect it in the future? What's the impact if we use and collect data in the wrong way? What is the wrong way?
This uncertainty subsequently spread around the world as other countries introduced similar legislation. Then, just as things had settled down, in 2020 Google revealed plans to make the third-party cookie obsolete. Six months later, Apple announced that the next version of its mobile operating system, iOS 14, would require app users to actively opt-in to be identified to advertisers, replacing the previous default opt-in.
Once again concern swept the industry. Research by IAB Europe that year found that almost half the people surveyed (47%) felt finding an alternative to the third-party cookie was critically important. All the focus was on collecting first-party data while other targeting technologies – such as contextual targeting and cohorting – were developed and tested. Google is now planning to stop supporting third-party cookies in its Chrome browser in 2024, joining Apple's Safari and Mozilla's Firefox.
The return of third-party data
With hindsight, did the fear of non-compliance cause the industry to scale back too far? According to Nik Dewar, European sales director, Samsung Electronics Europe, a better understanding of compliance has led brands and agencies to lean back into third-party data, but they're asking more informed questions: how are publishers collecting their data? Do they have consent? What can we do? What can't we do?
That short-term swing of the pendulum actually helped because third-party data is coming back, but its use is more informed and we're able to make more informed decisions.

Nick Dewar – European Sales Director, Samsung Electronics, Europe
At the same time, third-party data owners have stepped up, making it clear they're moving away from cookie-based data collection products. And agencies too have realised that previously unstructured approaches to sourcing third-party data are no longer sustainable. Instead, they're switching to small numbers of trusted suppliers, carrying out stringent due diligence before adding anyone to their rosters.
Did you enjoy the read?
Download the full report
Hear more from experts from Lotame, Samsung Electronics Europe, Finecast, Arcelik Global, Nestlé and Experian.