Aegon use Experian's tracing solutions to help find uncontactable customers and reunite them with assets owed to them.
Tracing lost or 'goneaway' customers is a challenge faced by many companies across various industries. There are many reasons why companies lose contact with their customers. Some move house or change their name and forget to pass on their details. Some buy new financial products and forget about their old ones. Others pass away, leaving funds unclaimed by their next of kin. However, there are ways to find customers and when you do, it can generate clear benefits.
Aegon's challenge was to reduce their back book of uncontactable customers in an efficient and effective way. Read the below case study to find out how Aegon were able to trace 'goneaway' customers and the benefits this provided both them and their customers.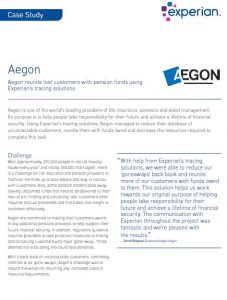 ---
If you're interested in reading more about  how you can reconnect with your lost customers, and how this can be hugely positive for your business, customers and brand perception, please download our paper 'Create ways to reconnect with lost customers' for further insight.