The COVID-19 pandemic has forced us all to live more of our lives online in new and unprecedented ways. From homeworking and homeschooling to socialising and meeting family and friends in the virtual world. So what does that mean for the UK's 5.9 million small and medium sized enterprises (SMEs) both now and in the long-term?
The online world has changed
Pre-pandemic, having an online presence was key to promoting your business and connecting with your customers, but now, for many businesses that's evolved into creating digital spaces and virtual connections that work alongside the physical world. Online is more essential than ever when it comes to building your brand, increasing your credibility and managing your reputation.
Being able to adapt and make the most of the opportunities presented by the changing digital world has already seen many small businesses not only survive, but thrive. Crucially, at a time when finances are tight and UK SMEs have seen a 28% decline in revenue during lockdown, digital marketing offers a cost efficient way to promote your products and services and talk to your customers, with many free and low-cost platforms and apps on offer.
Necessity is the mother of invention
Creating digital spaces and virtual connections with your customers can mean something as simple as using Zoom, WhatsApp, Facebook, YouTube or TikTok. The trick is to use the platforms most relevant to your customers and the nature of your business.
Learning to adapt to a rapidly changing and unpredictable world will have already made many small businesses more resilient and innovative than ever. From fitness studios live-streaming classes online and restaurants switching to click-and-collect and deliveries, to estate agents using virtual tours to sell properties. Now is the time for SMEs to build on the changes they've made out of necessity to sustain and grow their longer-term futures.
For example, many business owners have used e-learning platforms like Teachable and Udemy to share their knowledge, not only to replace physical events, but to create new services and revenue streams. Innovations like this present SMEs in all sectors with opportunities to monetise their expertise and build relationships with their customers like never before, whether consumer or B2B. According to research from Global Market Insights, the value of the e-learning market is estimated to be $300 billion by 2025, up from $190 billion in 2018.
Virtual vs physical
As COVID-19 restrictions continue to ease and what McKinsey refers to as the Next Normal emerges, the digital world will continue to exist alongside the physical world, with people seamlessly switching from one to the other.
For instance, when it comes to work, it's likely that many SMEs will adopt a more blended approach, combining homeworking using tools like Zoom, Microsoft Teams and Slack, with face-to-face working. With the latter for team days and those who prefer the office environment.
A survey by video conferencing platform Whereby suggests that 82% of businesses are considering remote working on a more permanent basis, with 65% saying they will downsize or change office space post-lockdown. This fundamental shift will enable many SMEs to enhance the way they work by blending the benefits of the physical and virtual worlds.
Online shopping vs clicks and mortar
In the retail sector, research suggests that 27.5% of total retail sales this year will be made online, with that figure reaching a third of sales by 2024. COVID-19 has encouraged more consumers to embrace digital shopping but it's likely that the long-term picture will be more nuanced. As with the workplace, customers are looking for a blended experience featuring both 'clicks and bricks'.
For SME retailers, that will mean offering customers a choice of ways to browse, buy and return products, and connect and communicate with your brand – blending e-commerce, mobile commerce and social channels, alongside a physical store experience.
Research from Royal Mail showed that 47% of SME online retailers also had their own bricks-and-mortar stores in 2019 (or sold in another retailer's physical store), with 75% using their own dedicated ecommerce site and 58% using online marketplaces such as Amazon.
Brand purpose – what does your business stand for?
The pandemic has shone a new light on brand purpose – why your business exists beyond making money. Deloitte's survey showed that one in five respondents had boycotted brands based on their response to coronavirus, especially when it comes to keeping staff safe, and that figure rises to 28% for consumers aged 16-24. It works the other way too, with 62% keen to champion businesses who prioritised the health and safety of their staff.
With the next generation of consumers more mindful than ever of brand purpose, managing and enhancing brand reputation will be a key consideration for SMEs.
Online isn't just essential for SME retailers of course. Wholesale and manufacturing lead the way when it comes to e-commerce sales, with COVID-19 forcing businesses in every sector to explore the benefits of online.
So with 'online' spanning so many different platforms, from e-commerce sites, mobile commerce and online marketplaces like Amazon, to social media, websites and virtual spaces like Zoom, how should SMEs approach building their online presence?
6 ways to strengthen your business online presence
1. Help your customers to find you – optimise your website for mobile
"81% of people search online for a product or service."
While most businesses understand the importance of having a website these days, it's vital to make sure it's optimised for mobile.
It's essential for user experience, but as people increasingly search for products and services on smartphones, rather than desktops, it's also key to making sure potential customers can find you. Mobile searchers are more likely to look at the top three results only and 30% of pages that show on the first page of desktop search results do not appear in the top 10 results on mobile.
Source: https://www.smartinsights.com/search-engine-marketing/search-engine-statistics/
2. Reach more people – develop your content marketing strategy
"Most B2B buyers consume branded content through a business's website and consume 13 pieces of branded content a month."
There are more ways than ever to reach people online and COVID-19 has accelerated the rise of digital spaces and virtual connections, from virtual tours to Zoom events. Whichever approach is right for your business, finding out where your audience is and talking to them about things that interest them is key. The experience you create for your customers online is just as important as it is in your physical environment.
Content marketing will help you share your brand story and purpose in a way that's relevant to your customers and provide value beyond your products and services. For example, you could blog about the issues pertinent to your different audiences or provide support with video tutorials and online toolkits. This could also be a way to monetise your expertise and enhance your core product or service offering, as many SMEs have done during lockdown.
If you're a B2B business, remember that 65% of B2B buyers see your website as one of the most important content channels. Using the insights provided by your website and social media analytics will help you keep track of how your content is performing so you can make sure it's tailored to your audiences.
Source: https://www.elisedopson.co.uk/blog/b2b-content-marketing-statistics/
Having an SEO strategy can also help to drive traffic to your online sites. This involves understanding your audience and what they typically search for to ensure they find you online quickly.
3. Build a stronger brand – focus on brand purpose
"78% of consumers want brands to use social to help people connect with each other."
With brand purpose growing in importance, now is the time to make sure your brand values shine through. Research by Sprout Social highlights the power of connection for SMEs, with 76% of people surveyed saying they would buy from a brand they felt connected to over their competitors, while 57% would increase their spending. Sharing a clear, consistent, compelling brand story across your content and the online channels you use is vital, with social media being a key platform.
The trick for SMEs, is to focus on the channels, including social media, best suited to your customer. For B2B customers, that could mean prioritising LinkedIn or Twitter for example, while for others, it could mean exploring newer platforms like TikTok. As lockdown has showed, it's possible to create strong relationships with your customers online, so find new ways to invite them into your virtual world.
Source: https://sproutsocial.com/insights/data/social-media-connection/
4. Increase your credibility – keep your online reviews up to date
"82% of consumers read online reviews for local businesses."
Word of mouth has always been one of the best ways to attract customers, and online reviews have taken that to new heights. For SMEs, online reviews can also be a quick and cost-effective way to boost your online presence. Featuring reviews on your website, as well as encouraging your customers to review you on Google and social media like Facebook, is a great way to develop trust in your brand. It's important to note that consumers read an average of 10 online reviews to see whether or not they can trust a local business, with almost half discounting reviews written over two weeks ago.
Source: https://www.brightlocal.com/resources/online-reviews-statistics-2020/
5. Reputation management – you can't afford not to be online
"In 2019, 87% of UK households had internet access, with 82% of people using home broadband and 70% using a 4G mobile service."
It's important to remember, that even if your business isn't online, your customers are. So if e-commerce and mobile commerce aren't for you, it's still important to build your brand and connect with your customers online.
By being proactive rather than reactive and encouraging customers to leave online reviews and feedback, you can manage your reputation by actively taking part in the online conversation. Being featured on reputable, industry-leading sites can also help to build your reputation, from online directories to key industry blogs and influencers' social media channels.
Source: https://www.ofcom.org.uk/__data/assets/pdf_file/0024/149253/online-nation-summary.pdf
6. Cost efficient marketing – measure ROI by setting clear objectives
Using a range of online marketing channels is recommended for good ROI including pay-per-click advertising, email marketing and social media.
Online is cost-effective in several ways. With so many free and low-cost tools on offer, you can blend an online element into everything you do. From using ecommerce and mobile commerce to sell your products and services, to developing your website and social media, to creating virtual spaces and connections, through platforms like Zoom.
Secondly, online provides a wealth of data and analytics to help you understand your customers, their behaviour and preferences, and how they experience your business at every stage of the customer journey. Alongside this, you can define which online approaches work best for your business, enabling you to target budgets and resources in a much more focused way.
Last and by no means least, online is increasingly giving businesses a way to refine their business model, processes and practices. For example, more SMEs are selling their products and services based on a subscription model, which can be more sustainable in terms of cash flow. While others are using their websites to encourage users to sign up for high quality, value-added content, enabling them to collect customer data and start developing relationships with existing and potential customers.
The rise of social media also underlines the fact that online marketing isn't just about sales, it's about building relationships and creating experiences. For SMEs, that means exploring new ways to measure ROI, including social value.
Source: https://www.hubspot.com/marketing-statistics
Top tips for refining your online strategy in 2020
Take a blended approach
Create digital spaces and virtual connections that work alongside the physical world – define what worked for your business in lockdown and develop it into a longer-term strategy for your business. Whether that was online sales, Zoom events or virtual tours.
Think mobile, not just online
Make sure your website is optimised for mobile and bear in mind that mobile is increasingly taking over from desktop, including mobile searches and mobile payments.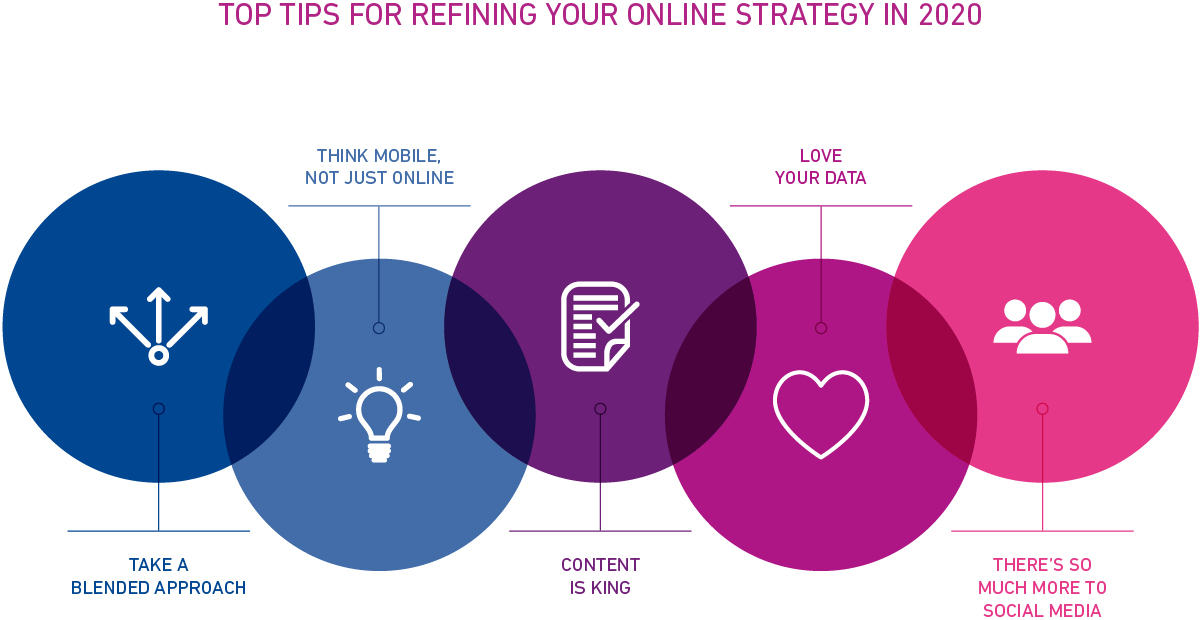 Content is king
Develop a content marketing strategy that's relevant to your customers – focus on their needs and interests and be present in the right places, whether that's your website, a third party website or social media. Use your content to share your brand purpose, connect with your customers, provide high quality, value-added support and even monetise your expertise. Drive your audience to the content with an SEO strategy.
For more on how to write your marketing plan click here.
Love your data
Use the wealth of data provided by your website, social media and online campaigns to understand your customers, improve the customer experience and target your online marketing. Alongside this, you can use online to collect customer data, for example, by inviting users to sign up for email alerts or to download valuable content.
You can add to your customer data using services like Experian B2B Prospector to create B2B marketing lists that will allow you to reach the inboxes of those most likely to buy from you.
There's so much more to social media
Explore how you can use social media to connect with your customers. For example, by hosting a Q&A, sharing 'how to' video tutorials or inviting them 'behind the scenes'. Social listening is also a good way to understand your customers and how they experience your business.
Are you ready for a new world?
The COVID-19 pandemic has accelerated many of the changes that were taking place anyway, from our reliance on digital, to a search for a more connected, value-orientated world.
Despite the many economic challenges, there are opportunities for resilient, innovative, entrepreneurial SMEs to survive and thrive. Strengthening your online presence and understanding how to create virtual and physical spaces and connections that work seamlessly together and provide great customer experiences will be key.
The good news for SMEs is that now, more than ever, there are a multitude of low-cost, accessible ways to do that, with the potential for a great return on investment.